Prime Minister Justin Trudeau said today his government will keep injecting money into the economy in response to the pandemic, while Conservatives called for an immediate action plan to reverse the rising cost of living amid escalating inflation.
"We will continue to be there [for Canadians] because we came into this pandemic in one of the best fiscal positions of anyone in the G7. And we continue to have an extremely strong fiscal position," Trudeau said during a COVID-19 update in Ottawa on Jan. 19.
When asked at the press conference how the government would ensure fiscal responsibility amid the inflationary environment, Trudeau responded that reducing the debt-to-GDP ratio is "something that we've always put forward as a sense of fiscal responsibility."
Canada's inflation rate reached a 30-year high in December, Statistics Canada announced on Jan. 19, when the Consumer Price Index (CPI) increased at an annual pace of 4.8 percent that month—a rate not seen since 1991.
"Canadians continued to feel the impact of rising prices for groceries in December, as unfavourable weather conditions during the growing season and supply chain disruptions put upward pressure on prices," wrote StatsCan in its CPI update.
Trudeau said that spending would continue notwithstanding inflationary pressures, saying this would help the economy recover once the pandemic is over.
The prime minister added that the inflation challenge is a global one linked to the pandemic and is "also linked to significant disruptions in supply chains around the world."
Supply chain issues due to global pandemic disruptions, lockdowns, and worker shortages got further exacerbated as the federal government's vaccine mandate for truckers came into effect on Jan. 15, with some truckers choosing to quit rather than comply.
The Canadian Trucking Alliance (CTA) estimates that 10 percent (16,000) cross-border drivers may be forced off the roads as a result of the mandate.
Health Minister Jean-Yves Duclos defended the trucker mandate during the press conference alongside Trudeau on Jan.19, saying it is not only the "right health policy but also the right economic policy."
"As we all know by now, getting our supply chains operating and sustainable, and as risk-free as possible, is about protecting the industry, businesses, and the workers. The only way to go through this crisis is to lead to universal vaccination," Duclos said.
Meanwhile, Conservative MP and finance critic Pierre Poilièvre called on the federal government to provide an "immediate action plan" to address the rising cost of living at a press conference on Jan. 19.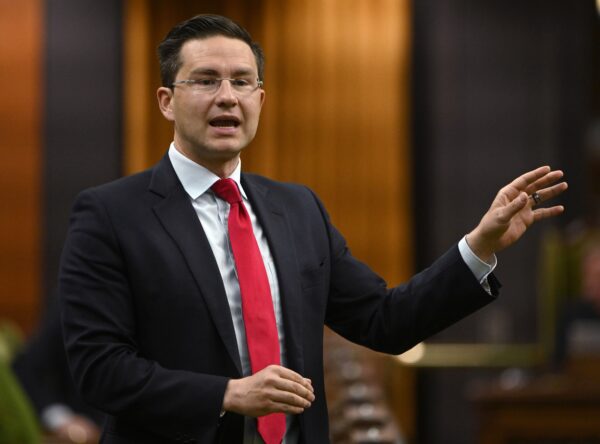 He said the government is to blame for rising prices through its "taxes, spending, and red tape."
"Stop energy tax hikes, stop payroll tax hikes, remove red tape and taxes on our farmers and energy producers so that they can supply more energy and nutrition to our population at more affordable prices," he said of solutions his party would put forth to address the problem.
Poilièvre also criticized the vaccine mandate on truckers, calling it a "vaccine vendetta" on those that have chosen not to receive the jab.
"If you walk into a grocery store, and you see products on the shelves, thank a trucker. If you walk into a grocery store and you see empty shelves, thank Justin Trudeau," he said, also pushing back on the idea that global supply chains woes are a core driver of domestic inflation.
"Why is it, if as the prime minister claims that it's global supply chains that are to blame for rising prices, that the products that we make here at home, and that we have in abundance within our own borders, are the ones that are increasing fastest in price?" Poilièvre said, pointing to the rising price of meat, fuel, and housing.
Reuters contributed to this report.