After Conservative Leader Erin O'Toole accused Justin Trudeau of not defending free speech and standing with French President Emmanuel Macron on the Paris attack, the prime minister defended himself, saying the government will always defend Canadians' rights.
"We will always defend political rights, Canadians' rights, the Charter of Rights and Freedoms, freedom of expression, freedom of religion. All the rights Canadians expect governments to defend, we will always defend," Trudeau replied during Question Period in Tuesday's House of Commons.
Trudeau's defense came in response to outcries over controversial comments he made on Oct. 30 after the beheading of French teacher Samuel Paty, who was killed by a terrorist for showing cartoon caricatures of the prophet Muhammad during a classroom discussion. He said Ottawa "would always defend freedom of expression," but "not without limits."
"In a pluralistic, diverse and respectful society like ours, we must be aware of the impact of our words, of our actions on others, particularly these communities and populations who still experience enormous discrimination," Trudeau told reporters in French on Oct. 30.
However, Trudeau's attempt to balance free speech and pluralism drew backlash from media in Quebec as well as France, where the daily Le Monde zeroed in on his "ambiguous support."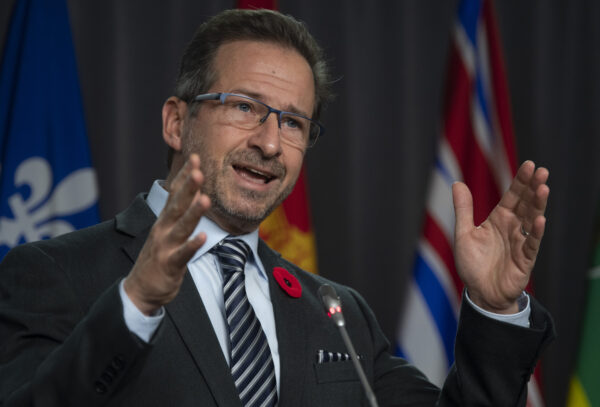 Bloc Quebecois Leader Yves-Francois Blanchet said Trudeau was "contradicting himself" during the Question Period.
"On Friday, he came perilously close to rationalizing the terrorist attacks in France and the sickening murder of Samuel Paty by stating that the caricatures of Mohammed were a provocation and that free speech is not without limits. This morning, he is trying to make us believe the opposite. That is quite the acrobatic feat."
Paty was attacked outside his school by a teenage refugee of Chechen origin on Oct. 16. The cartoons were first published in January 2015 by the French satirical magazine Charlie Hebdo, triggering the massacre of its 12 staff. In September, Charlie Hebdo republished some of the images.
At a news conference on Nov. 3, Quebec Premier Francois Legault suggested world leaders such as Trudeau are giving in to blackmail. Without citing the prime minister directly, he said some leaders are willing to compromise on fundamental values when pressured by what he called "radical religious groups."
"It's certain, now, there are certain political leaders who fear terrorism, and, when faced with blackmail by certain radical religious groups, are ready to make accommodations that are not reasonable," Legault said.
Legault also mentioned that Macron called him to thank him for the "clear position" he took in defending freedom of expression "without any hesitation."
Trudeau also denied the issue had created a rift with Macron in response to Blanchet's accusation he had harmed Quebec's friendship with France.
"We have long worked together, the president of France and myself, on a broad range of issues that matter deeply to our citizens and the world, whether it be fighting terrorism or standing up for human rights, and we will continue to do that," Trudeau said.
With files from The Canadian Press.