LOS ANGELES—Honking truckers tied up traffic early on July 13 protesting California's "gig worker" law, which reclassifies many independent contractors as employees. The protests blocked several freeways near the ports in Los Angeles and Long Beach.
The truckers held up signs with such slogans as "AB5 Kills Dreams," referring to Assembly Bill 5 from 2019, by then-Assemblymember Lorena Gonzalez (D-San Diego). She resigned from her post in January and recently took over as head of the California Labor Federation. The bill was signed into law by Gov. Gavin Newsom in 2019 and went into effect the following January.
The truckers drove slowly over the Vincent Thomas Bridge between Long Beach and San Pedro Wednesday morning, made their way north on the Harbor (110) Freeway, then ultimately moved southbound on the Long Beach (710) Freeway.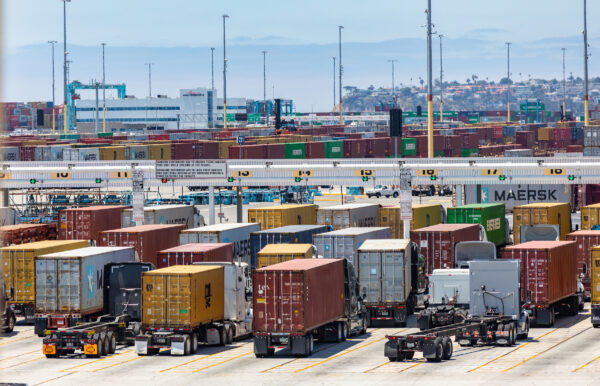 About 40 percent of U.S. imports and 25 percent of exports run through the Los Angeles and Long Beach ports. Critics of AB5 contend that banning the 70,000 independent trucking businesses—unless they join major companies or unionize—could worsen the ongoing port logjams and increase inflation.
AB5 was immediately challenged in court after taking effect. On June 30, the U.S. Supreme Court refused to hear an appeal by the California Trucking Association, instead returning the case to the 9th Circuit Court of Appeals for further review. That decision sparked the current protest.
It's called the "gig worker law" because it regulated part-time, independent workers, who don't belong to unions. It was especially aimed at Uber and Lyft, the gig-driver companies. Those companies then worked to pass Proposition 22 in 2020 to exempt their drivers, but not others, from the law. However, Prop. 22 was challenged in court as well and was struck down in August 2021. That case also is being appealed.
AB5 re-classified most independent contractors as full-time employees to combat what union proponents said was the misclassification of workers to deny them fair wages, health insurance, retirement plans and other rights. The stringent rules removed many workers from their gigs, with some even moving to other states to continue working.
According to supporters, the intention of the law was to ensure workers receive fair wages and other employment benefits, such as healthcare insurance and a 401k. Some workers, mainly within labor unions, had pushed for the law, saying they were being denied benefits by being classified as outside contractors.
During the convoy, there were no reports of issues or interruptions at the port.
"At this point there is no disruption of terminal activity," read a statement by the Port of Los Angeles to City News Service (CNS). "Los Angeles Port Police will assist in making sure all parties are able to express their First Amendment rights, while also making sure the port continues to operate safely and commerce continues to flow."

The port had planned for the protest days before, according to Gene Seroka, executive director of the Port of Los Angeles, who said the port gave the truckers "the space they needed to voice their opinion, but kept this cargo moving through the port complex."
"These drivers are very respectful to [do] just that. I applaud them for coming out here today," he said at a Wednesday press conference.
Mario Cordero, executive director of the Port of Long Beach, said all terminals and roadways in the harbor remained open.
"We are aware of the issues surrounding the requirements of AB5, and we are working with our drayage partners and other stakeholders to ensure that goods can be delivered safely and quickly through the supply chain," Cordero said in a statement to CNS.
Meanwhile, some drivers carrying signs marched at an entrance to the port complex.
"I'm with everything that could help us kill this law," said one independent trucker via a YouTube video uploaded a day before the protest. "We don't need anybody to put us on payroll because they want to pull more money out of the transportation departments."