Some organizers for Freedom Convoy 2022 say they won't leave Ottawa until their demands are met, while denouncing any forms of violence and intimidation and calling on all demonstrators to remain calm and peaceful.
"We're not coming here to be aggressive or hateful or cause violence," protest organizer Tamara Lich told The Epoch Times while passing Sudbury, Ont., on the way to Ottawa. "We're going to be staying in for as long as it takes. We're not leaving until Canada is free."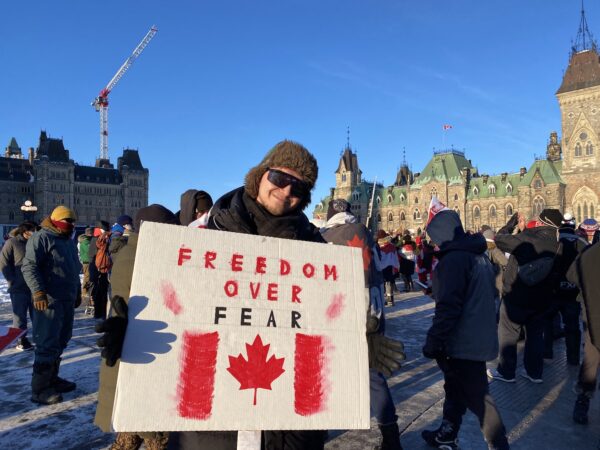 The movement began as a backlash after the Trudeau government introduced a vaccine mandate for truck drivers crossing the United States-Canada border starting on Jan. 15.
Prime Minister Justin Trudeau dismissed the group on Jan. 26 as being a "small fringe minority" that held "unacceptable views" and didn't reflect the majority of Canadians.
But the protest has since gained global recognition, with support coming from the likes of Tesla CEO Elon Musk, whose tweet "Canadian truckers rule" on Jan. 28 has since gathered over 400,000 likes. Other big name celebrities like Russell Brand, Joe Rogan, and Evangeline Lilly have also praised the Canadian truckers for standing up for freedom.
Canadian truckers rule

— Elon Musk (@elonmusk) January 27, 2022
Dana Metcalfe, a trucker from Newfoundland and eastern convoy organizer, said there will also be truckers coming from the United States.
"We're also calling all Canadians to take back our country with no more vaccine passports and all COVID mandates in our country," she said on her cell phone while driving through Quebec.
On Jan. 26, Ottawa police said they were preparing for the arrival of between 1,000 and 2,000 demonstrators. Organizers say the number of participants is much higher than the figures cited by police.
Ottawa Police Chief Peter Sloly told reporters on Jan. 28 that "the demonstrations this weekend will be unique, fluid, risky, and significant."
Police said they are preparing for a range of scenarios including the potential for violence. Ottawa residents and visitors can expect to see a large police and emergency services presence in the downtown core, they added.
Sloly said police are working closely with organizers of the main convoy who've promised demonstrations will be peaceful. He added however that there have been various online threats of violence locally, nationally, and internationally.
"We do not know all the parallel demonstrations that may occur and, or the lone wolf individuals who may insert themselves into the mix for various reasons," Sloly said.
Lich says she thinks it's unfortunate the Canadian media have been focusing on a few bad actors that have latched on what she calls a larger peaceful protest.
"I'm travelling with [people who] have some of the biggest hearts I've ever seen," she said. "These are blue-collar Canadian workers, who are sick and tired of being divided and torn apart."
Lich says the truckers have received support across the country from all ethnicities, cultures, and backgrounds, from First Nations bands to Hutterites, Sikhs to Catholic nuns, who she says are all standing right beside each other on the road as protesting trucks pass by.
Please tell me this guy is going to Ottawa.

Hey @JustinTrudeau, this gentleman has a question for you.

Or @theJagmeetSingh you want to take this one? pic.twitter.com/b7w0UgUeZt

— Traditional Canadian Girl 🇨🇦 (@canadiangirls99) January 28, 2022
"This narrative and this rhetoric that has been pushed on us trying to divide us by culture, by geography, by race, by all these different factions is simply untrue," she said.
Lich says organizers will meet once they all arrive in Ottawa to devise a strategy to engage with federal politicians and ask them to meet their demands.
The group's GoFundMe campaign had raised over $7.6 million as of the evening of Jan. 28.
GoFundMe has temporarily put a hold on the withdrawal of the funds pending a review of how the money will be distributed.
But organizers said in a statement on their GoFundMe page that the crowdfunding platform released the first batch of $1 million, which will be used to support drivers with costs of fuel, food, and lodging.
Hotels in Ottawa say they're seeing a rush of people booking rooms as the convoy arrives in the city.
"It's crazy, the phones have been ringing non-stop," said Nuala Dinardo, general manager of the Hampton Inn in Ottawa. "We are definitely seeing a surge in occupancy because of the protests."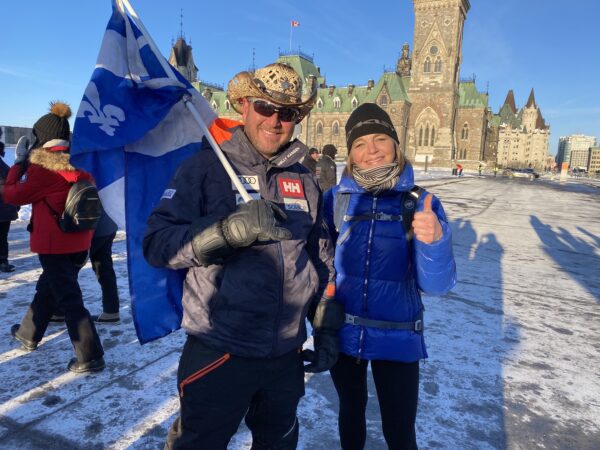 Dinardo added the boost in business has been a rare positive for the hotel in the last two years.
"Look, our industry has also been severely impacted by this pandemic."
The trucker protest comes as the industry already has been dealing with a shortage of drivers and the country faces supply chain disruptions and 30-year high inflation rates.
The federal vaccine mandate for truckers could result in a loss of 12,000 to 16,000 cross-border commercial drivers, according to a post on the website of the Canadian Trucking Alliance (CTA).
Lich says the protest group will have enough funding to camp out in Ottawa until their demands are met. While she hopes they won't have to stay for long, she says protesters are firm in having their demands met.
"Everybody in our group understands how important this is, and that we have one chance to do what it takes to free Canada," Lich said.
In a statement, the group listed four demands:
"1) The federal and provincial governments terminate the vaccine passports and all other obligatory vaccine contact tracing programs or enter-Canada passport systems.
"2) Terminate COVID vaccine mandates and respect the rights of those who wish to remain unvaccinated.
"3) Cease the divisive rhetoric attacking Canadians who disagree with government mandates.
4) Cease to limit debate through coercive measures with the goal of censoring those who have varying or incorrect opinions."