Tropical Storm Lidia formed around the southern tip of Mexico's Baja peninsula on Thursday, but officials said that it's not likely to reach hurricane strength.
The U.S. National Hurricane Center (NHC) said on Thursday, Aug. 31, that the storm formed about 90 miles south-southeast of Los Cabos resorts in Mexico.
It's packing winds of 45 mph, Reuters reported.
The storm will reach the center of the Baja peninsula on Thursday, the NHC said.
According to The Associated Press, some 1,400 people sought refuge in storm shelters in Los Cabos.
Rains from the storm have reached across Mexico, and it briefly prompted the closure of Mexico City's airport.
A hurricane watch was still in effect for part of Baja California Sur, from Puerto Cortes to east of La Paz, and the storm was expected to bring a dangerous storm surge to coasts while rains could cause flash floods, the NHC said.
A Hurricane Watch is in effect for:
Baja California Sur from Puerto Cortes to east of La Paz
A Tropical Storm Warning is in effect for:
Baja California Sur from Puerto Cortes to San Evaristo
Mainland Mexico from Bahia Tempehuaya to Huatabampito
A Tropical Storm Watch is in effect for:
Baja California Sur from north of San Evaristo to Loreto
North of Puerto Cortes to Puerto San Andresito
On Wednesday, Hurricane Irma formed some 650 miles to the west of the Cabo Verde Islands, according to reports. 
The system could potentially hit the Leeward Islands in the northeastern Caribbean, North and South Carolina, or Bermuda, as Accuweather.com reported.
As Weather.com forecasters noted, Irma will "move westward and then turn west-southwest on the south side of a ridge of high pressure called the Bermuda high" and then it will "move through a portion of the Atlantic Ocean where upper-level winds are favorable for intensification the next few days."
Some reports have said that Irma could turn into a Category 4 storm—or possibly a rare Category 5—before it reaches the Antilles Islands next week.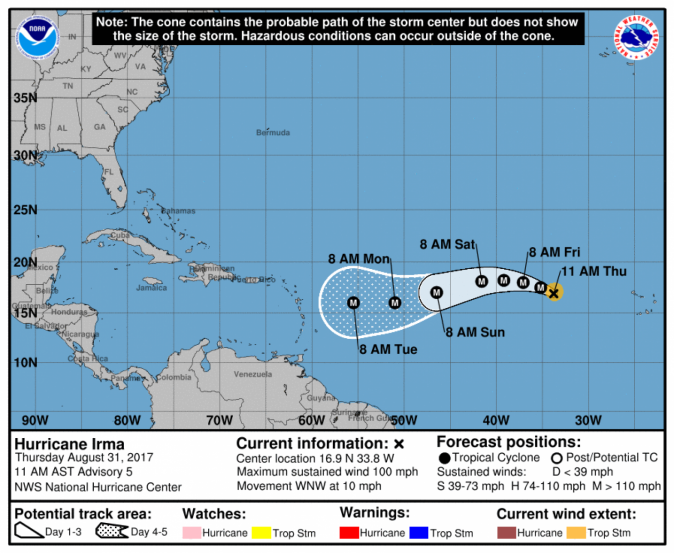 The storms come as thousands of people fled Texas after floods spawned by Hurricane Harvey ravaged the southern part of the state.
Soldiers and police in helicopters and special high-water trucks on Thursday rescued thousands of Texans stranded by floodwater dumped by Hurricane Harvey, which killed at least 37 people as it drenched the Gulf Coast this week.
In Beaumont, Texas, doctors and nurses evacuated some 190 people from a hospital that halted operations after water service in the city of almost 120,000 people was knocked out by the storm. Harvey came ashore over the weekend as the most powerful hurricane to hit the state in a half-century.
"We don't have any water. Water shut down. We can't run (kidney) dialysis," and other procedures, said hospital security guard Devan Campbell, standing outside as about 190 patients were led out.