Hurricane Jerry has formed and is now a Category 1 storm as it churns in the Atlantic Ocean.
Forecasters said the storm, which has 75 mph winds, is moving west-northwest at 16 mph, said the U.S. National Hurricane Center (NHC) in an 11 a.m. ET update on Thursday, Sept. 19.
A tropical storm watch is in effect for the islands of St. Maarten, Barbuda, Anguilla, St. Martin, S. Barthelemy, and Saba and St. Eustatius.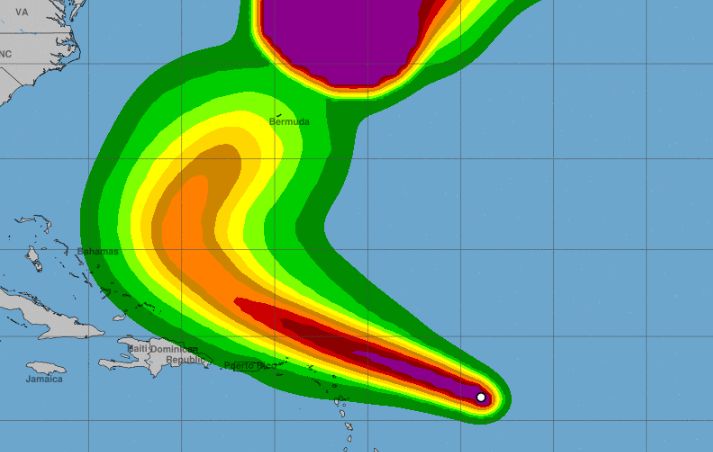 "A west-northwest motion at a similar forward speed is expected over the next few days. On the forecast track, the center of Jerry will be near or north of the northern Leeward Islands Friday, pass north of Puerto Rico on Saturday and east of the southeastern Bahamas on Sunday," the NHC wrote.
The storm is forecast to strengthen during the next day before it weakens over the weekend.
"Jerry is expected to produce 1 to 3 inches of rainfall, with isolated maximum totals of 4 to 6 inches from Barbuda northwest across St. Marteen/Anguilla into Anegada. Jerry is forecast to produce total rainfall accumulations of 1 to 2 inches with maximum amounts of 3 inches across the the Virgin Islands and Puerto Rico," according to the NHC.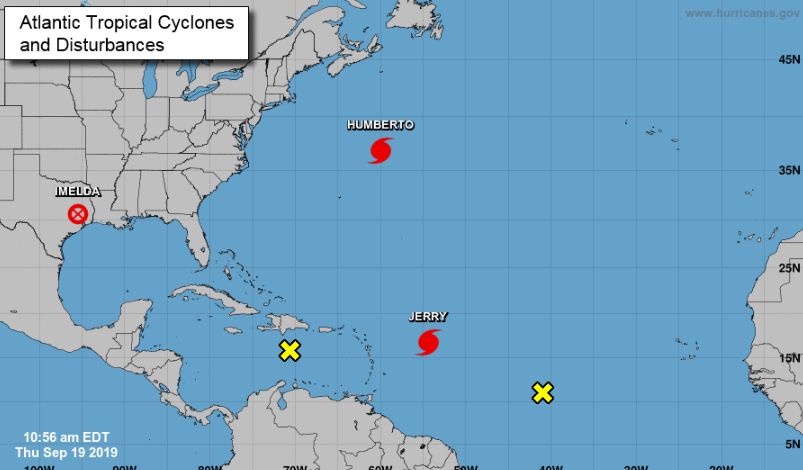 The NHC's cone of uncertainty shows that the storm will pass north of the Leeward Islands, Hispaniola, and Puerto Rico before it takes a turn to the north. After that, the storm will pass through the Bermuda Triangle and get precariously close to the island of Bermuda.
Meanwhile, Hurricane Humberto, a Category 2 storm with 110 mph winds, is tracking away from Bermuda, which it lashed with heavy rain and wind on Sept. 18, reported AL.com.
There are currently no hurricane watches and warnings associated with Humberto.
The storm is now about 415 miles northeast of Bermuda and is moving quickly to the northeast at 24 mph.
Imelda
Tropical Depression Imelda has deluged parts of Southeast Texas with rain, but officials in Houston and surrounding communities said Wednesday that so far there have been no severe consequences.
Glenn LaMont, deputy emergency management coordinator in Brazoria County, located south of Houston along the Gulf Coast, said that despite the heavy rainfall he has seen no reports of flooded homes or people stranded. However, he cautioned, "we've got two more days to go on this."
"It's too early to breathe a sigh of relief," LaMont said.
By late Thursday afternoon, most of the heaviest showers had moved to the east of Houston, into Beaumont, Texas, and southwestern Louisiana. But the storm's remnants spawned several weak tornadoes in the Baytown area, about 25 miles east of Houston, damaging trees, barns, and sheds and causing minor damage to some homes and vehicles.
The Associated Press contributed to this report.