The U.S. National Hurricane Center (NHC) said in an 8 a.m. update that Tropical Storm Humberto has formed and is 30 miles from Hurricane Dorian-ravaged parts of the Bahamas.
Humberto is 30 miles east-northeast of Great Abaco Island and 145 miles east of Freeport on Grand Bahama Island. Both were hammered by Dorian earlier this month.
A tropical storm warning is in effect for all of the northwestern Bahamas, including the Abaco and Grand Bahama islands.
"Humberto is moving toward the northwest near 7 mph (11 km/h), and this motion is expected to continue through tonight. A turn toward the north-northwest is expected by Sunday and a slower northward to northeastward motion is forecast to occur by Monday. On the forecast track, the system will gradually move away from the northwestern Bahamas later today, and then will move well offshore of the east coast of Florida this weekend and early next week," the agency wrote.
The storm has winds of 40 mph, the agency said, adding that the storm is forecast to gradually strengthen.
Meanwhile, the storm is slated to produce 2 to 4 inches of rain in the Bahamas with isolated areas receiving 6 inches, the forecaster said.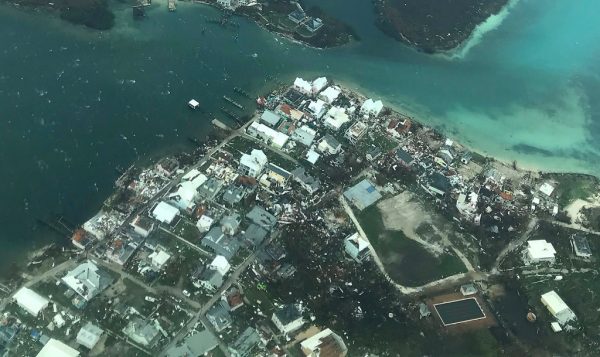 In a 5 a.m. forecast discussion, the NHC said that "during the next few days, a low- to mid-level ridge over the eastern United States and the western Atlantic is expected to slide southeastward, with a weakness in the ridge developing due to a mid- to upper-level trough over the northeastern U.S. This change in the steering pattern should cause the storm to slow down and turn northward off the east coast of Florida in 36 to 48 hours."
Hurricane Dorian slammed into the Bahamas on Sept. 1 as a Category 5 storm, one of the strongest Atlantic hurricanes on record to hit land, packing top sustained winds of 185 miles per hour (298 km per hour), Reuters noted.
The tropical cyclone was not expected to bring anywhere near that level of devastation, but was capable of winds of 30 miles per hour and 2 to 4 inches of rain through Sunday, according to the hurricane center.

Aid groups rushed shelter material to residents living in the shells of former homes or whose homes had been stripped of their roofs.
"We're seeing plastic tarps go out all over the islands, and that's extremely important because now you've got another tropical storm coming," said Ken Isaacs, vice president of programs for U.S. relief organization Samaritan's Purse.
Reuters contributed to this report.