A new tropical storm has formed as Hurricane Dorian inflicts damage to the United States and a tropical depression made landfall in Mexico.
Tropical Storm Gabrielle was located in the eastern Atlantic Ocean and is moving northwest at 9 miles per hour, the National Hurricane Center said in an alert on Sept. 4.
There are no coastal watches or warnings in effect for the storm as of yet.
"At 500 PM AST (2100 UTC), the center of Tropical Storm Gabrielle was located near latitude 21.0 North, longitude 34.0 West," a center forecaster wrote.
"Gabrielle is moving toward the northwest near 9 mph (15 km/h), and this motion is expected to continue through Saturday, with an increase in forward speed expected late in the week."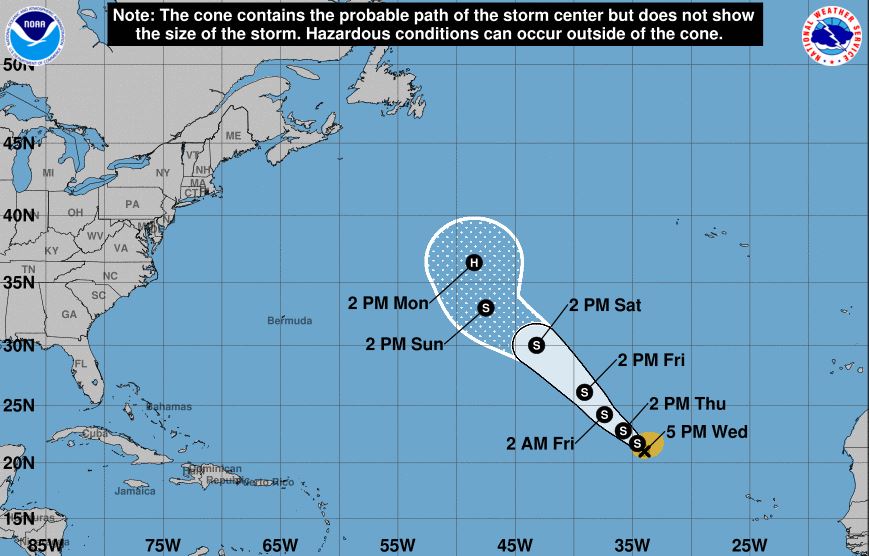 The storm was named Gabrielle after it intensified into a tropical storm early Wednesday, NASA said.
The projected path had the storm veering north and it did not appear poised to hit the United States or even Bermuda, which was slammed by Dorian. But Gabrielle is expected to reach hurricane strength in about five days, a National Hurricane Center forecaster wrote in an advisory.
Tropical Storm Fernand, meanwhile, was downgraded to a tropical depression as it made landfall in northern Mexico.
Fernand is producing heavy rains and the threat of flash flooding and mudslides will continue into Thursday, the National Hurricane Center said.
The U.S. Embassy and Consulates in Mexico warned American citizens that the center of the storm was slated to cross the northeast coast of Mexico late Wednesday.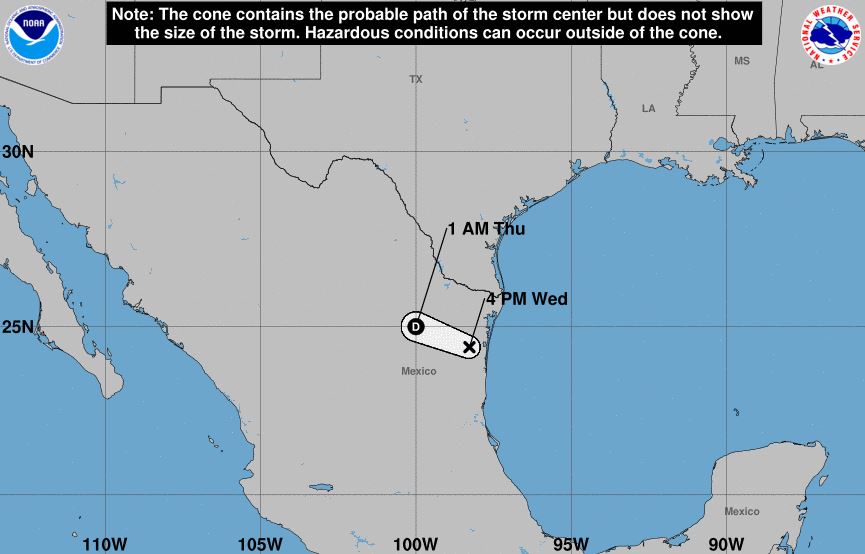 "The Mexican government has issued a Tropical Storm Warning for the northeast coast of Mexico from Barra del Tordo southward to Puerto Altamira, and a Tropical Storm Warning is in effect for Puerto Altamira to the mouth of the Rio Grande River. In northeast Mexico, Fernand is expected to produce 6 to 12 inches of rain, with isolated incidents of 15 inches, the highest of which will likely be in the Sierra Madre Oriental of Tamaulipas and Nuevo Leon," it stated.
"This rainfall may cause life-threatening mudslides and flash floods. All U.S. citizens living in or traveling to the area should monitor local weather reports and the local government's civil protection ("Protección Civil") website, follow directions from local officials, and take other appropriate actions as needed."
Hurricane Dorian, meanwhile, "grazed" Florida but turned away and headed north, President Donald Trump said in a briefing on Wednesday.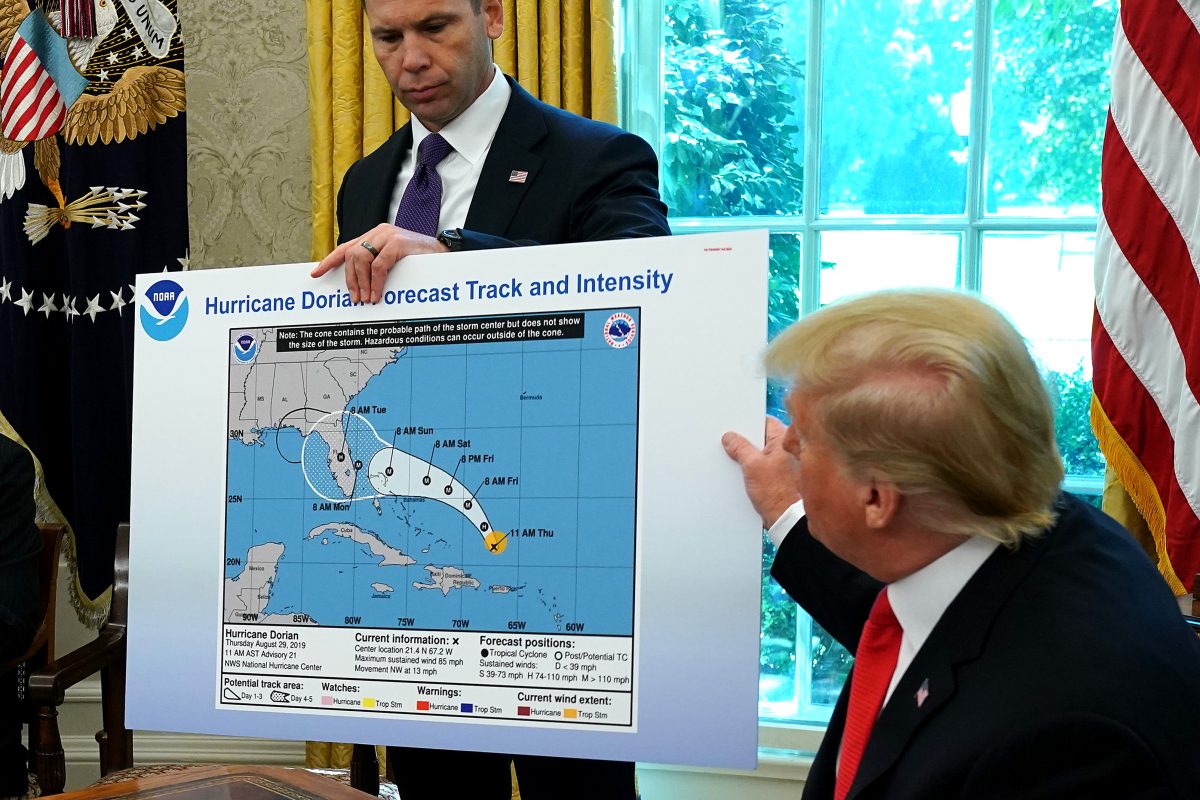 "…it was going to hit not only Florida, but Georgia. It could have—it was going toward the Gulf. That was what we—what was originally projected. And it took a right turn and ultimately—hopefully, we're going to be lucky. It depends on what happens with South Carolina and North Carolina," he said.
"…the hurricane remains a Category 2—a very powerful, very large storm. We are worried about significant impacts to South Carolina, from Charleston to Wilmington, as well as the Outer Banks. And it's that triple threat of potentially hurricane-force winds, certainly tropical storm force; as well as a storm surge—four to seven feet; and then a significant rain event, up to 10 inches or more in parts of the Carolinas," Acting Secretary of Homeland Security Kevin McAleenan added.
According to national forecasters, Dorian was east of southeastern Georgia as of 5 p.m. EDT on Wednesday and was moving north-northwest near 8 miles per hour.
"A turn to the north is expected tonight, followed by a turn to the north-northeast on Thursday and a turn toward the northeast on Thursday night. A northeastward motion at a faster forward speed is forecast on Friday. On the forecast track, the center of Dorian will approach the coast of South Carolina tonight, move near or over the coast of South Carolina on Thursday, and move near or over the coast of North Carolina Thursday night and Friday," according to a National Hurricane Center forecast.
"Reports from an Air Force Reserve Hurricane Hunter aircraft indicate that maximum sustained winds have increased to near 110 mph (175 km/h) with higher gusts. Some fluctuations in strength are possible tonight, followed by slow weakening Thursday through Friday."