A tropical cyclone might develop in the Atlantic Ocean this week, located about 1,000 miles east of Florida.
The National Hurricane Center (NHC), in an update on May 20, said there is a 60 percent chance that a tropical storm could form within the next five days.
If it forms, the system would be the first named storm of 2019 season. The Atlantic hurricane season officially starts on June 1 and lasts until November.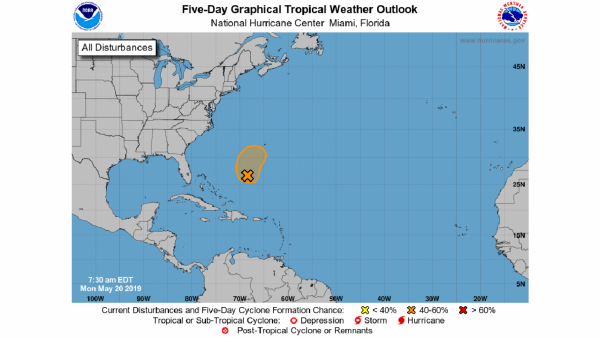 "Showers and thunderstorms have increased overnight and this morning in association with a trough of low pressure located about midway between the Bahamas and Bermuda," said the NHC in an update at 7:30 a.m. ET. "A low pressure system is expected to form within this area of disturbed weather later today, and this system could become a short-lived subtropical or tropical cyclone by tonight or Tuesday while it moves northward or northeastward."
The next day, "conditions are forecast to become unfavorable for further development, and the system should be absorbed by a cold front," said the NHC.
A U.S. Air Force reconnaissance plane is slated to investigate the disturbance on May 20.
The NHC said that people in Bermuda should monitor the system.
If the low-pressure system becomes a tropical storm, the NHC would name it "Andrea."
Other names that may be used this year are Barry, Chantal, Dorian, Erin, Fernand, Gabrielle, Humberto, Imelda, Jerry, Karen, Lorenzo, Melissa, Nestor, Olga, Pablo, Rebekah, Sebastien, Tanya, Van, and Wendy, said the NHC. Last year, the names Florence and Michael were retired after two hurricanes with those names devastated the Carolina and Florida, respective.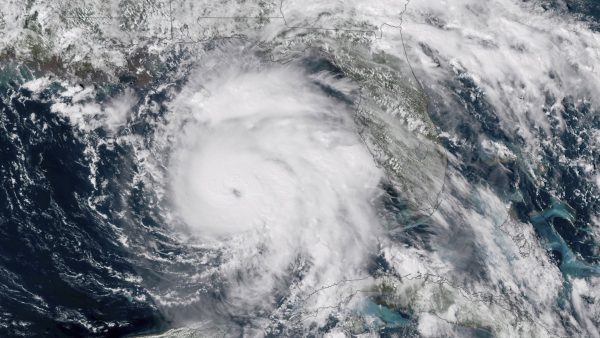 12 to 14 Named Storms
Several weeks ago, AccuWeather released its forecast for the 2019 Atlantic hurricane season, which officially starts in June.
With this year's 2019 Atlantic Hurricane Season Forecast, we're introducing a new kind of risk map. https://t.co/Sgcqj9OWmS (1/3) pic.twitter.com/9RzKA0b0fX

— AccuWeather (@accuweather) April 3, 2019
The weather news company said it is forecasting between 12 and 14 tropical storms and hurricanes for the season, which is "near- to slightly above-normal."
"Of those storms, five to seven are forecast to become hurricanes and two to four are forecast to become major hurricanes," AccuWeather said.
Last year, the United States was hammered by several tropical storms and hurricanes, including Hurricane Michael and Hurricane Florence. Michael recently was upgraded to a Category 5 after the National Weather Service analyzed it.
Seasonal #hurricane forecast from @ColoradoStateU predicts slightly below-average season: 13 named storms, 5 hurricanes & 2 major (Cat 3+, >=111 mph) hurricanes. Primary reason for slightly below-avg forecast is anticipated continuation of weak #ElNino. https://t.co/uxucIf9qQB pic.twitter.com/o0pWt1GUBh

— Philip Klotzbach (@philklotzbach) April 4, 2019
It added that two hurricanes may hit the continental United States in 2019.
Looking at recent weather patterns, 2019 could be similar to 1969 when "Hurricane Camille slammed into the Gulf coastline, making landfall in Waveland, Mississippi, and causing widespread damage to several coastal areas, including Mobile, Alabama," said AccuWeather. "It became one of only three Category 5 hurricanes on record to impact the U.S."