Tristan Nunez, Youngest ALMS and Rolex Winner, Seeks Sixth Victory This Weekend
September 6, 2013 5:44 am Last Updated: September 6, 2013 5:44 am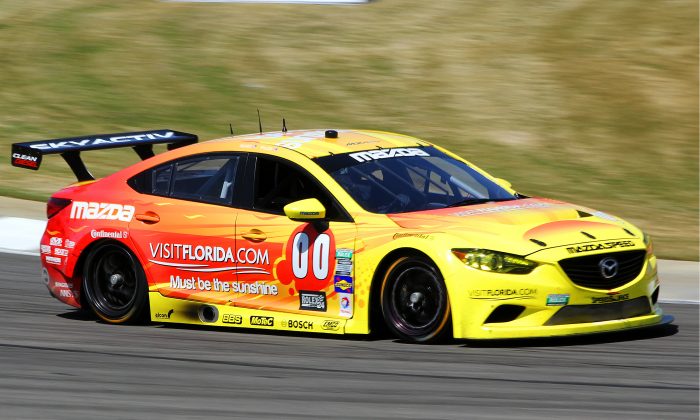 Every year it seems life couldn't get any better for 17-year-old race driver Tristan Nunez. One year he shines in several Skip Barber formula car series events, the next he becomes the world's youngest sports car champion, and this year he has become the youngest winner in both of North America's top-tier sports car series, the American Le Mans Series and Grand Am's Rolex Sports Car Series.
The talented high school senior attracted the notice of Japanese manufacturer Mazda, who were impressed enough to give him a seat in their brand-new Rolex GX-class Mazda6 SkyActive diesel. Nunez repaid the honor by winning four races, three before starting his senior year in high school.
He had to miss some class time this week to travel to California's Mazda Raceway Laguna Seca, where he will seek his fifth win in the Rolex Continental Tire Sports Car Festival on Sunday. He knows the track well enough, having raced there with the American Le Mans Series in May finishing third.
"Heading back to Mazda Raceway Laguna Seca for the second time this season is going to be exciting to say the least," said Nunez in a press statement. "First of all, I get the opportunity to race a grand-touring spec car rather than a prototype or formula car and secondly I get to race with the SpeedSource Mazda Visit Florida team! This could definitely be the 1-2 finish we have been searching for this whole year!
"As the season comes to an end and seeing the incredible progress of our Mazda6 SKYACTIV diesel has made, I'm very interested to see what improvements have gone into the car during this down time."
Nunez's co-driver in the #00 Visit Florida SpeedSource Mazda, Joel Miller, is second in points; a podium finish or a win would give Miller the lead, as if the pair needed any extra motivation.
The thrill of earning his fifth Rolex class win probably won't quite match last weekend's major excitement, when Nunez drove the #18 Dash Marketplace/Kate Farms Performance Tech Oreca to his first ALMS win at the Grand Prix of Baltimore, becoming the youngest ever to win in that series.
It was Kate Farms Komplete's first race as Nunez's newest sponsor. Pretty good return on investment.
The Baltimore race was a mess, with a pileup at the start taking out several cars and holding up several more. Nunez and co-driver Charlie Shears had been having a tough weekend trying to find the right set-up for the twisting and very bumpy Baltimore street circuit and only qualified fifth in class, 21st overall.
The crew solved the problem by race day, and Shears drove well to get the car to third before he handed off to Nunez, who seemed set for his third third-place finish of the season, when seven laps from the finish the lead car had to pit for a driver change; a miscalculation meant one driver hadn't spent enough time in the car to earn points.
This left Nunez second, but only until the final two laps, when the class leader suffered suspension failure, and one of the team's worst weekends turned into one of the best. It was the first ALMS win for Nunez and for Performance Tech.
"First of all, I have to thank my new sponsor Komplete for coming on board for this race," said Nunez. "This was a very dramatic weekend for us.
"On Friday we had a shock problem that we just discovered after qualifying. It was a tough day in qualifying as we qualified behind the GT cars; so that was a hurdle we obviously had to climb. As my coach Jonatan Jorge always says, you gotta think positive and I think that worked in our favor today.
"I'm very happy for the Performance Tech crew. I'm so happy to be a part of their first win in the PC Class. We had flawless racing today and I can't think Brent O'Neill and his crew enough."
If 2013 had brought Tristan Nunez nothing but a chance to drive in the two biggest sports car series on the continent, it would have been a stellar year; 17-year-olds just don't get picked to complete with the fastest drivers in the fastest cars, as a rule. With six class wins across two series, this is turning out to be another fantasy year for the Florida teen, and he still has five races left on the schedule.
Each of the last three years has been good enough to be the best year or anyone's life, yet for Nunez, each subsequent year has topped the previous. It is hard to imagine how far this talented young driver might go, but it will be easy to follow; just watch the headlines.
The Grand Am Rolex Sports Car Series Continental Tire Sports Car Festival will be broadcast on Fox Sports 1 at 5 p.m. EDT on Sunday September 8.