Tristan Nunez Seeks Fifth Rolex Win in Series' Final Race
September 27, 2013 2:55 pm Last Updated: September 28, 2013 2:34 pm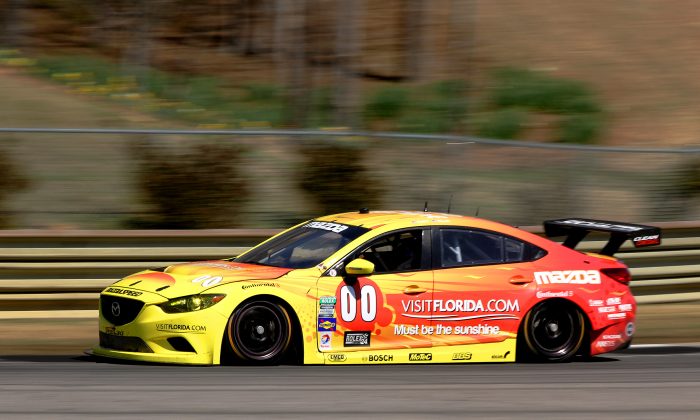 Grand-Am's Rolex Sports Car Series will finish its final season Saturday at Championship Weekend at Connecticut's Lime Rock Park—which means teen champion Tristan Nunez and co-driver Joel Miller have one last chance to win another race, and with a little luck, a class championship in their first full Rolex season.
Nunez and Miller in the #00 Visit Florida SpeedSource Mazda6 sit second in the series GX class, six points behind the leaders, while Miller is eleven points back in the drivers' championship (Nunez is fourth because he missed one race.)
The Mazda6 was hampered by reliability issues at the start of the season; the team needed some time to develop the brand new Skyactiv twin-turbo diesel motor. After a few disappointing failures, the car started winning: Nunez and Miller took four class wins, while Tom Long and Sylvain Tremblay in the sister car, the #70 Speedsource Mazda6, won two.
Long and Tremblay are tied for third in drivers' and team points.
Nunez and Miller will need a lot of luck to the championship. The class-leading BGB Porsche Cayman only needs to complete 30 minutes to score points and it will win the GX title.
Nunez was more concerned about a good result for the two Mazda teams than he was about the class championship, when he discussed the upcoming race in a press statement.
"Unfortunately the fun is coming to an end with the Skyactiv diesel Mazda6," said Nunez. "It has been an incredible season thus far. But this is the moment we have been waiting for. That 1–2 finish we've been looking for all year. I have a strong feeling we will finally take hold of that in this final round with Visit Florida at Lime Rock."
For Nunez, Lime-Rock's 1.5-mile course will be familiar; he raced there in the American Le Mans Series' Northeast Grand Prix on July 6, where Nunez finished third in the PC class in the #18 Performance Tech Oreca.
Dominating Debut
Four wins in a season would be respectable for any driver in a brand new car. Four wins (and possibly a fifth) is astounding when that driver is a high school senior in his first year as a pro.
When Tristan Nunez isn't driving for one of the top two sports car series on the continent, he is attending high school in Boca Raton, Florida. The 17-year-old has managed to win several karting championships, a Skip Barber title, the Walter Hayes Trophy for the world's best Formula Ford drivers, the IMSA Cooper Lites championship and four Rolex races in the past five years, most of that before he had a driver's license.
When only 15, Nunez tested in an IMSA Lites car for Performance Tech Racing. At age 16 he became the world's youngest sports car champion by winning the Lites series, and tested performance Tech's PC car. He started 2013 as the youngest driver to participate in the Rolex Daytona 24, and in March finished third in class at the Sebring 12 Hours—competing against the best in the world in the two of the three biggest sports car races in North America.
In July he was the youngest driver ever to start—and to win—the Sahlen's Six Hours of Watkins Glen, fourth in the list of historically important North American endurance races.
Nunez will finish his season in October by driving in the third most important endurance race, the ten-hour ALMS Petit Le Mans. By then he might be the youngest Rolex class champion. Not bad for a rookie.
Tickets for the Rolex Championship Weekend at Lime Rock Park can be purchase online through the Lime Rock Park website.
The race will be broadcast live on Fox Sports 2 starting at 1:30 p.m. ET on Saturday, September 28, and re-aired on Fox Sports 1 at 12 p.m. ET on Sunday, Sept. 29.