Chris Watts, the Colorado man convicted of killing his wife, unborn child, and two children, will reportedly be the subject of a new Lifetime channel movie.
CBS 4 in Denver reported that A&E Networks announced the upcoming movie on the network's website.
"Lifetime has greenlit the new movie, The Chris Watts Story [working title], revealing the months that led up to the horrific crime and piecing together the mysterious motives that made this doting father turn into a cold-blooded killer," the announcement read.
"When Chris Watts tearfully pleaded to television cameras for the safe return of his missing pregnant wife Shanann and their two young daughters, dark secrets loomed just beneath the surface," network officials also said.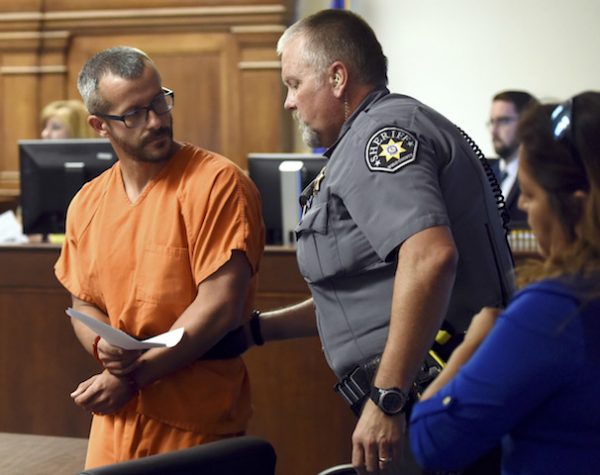 Watts first denied any involvement in the slayings before he later admitted to killing Shannan, who was pregnant. In November of last year, he admitted to killing her and their two children.
He is now serving several life sentences in a Wisconsin prison.
Judge Marcelo Kopcow said the way in which the bodies were disposed of was despicable.

"This is perhaps the most inhumane and vicious crime that I have handled out of the thousands of cases I have seen," Kopcow told the court.
The Lifetime movie is expected to premiere next year.
"As part of Lifetime's Stop Violence Against Women campaign, a PSA will run following the movie's debut, driving viewers to resources on domestic abuse, crisis help lines and other valuable information," the network said.
It comes as Shannan's father said that his family has been the target of online harassers over the past year.
"Our family, including Shanann and her children and our grandchildren, have been ridiculed, demeaned, slandered, mocked in the most vicious ways you can imagine," Frank Rzucek said last month, reported CNN. "We have been subject to false accusations, fake Facebook accounts, hate speeches and a constant stream of ugly, evil insults and attacks."
Seriously what is wrong with people? Harassing a grieving family????// The father of slain Colorado pregnant mom Shanann Watts says his family has been harassed nonstophttps://t.co/M0nFgZbCj2

— Kendall Thiessen (@ideasurge) July 23, 2019
He said that "every time we turn around there is someone trying to capitalize on our tragedy by spreading false rumors and outright lies about Shanann and our grandchildren."
Rzucek noted that his family cannot find peace.
"It is cruel, it is heartless and it's flat wrong," he said.
Social media companies such as Facebook, Twitter, and YouTube have not helped.
"We are calling on you again to do the right thing, to take some responsibility for your platforms and stop this despicable conduct," he said. "There's no regulatory arm of YouTube, there's no customer service line for YouTube, no customer service line for Facebook to contact," Lambert added. "And we have really tried and racked our brain over a year to get something done."
Facts About Crime in the United States
Violent crime in the United States has fallen sharply over the past 25 years, according to both the FBI's Uniform Crime Reports (UCR) and the Bureau of Justice Statistics (BJS) National Crime Victimization Survey (NCVS) (pdf).
The rate of violent crimes fell by 49 percent between 1993 and 2017, according to the FBI's UCR, which only reflects crimes reported to the police.
The violent crime rate dropped by 74 percent between 1993 and 2017, according to the BJS's NCVS, which takes into account both crimes that have been reported to the police and those that have not.
The FBI recently released preliminary data for 2018. According to the Preliminary Semiannual Uniform Crime Report, January to June 2018, violent crime rates in the United States dropped by 4.3 percent compared to the same six-month period in 2017.
While the overall rate of violent crime has seen a steady downward drop since its peak in the 1990s, there have been several upticks that bucked the trend. Between 2014 and 2016, the murder rate increased by more than 20 percent, to 5.4 per 100,000 residents, from 4.4, according to an Epoch Times analysis of FBI data. The last two-year period that the rate soared so quickly was between 1966 and 1968.