Brian Kolfage, the triple-amputee veteran behind the viral GoFundMe to raise money for President Donald Trump's border wall, said he's received a bevy of hate messages over the past several days.
"After Alyssa Milano and Jimmy Kimmel took it upon themselves to personally attack me it blew up in their faces. The left-wingers took that as their dog whistle and began attacking me, my wife and our children," he told The Gateway Pundit on Dec. 24.
Last week, Kimmel called the hundreds of thousands of people who donated to the GoFundMe, which stands at about $16.5 million, "dopey people" and said they are "dipping into their meth money."
Liberals are calling for the death of my wife and kids because I support legal immigration @jimmykimmel @Alyssa_Milano Have started this @ABC should be ashamed! https://t.co/JnbkQFxVlu@Jim_Jordan @PeteHegseth @ericbolling @IngrahamAngle @RyanAFournier @MarkDice @lucasnolan

— Brian Kolfage (@BrianKolfage) December 23, 2018
Milano had tweeted: "Let's #GoFundTheWall while not taking care of our veterans. Cool. Cool. Cool." Actor James Woods responded: "Uh, this effort was initiated by a veteran, who not incidentally is a triple amputee. Just FYI…"
Kolfage sent over alleged hate mail screenshots to the Gateway Pundit. Many of the messages referenced his military service and amputated limbs.
One man, named Carlos Lopez, said the loss of Kolfage's limbs was "pre-karma," adding that "you are no patriot," according to a screenshot. Another person said, "I hope u lose both of your arms as well (sic)."
"You are a disgrace to this country," added another in a screenshot of the message. "Delete the GoFundMe and kill yourself. That's the best way to serve your country at this point."
Another wished the death of Kolfage's wife and children. "Hope you are [sic] your family dies a slow and painful death," they said.
He issued a response after receiving the hate mail.
"God forbid a veteran who gave 3 limbs for this nation have a public opinion about politics. I'm truly embarrassed for them. Maybe their parents didn't give them enough love growing up or they were neglected; they have so much hate inside," he told the conservative website. "Maybe they are just jealous that a triple amputee is more successful than them?"
He added: "I hope these people find peace and get the psychological help they do truly. Americans support the border wall and they need to get over it. Welcome to the real world."
But he said he's received positive messages about his fund, claiming that "many Democrats" thanked him.
"We're not getting just people who voted for Trump now," Kolfage told Fox Business on Dec. 21. "I'm getting messages from many Democrats who say they support this wall … It's showing the support of all Americans who are coming together on this."
After six days, the pro-wall campaign, "We The People Will Fund The Wall," has exceeded $16.5 million with more than 250,000 donors and is now GoFundMe's No. 2 all-time page.
'Ladders' GoFundMe Started
Meanwhile, a new GoFundMe was created several days later by "Ladders for Migrant Siblings" to buy ladders to get over the border wall.
"Seems like a bad idea on countless levels for everyone involved," the page reads. About $142,000 was donated from more than 6,000 people Monday after the GoFundMe page was created on Dec. 19.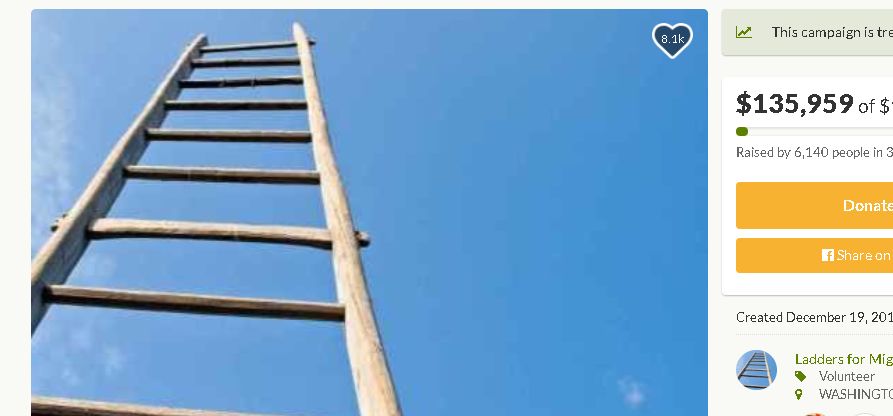 House Vote
In an interview with AZCentral, Kolfage claimed several congressmen in the U.S. House of Representatives told him the GoFundMe influenced their vote on a recent bill to include $5 billion for President Trump's border wall. On Dec. 20, the House passed a temporary spending bill with money for Trump's proposed wall.
"It just shows you, regardless of what happens, it impacted and changed votes that day," Kolfage said. "I think that's a success. We've done something that hasn't been done before with immense support from around the country."
"I was frustrated with our political leaders and what they're doing—their broken promises and dragging things on," Kolfage explained. "I thought having the GoFundMe would allow people to come together on the internet to show support for what they wanted. Raising this kind of money shows how important this is and that people want to support it."
According to the GoFundMe, "Like a majority of those American citizens who voted to elect President Donald J Trump, we voted for him to Make America Great Again. President Trump's main campaign promise was to BUILD THE WALL. And as he's followed through on just about every promise so far, this wall project needs to be completed still."