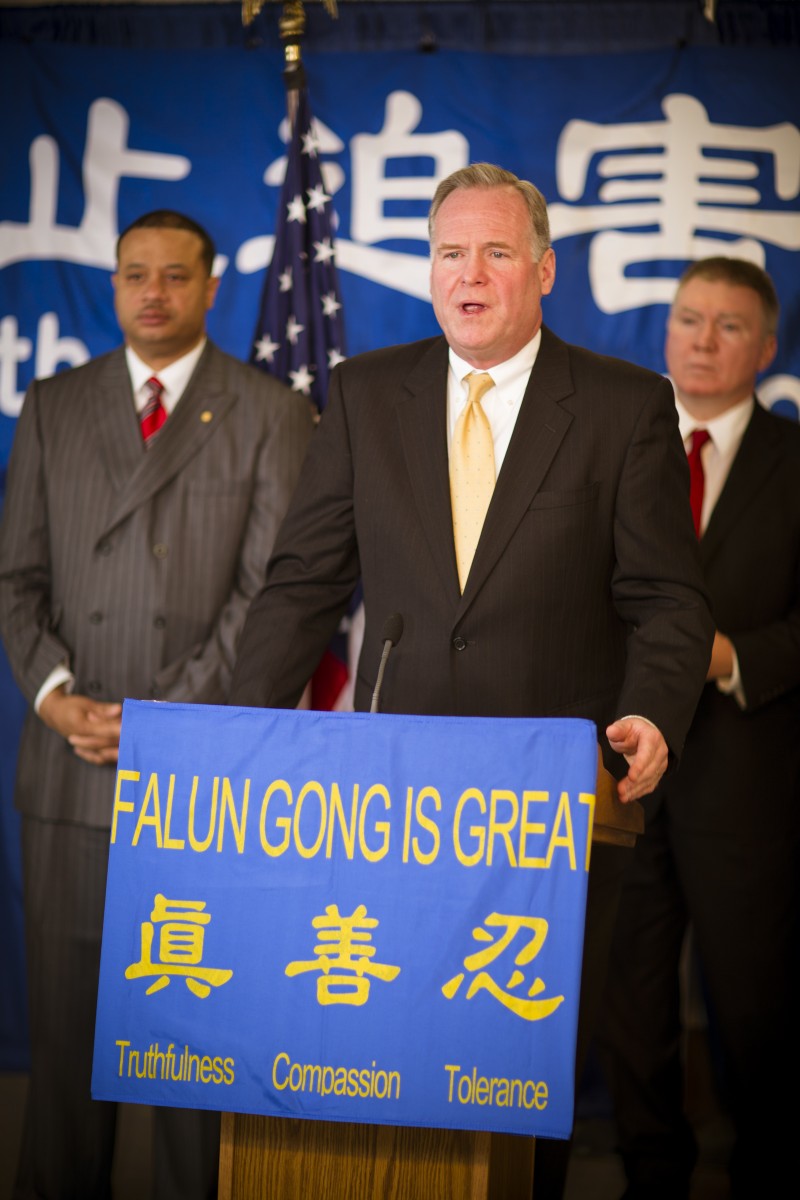 NEW YORK—In recognition of the 20th anniversary of Falun Dafa, the State Assembly of New York, Essex County, and 4 members of congress in the tri-state area issued proclamations to the Chinese spiritual practice and its founder Mr. Li Hongzhi.
"Falun Dafa was brought to New York in 1996," wrote Congresswoman Carolyn B. Maloney. "I am delighted to send my best wishes to Falun Dafa participants and practitioners on the occasion of the 13th World Falun Dafa Day celebration, highlighting good health guided by the principles of truthfulness, compassion and tolerance."
About 7,000 Falun Dafa practitioners from all over the world gathered in New York for a weekend of celebration on May 12-13.
"Falun Dafa is an advanced cultivation and practice system of mind and body based on ancient Chinese wisdom," wrote Essex County Executive Joseph N. Divincenzo Jr. who commended Falun Dafa and Mr. Li for "his leadership to improve and bring inner peace to the lives of those who follow Falun Dafa."
Congressman Michael G. Grimm delivered a special congressional recognition to Mr. Li, while Congressman Edolphus Towns issued a proclamation for May 13 as Falun Dafa Day.
Assembly member George Latimer issued a Certificate of Merit in celebration of Falun Dafa Day on behalf on the New York State Assembly.
Assembly member George Latimer issued a Certificate of Merit in celebration of Falun Dafa Day on behalf on the New York State Assembly.
A resolution was passed by the New Jersey State Senate & General Assembly acknowledging May 13, the birthday of Mr. Li, as World Falun Dafa Day, and the month of May as New Jersey Falun Dafa Month. In addition, New Jersey officials issued separate proclamations.
"In New Jersey alone, more than 1,000 residents practice this system of mind and body," said New Jersey Representative Albio Sires at a congressional meeting. "Let us wish that these wonderful practitioners of Falun Dafa continue to make an impact on their communities by observing the principles which they follow."
"World Falun Dafa Day was first introduced to Rutgers University in 1996, and since then has touched numerous residents of New Jersey through free workshops and classes that have been offered across the state in libraries, community centers, senior centers and other universities," said Senator Robert Menedez in his letter.
Another New Jersey Congressman, Rush Holt, also delivered congratulations to the Falun Dafa Day festivities, adding that "it is important to keep in mind those practitioners of Falun Dafa who are denied the basic human right to practice their peaceful religion."
Falun Dafa has been persecuted in China since 1999 in a campaign initiated by former president Jiang Zemin. The brutal persecution against the practice has caused the deaths of more than 3,500 practitioners.
Letters of proclamation was received from State Assemblyman Upendra Chivukula, Congressman Robert E. Andrews, and New Jersey towns and counties including Somerset, Warren, Parsippany, Washington, Millburn, Bridgewater, Morristown, Old Bridge, Edison, and Sayreville.
Falun Dafa involves practicing five meditative exercises and living according to teachings based on the principles of truthfulness, compassion, and tolerance. The exercises are taught for free at many parks in the tri-state area by volunteers. www.Falundafa.org
Mr. Li Hongzhi began introducing Falun Dafa to the public in 1992 in the northern Chinese city of Changchun. Within a few years, Falun Dafa became the most popular qigong practice in the country. Mr. Li was awarded the title of "the Most Popular Qigong Master" by organizers of the Beijing Oriental Health Expo in 1993.
"Before, I could not sit in the same position for more than ten minutes because I suffered from bone spurs in the neck, but soon I discovered that my neck and shoulders did not hurt anymore and I was full of energy" wrote Falun Dafa practitioner Rui Xian, who learned the practice from Mr. Li personally in 1992. "I also quit smoking after failing to do so in 30 years."
Mr. Li and Falun Dafa have received more than 14,000 proclamations in the United States.
[etssp 563]
The Epoch Times publishes in 35 countries and in 19 languages. Subscribe to our e-newsletter.