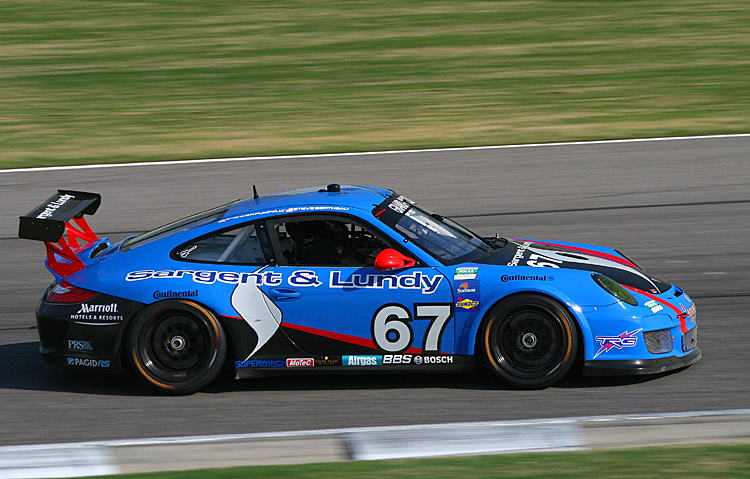 The Racer's Group, winners of the GT class of the 2011 Grand Am Rolex 24 at Daytona, will be back to defend its title and will also contest the entire 2012 Rolex Sports Car Series season. TRG fielded five cars in the 2011 Rolex 24, and team owner Kevin Buckler is hinting that he might bring a similar force for 2012.
"We have been working diligently and feverishly during the off-season to defend a title that has become very important to us and is the pinnacle of endurance racing in the U.S.," said Buckler in a press statement. "As further announcements roll out, I think you will see how serious we are about winning this race in this very historic year."
The team brought five cars to the Dec. 6–7 Winter Test at Daytona International Speedway, including two brand new 2012 Porsche 911 GT3 Cup models.
Along with whatever TRG brings to the Rolex 24, the team is also focused on the entire 2012 season. Drivers Steve Bertheau and Spencer Pumpelly, part of the wining 2011 team, will return for both the 24 and the rest of the schedule.
TRG has won the Rolex 24 four times; a fifth win in the historic race's 50th anniversary running would mean a lot to Buckler and the rest of the team.
"Winning Daytona last year was one of the biggest thrills of my life and certainly the highlight of my race career to date," said driver Steve Bertheau on the team's website.
"To have the chance to defend with Spencer and a team like TRG is a once-in-a-lifetime moment. It's a long race and anything can happen, but I know we will be ready. And I am really looking forward to a full season as well."
Spencer Pumpelly made similar comments: "Coming back to Daytona with Steve and all of the TRG guys to defend our 2011 victory is really going to be neat. We made memories last season that we'll never forget. I can't wait to find out what 2012 has in store."
Along with wining the Rolex 24, Pumpelly finished second in the American Le Mans Series GTC class in 2011, where TRG also took second in the team competition. Bertheau and Pumpelly also won the Rolex Canadian Tire 200 at Watkins Glen.
"I can't even begin to express how thrilled I am to have a guy like Steve [Bertheau] back in the car and back with TRG for 2012," team owner Kevin Buckler stated. "To be able to pair him up with a proven sports car veteran like Pumpelly—this is what TRG is all about. The 2012 season is sure to be exciting."
TRG earned 14 podium finishes in 2011 among the various series where it raced; plainly the team plans to do at least as well in 2012.