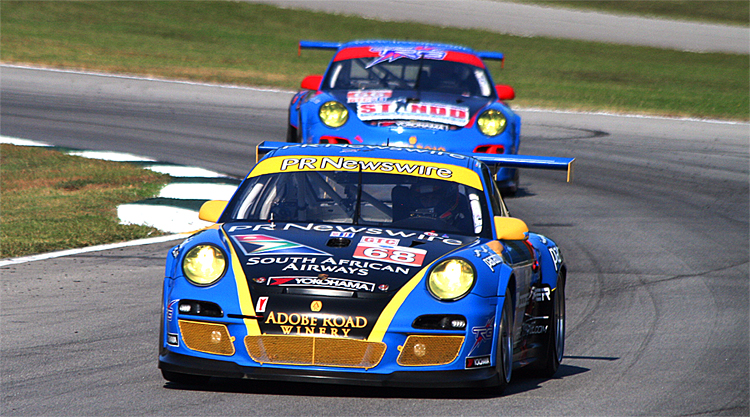 The Racers Group, which has been racing Porsches for almost two decades, has announced its drivers for the 60th Anniversary Sebring 12 Hours.
TRG will enter a single Porsche 911 GT3 Cup in the American Le Mans series GTC class. Drivers for Sebring will be TRG regular Spencer Pumpelly, plus Venezuelan driver Emilio DiGuida and Marc Bunting, returning to the team which he helped to win the 2006 Grand Am GT championship.
TRG has won a lot of races since its founding in 1993, but has yet to capture the Sebring 12 Hours.
"We have come close several times so we want this one, and we want it badly!" said team owner Kevin Buckler on the team's website. "When I think about all the great wins this team has had over the years at Petit Le Mans, Laguna Seca, Daytona, Road America and Le Mans, I become very focused on wanting to add this great race to our trophy case. We've got the drivers, the equipment and the team that can do it this year, and we are ready."
Spencer Pumpelly has been a TRG driver since 2006, competing in ALMS and Grand Am. Pumpelly scored two wins and four podiums in ALMS for the team in 2011, finishing second in drivers' points, and also won the GT class at the Rolex 24 at Daytona for the second time.
"Spence is a team leader," stated Buckler. "He knows his way around every track, figures out every nuance with the car and relates really, really well with his teammates. I can't say enough about how much he brings to the team."
Emilio Di Guida won five Venezuelan championships before coming to ALMS in 2011, driving for TRG at Road America and Laguna Seca, and driving for TRG in the 2012 Grand Am Rolex 24.
"Emilio did a great job for us last year," said Buckler. "He keeps getting better and better. I was so proud of him earlier this year in Daytona as he emerged as one of our team leaders with a really solid run and laps times that were incredible. We are going to have a really good shot at this for Sebring."
Marc Bunting raced in Grand Am for nine seasons, winning the SGS class title in 2004 before joining TRG in 2005. Bunting and TRG won the 2006 driver's and team championships. Bunting returned to TRG in 2011 for the ALMS Mid-Ohio, Mosport, and Baltimore races.
"Marc is very, very fast but also extremely patient and level headed, which is crucial at a race as grueling as Sebring," noted Buckler. "We have also been friends for years and I am both happy and proud to have him back as part of our squad at Sebring."
The 60th Anniversary Twelve Hours of Sebring starts at 10:30 a.m. Saturday, March 17, with support races, practice, and qualifying for several days in advance. Tickets are available through the Sebring raceway website.