Tree-top protesters opposed to the construction of the HS2 train line yesterday revealed their plan to escape eviction by camping out in a 100-foot tunnel that they had secretly constructed under the streets of London.
Bailiffs descended on the protest at Euston Square on Wednesday morning, where people have been living in 80-foot-high treehouses, tents, and pallet shelters since the summer.
The protesters want to protect what they describe as "some of the most historic trees in Central London," which they say are at risk from the construction of a temporary taxi rank.
That taxi rank will serve Euston Station while the current rank is demolished to allow construction of the high-speed rail hub that will ferry passengers to Birmingham New Street.
The protest group, called Hs2 Rebellion, say that they have spent several months constructing a 100-foot tunnel, complete with wooden joists and boards, where they believe they can hold off the bailiffs for several weeks.
"There is a main chamber where the activists are living and stashes of food and water all along the tunnels' lengths," according to a statement from the group. "These have been stocked with tins of beans and packets of pasta and vegetables."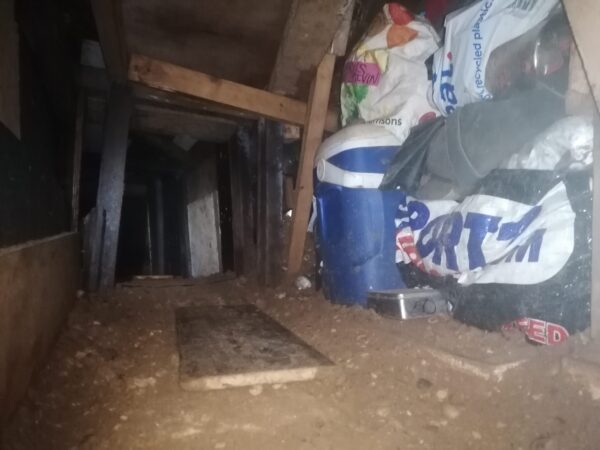 The controversial Hs2 project has attracted various criticisms from a variety of different groups.
Hs2 Rebellion appears to share a loose ideological position with the similarly named Extinction Rebellion.
A spokesperson for Hs2 Limited told The Epoch Times via email, "To ensure HS2 is able to deliver its major benefits to the UK on time, certain works must take place at designated times. HS2 has taken legal temporary possession of Euston Square Gardens East in order to progress with works necessary for the construction of the new Euston station.
"These protests are a danger to the safety of the protesters, our staff and the general public, and put unnecessary strain on the emergency services during a pandemic. The protesters are currently trespassing on land that is legally possessed by HS2."
Evictions are being handled by private security.
London's Met police did not respond to a request for comment from The Epoch Times by the time of publication.
HS2 Limited refuted some specific claims made by Hs2 Rebellion.
The number of ancient woodlands that will be affected by the project will be 43, according to Hs2 Limited, as opposed to the figure of over 108 cited by the protesters.
HS2 Limited said 80 percent of the total area of the affected ancient woodlands will be untouched by the construction. There are 52,000 ancient woodland sites in England, according to the company.
The protest site had also become something of a hub for some homeless people.
The group has argued that the site comes under pandemic-related legislation that bans evictions.
Hs2 Limited, however, said, "The current ban on evictions due to the Covid-19 pandemic is not applicable and the police, landowners, and those with legal possession of the land have the power to remove trespassers using minimum force."