A "trans-inclusive" health care bill that would further entrench so-called gender-affirming care in California has passed the Assembly Health Committee, moving it further along in the legislative process despite widespread concern, especially about its application to children.
Senate Bill 923 would all force all health insurers, including Medi-Cal and Program of All-Inclusive Care for the Elderly (PACE) organizations, to make staff complete "evidence-based cultural competency training" to provide trans-inclusive health care to patients who identify as transgender, gender diverse, or intersex (TGI).
Under the proposed legislation, individual staff members accused of failing to provide trans-inclusive health care would be forced to take a refresher course or more frequent training "if deemed necessary."
Sen. Scott Wiener (D-San Francisco) defended the bill at a hearing on June 21, claiming that there have been "atrocious" and "vile" attacks on the trans community.
"The signal that it sends to that community, and to kids in particular, is just really devastating," he said.
He alluded to other states that have taken a stance against the transitioning of minors and have defined it as child abuse, and said California is moving in "the other direction."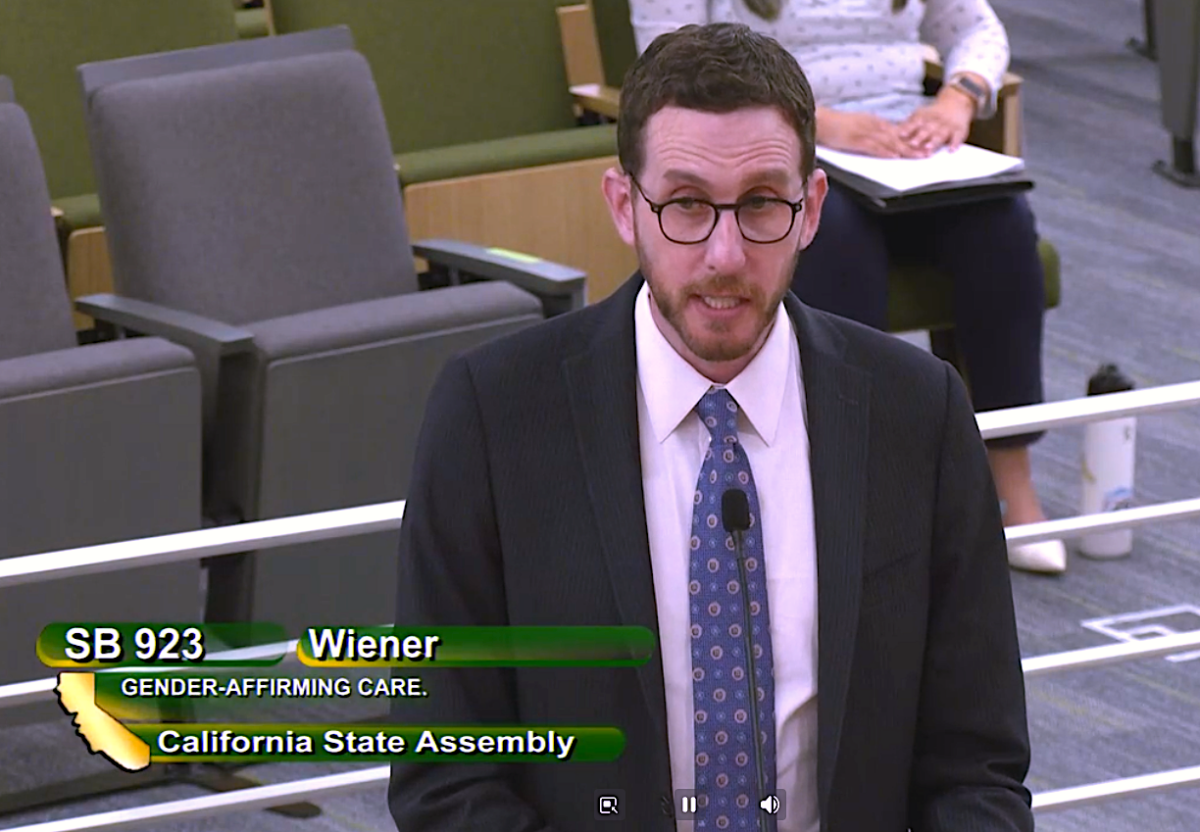 "We're going to make sure that our healthcare system actually works for people who are trans, gender diverse, and intersex," he said.
"Currently, there is no national guidance on TGI inclusive care, and this will be a first in the nation model, ensuring that our TGI communities have quality and appropriate care," he said.
In Opposition
Erin Friday, the mom of a teenage daughter who suffered from Rapid Onset Gender Dysphoria (ROGD) but later changed her mind, told the committee medical providers don't need to be educated by trans advocacy groups.
Friday countered the narrative that children who identify as trans are more prone to suicide if they don't get gender-affirming medical treatment, arguing that in California, gender identity cannot be questioned and doctors convince parents to consent "by using the suicide threat," she said.
"When my daughter was in eighth grade, she was convinced she was trans. Her entire friend group also came out. Senator Wiener likes to say that parents reject their trans-identified kids, but the contrary is true. They are coached to reject us.
"My child is one of the lucky ones. All of her doctors, therapists and school counselors said that she would commit suicide if I did not affirm her. I ignored them. See, I had read all the suicide studies and I knew what they were saying was untrue. Today, my daughter is happy in her unaltered female body," Friday said.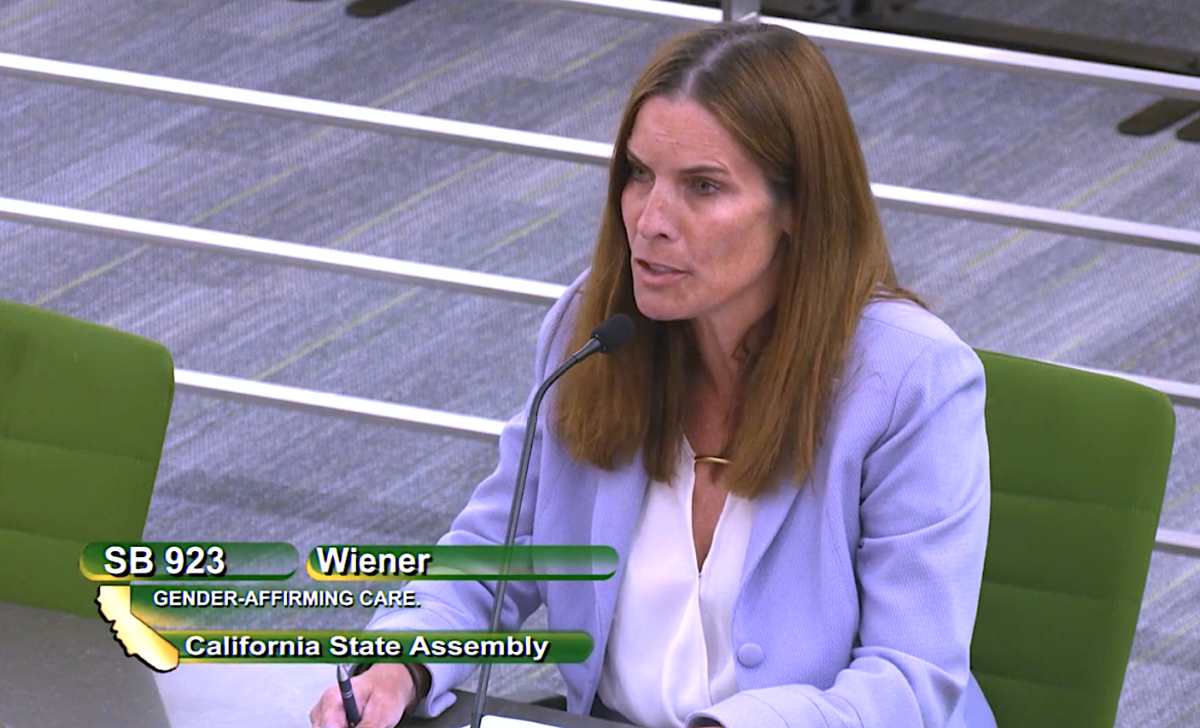 But, another girl, Chloe, wasn't so lucky, she said.
"At 12, she decided she was trans. Her parents were given the one treatment plan available in California: gender-affirming care. They followed the advice, put her on puberty blockers and testosterone. Chloe at age 15 underwent a double mastectomy. By 16, she realized she had made a mistake," Friday said.
SB 923 would make stories like Chloe's more common, she said. "It will make it more difficult for gender-confused people to explore their underlying mental health issues."
As a California leader of an organization called Our Duty, Friday rejected claims that parents like her are denying the existence of children who identify as trans. She said they are saying "no child is born in the wrong body."
She pointed out that the number of "detransitioners"—the term used to describe people who transition and later regret doing so—on Reddit has grown by 60 people a day or 3,600 in the last two months.
Ted Hudacko, a divorced father of two teenage boys who is embroiled in a widely publicized custody dispute, also opposed the bill.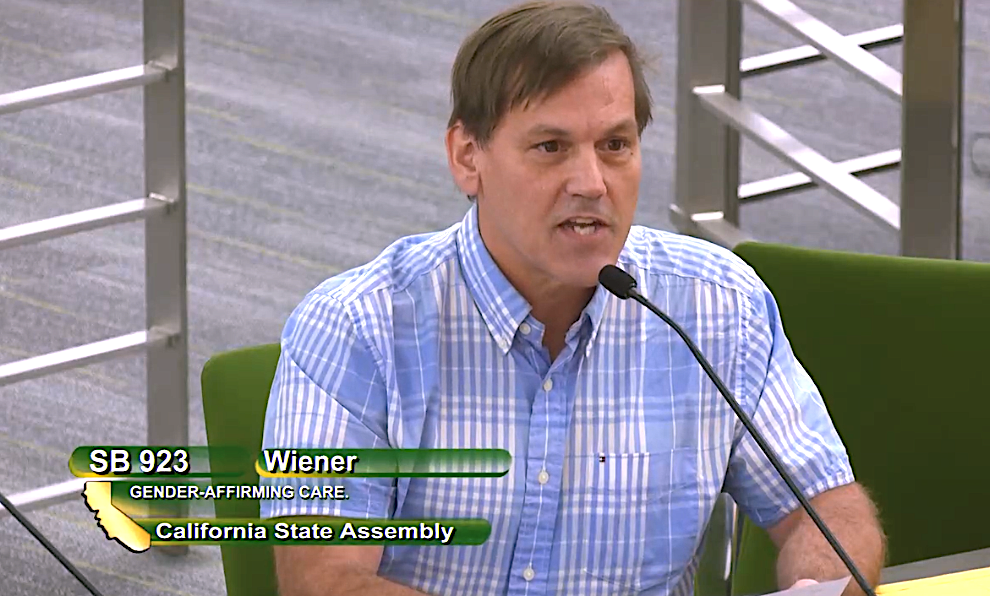 Hudacko told the committee his eldest son "without prior signs of gender incongruence at 15, following a horrifying trauma, decided he was no longer a boy."
Although Hudacko said he tried to help his son understand he wasn't transgender but was looking for a solution to his depression and anxiety, his wife disagreed and "streamlined his transition," he said.
"My wife placed him on estrogen that can result in sterility in as little as four months, according to Planned Parenthood," he said.
Hudacko claimed he lost custody of his older son not because he was a bad parent, but for questioning the causality of his older son's sudden trans identity.
"In our custody battle, [California Superior Court] Judge [Joni] Hiramoto, whose own son transitioned, predictably granted custody of just our older son to my wife, but shared custody of our younger son."
Questioning Suicide Risk
Hudacko cited the tragic case of Yaeli Martinez, a 16-year old girl who identified as trans and ran away from home so she could be placed in foster care where she was given testosterone injections. She later complained to her mother, Abigail Martinez, of unbearable pain from the cross-sex hormone therapy before laying across a railroad track in front of a train.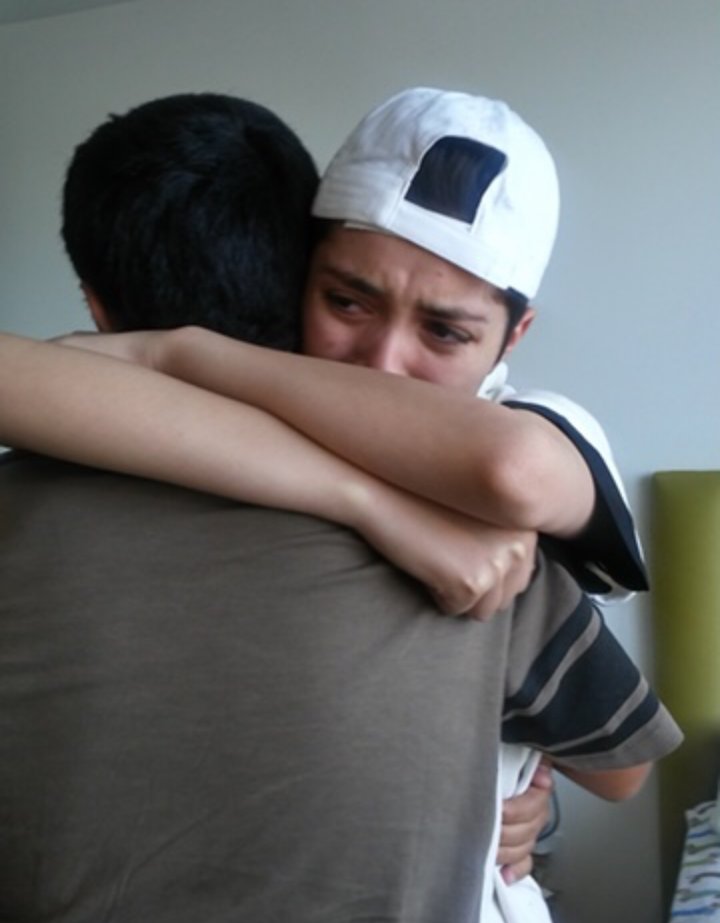 "SB 923 will guarantee that all medical providers will ignore all other mental health issues in lieu of trans treatments. This is the crime of the century in California and you, Sen. Wiener personally are leading the charge. Shame on you," Hudacko said.
A recent report by the Heritage Foundation found that policies that have given minors easier access to puberty blockers and cross-sex hormones without their parents' knowledge and consent have likely led to rising rates of youth suicides.
Jay P. Greene, a senior research fellow at the Heritage Foundation's Center for Education Policy, rejected the claim that so-called "gender-affirming care" saves lives, and suggested the policy may do more harm than good.
"At a minimum, results presented in this Backgrounder demonstrate that efforts to lower legal barriers for minors to receive cross-sex medical interventions do not reduce suicide rates and likely lead to higher rates among young people in states that adopt those changes," Greene wrote.
The report, released on June 13, found that over the last decade, suicide rates have risen higher in states that allowed minors easier access to puberty blockers and cross-sex hormones compared to states that didn't. By 2020, suicides increased by 3.5 per 100,000 among 12-to 23-year-olds in states that did.
In a video about the report, Greene disagreed with the assumption that if puberty blockers and cross-sex hormones are not widely distributed to minors, then more kids will die.
He also cited the case of Yaeli Martinez, saying the testosterone wasn't the panacea she was told it would be and didn't cure her underlying depression or anxiety.
"Yaeli Martinez did indeed take her own life, but it was because she was put on this treadmill—this one-way direction to reject her own embodiment against the wishes of her mother," he said.
In Support
Daniel, who identifies as a "two spirit transmasculine individual," shared a personal account of alleged discrimination.
"Eight years ago, I had to undergo surgery to remove blood clots from my legs. During the prep for my surgery, I was outed as transgender, and the medical team was extremely rude to me and made me feel uncomfortable. But instead of leaving, I stayed because I needed the surgery done so I can live a healthy life," Daniel said.
"No human being should ever have to think about how many times they almost lost their life due to discrimination and transphobia and the trauma that comes from it," Daniel said.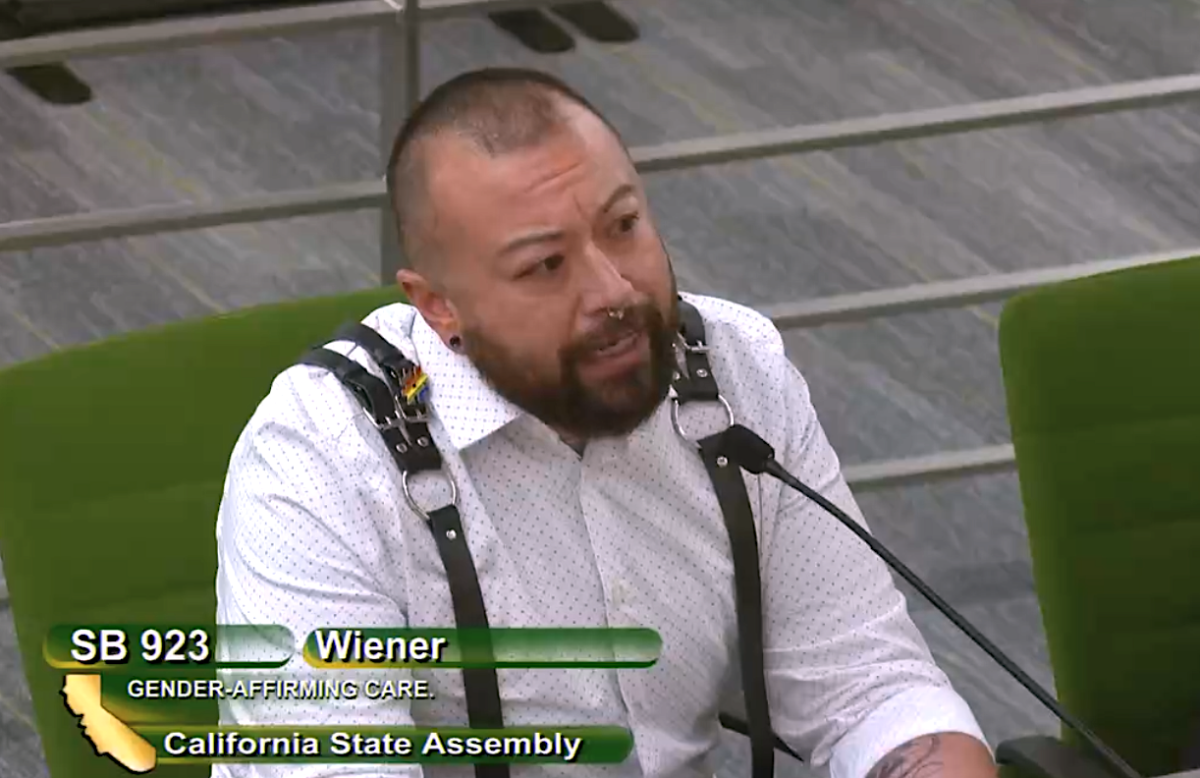 Erin Pollard, a marriage and family therapist, clinical counselor, and manager of student equity at Irvine Valley College in Irvine, Calif., told the committee she has specialized in gender-affirming care for the last 14 years and is a longtime advocate for trans-inclusive care.
Appropriate care and treatment for gender diverse patients is not included in the master's programs or doctorate level programs, she said.
"This means that we graduate clinicians without the knowledge or ability to care appropriately for our TGI patients. In order for clinicians to receive this specialized training, they must seek it out themselves," she said.
Assemblywomen Dr. Akilah Weber (D-San Diego) cautioned that the bill could be misused to punish people for making an honest mistake about someone's gender or pronouns.
After a long day of reconstructive surgeries, Weber said she accidentally recently referred to a nonbinary patient as "she" when she should have said "they."
"As a gynecologist, I mainly see females," she said, "and so when … I was talking with a mother, I said 'Oh, she's in recovery right now,' but I should have said 'they.'"
"I would hate for someone who makes kind of like an honest mistake to then feel like they're punished for that," Weber added.
Wiener replied that the goal is not to punish people for making an honest mistake, but only when it is intentional.
"As a gynecologist that specializes in pediatric and adolescent gynecology, I have interacted with trans patients often and understand the importance of having culturally competent people who are managing them from the time they check into the clinic to the time they check out, and some of the devastating impacts on patients when they don't get that," Weber said.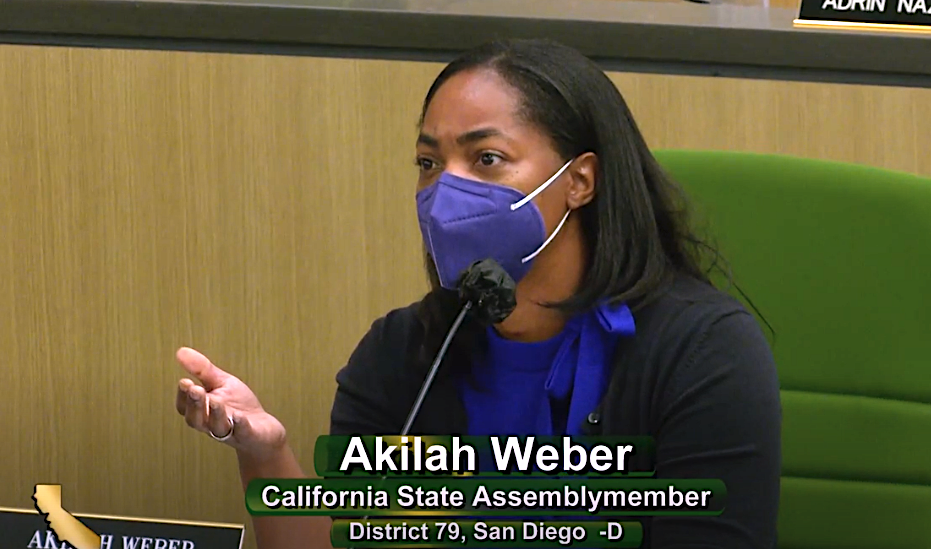 Weber asked for clarification about the nature of the bill after "listening to the opposition" to which Wiener replied it's about "making sure that culturally competent, respectful care is provided."
"We've heard a lot of things today," Wiener said. "And we can ask why it is that a bill saying that trans people should be treated with respect by health care providers, all of a sudden brings out all this other stuff. And you can start to understand why what's happening in this country today is happening," Wiener said.
Assemblywoman Wendy Carillo (D-Boyle Heights) commended Wiener for bringing the bill forward.
"We are in a different space," she said. "I think it's important to recognize that there are young people now that have a very different upbringing and a different frame of thought as to who they are, how they were born, how they choose to identify, and what that means for our society.
"I am learning every day, I consider myself a strong ally … and I would just ask that there is a little bit of grace for those that we need to bring along, to ensure that while we are creating a society that is reflective of everyone across the state, that we also have the opportunities to bring people in," Carillo said.
Proponents of SB 923 included about two dozen LGBTQ and trans activist groups, Planned Parenthood Affiliates of California, and the California Teachers Association.
Opposition included more than a dozen groups representing doctors, dentists and health insurance companies as well as Our Duty, the California Family Council, Can I Get a Witness, Mass Resistance and Women's Declaration International USA.
Democrats backed the bill which was passed by an 11 to 1 vote along party lines. Assemblyman Frank Bigelow (R-Sutter Creek) voted against it, while three other Republicans abstained. The bill was passed as amended and re-referred to the appropriations committee.