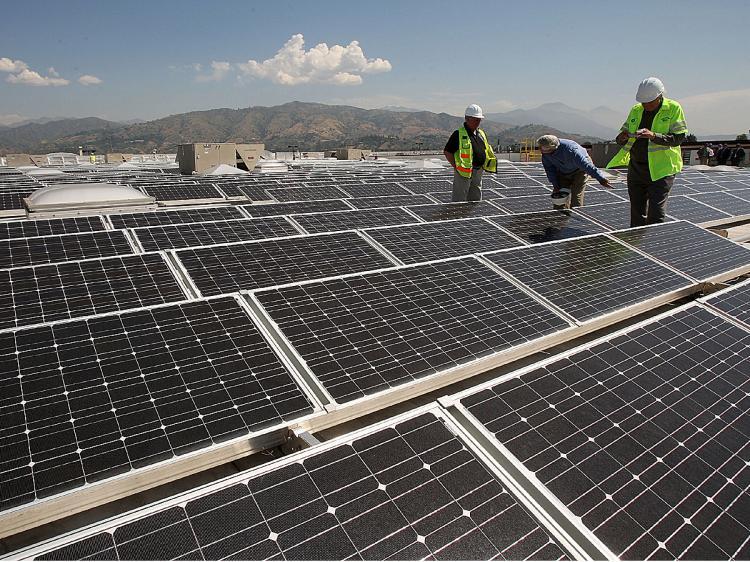 Clean Energy programs are envisioned to help thousands of students land a job after completing the program. On Feb. 27, the California Department of Education and the California Energy Commission announced one such program, providing it with $3.2 million in funding. Titled Clean Energy and Technology Academies, the program is similar to the many California Partnership Academies (CPA) programs.
"The CPA model is a three-year program (grades ten-twelve) structured as a school-within-a-school. Academies incorporate integrated academic and career technical education, business partnerships, mentoring, and internships," according to an entry on the California Department of Education website.
The funds are to be distributed to 21 California schools, including four in Alameda County, four in Los Angeles, three in Sacramento, and three in San Diego, of which eight will receive $135,831 each, and six will receive $72,443 each.
Today, there are already 48,000 California students enrolled in that program, which combines lectures with technical training in the real world. On graduation, the students of the Clean Energy and Technology Academies program will be placed in jobs in the clean technology and renewable energy industry.
The fund for the aforementioned academies program will not be disbursed in full, but periodically, once the fund providers find that a program is geared toward what was envisioned.
"Academies will receive funding in installments, as they first launch their new programs and then demonstrate that they have created curriculum and activities designed to meet stringent academic and industry-specific requirements," according to the recent California Department of Education announcement.
What's Ailing the Clean Energy Industry?
"Stinging headlines and partisan attacks [given the bankruptcy of Solyndra Inc., a solar panel company] have left many in the clean-tech community caught off guard, as the industry has become a modern-day whipping boy for all that ails the U.S. economy," according to a 23-page report released in March by Clean Edge Inc., a research and advisory firm in the clean-tech sector.
The media attacked the $535 million loan guarantee the U.S. Department of Energy (DOE) provided to Solyndra in 2009, but neglected to mention that it was a mere fraction, 1.3 percent, of the DOE's total loan portfolio. Besides, Solyndra didn't rely solely on the government guarantee, as it received $250 million from private investors.
"These criticisms, offered up in sound bite-sized nuggets delivered more for their impact than accuracy, miss several key points," according to the Clean Edge report.
The report defends subsidies for the clean-tech industry, given that the Chinese regime's subsidies for clean-tech research and technology have trended up over the past years. Last year, a group of solar companies filed a complaint with the U.S. International Trade Commission because of the subsidy issue, while others saw no value in the complaint and hoped it would disappear.
"What you have is a situation where you have one company who represents 2–3 percent of the job base is undermining the job growth for the other 97–98 percent of the market. The U.S. solar industry has 100,000 employees and has grown at 6.8 percent for the past year. This lawsuit threatens that growth," said Kevin Lapidus, senior vice president at Sun Edison LLC, in a 2011 Huffington Post article.
Clean Edge also finds fault with the oil, gas, and coal industries being showered with at least six times more subsidies than the clean energy industry.
"While subsidies might make sense for emerging sectors … ongoing support for oil and gas industries no longer makes sense. Nor, according to groups like the International Energy Agency and World Bank, are they prudent from an economic, environmental, or energy security perspective," the Clean Edge report argues.
Discussing Clean Energy Growth
"Combined global revenue for solar PV, wind power, and biofuels … surged by 31 percent over the prior year, growing from $188.1 billion in 2010 to $246.1 billion in 2011," according to the Clean Edge report.
Worldwide production of ethanol and biofuels amounted to $83 billion last year, a $26.6 billion increase, and is predicted to grow by another $56 billion over the next nine years. The increase was mainly due to an increase in biofuel prices, which increased between 10 and 20 percent in 2011. Considering that there was no global market for biofuels in 2004, the growth has been astonishing, starting at $15.7 billion revenue in 2005.
Global revenue from electrical power generated by windmills or wind turbines increased 18 percent from $60.5 billion between 2010 and 2011 and is projected to reach $116.3 billion by 2021. Going back to 2000, revenue was a mere $4 billion, and didn't start to really increase until 2007, when the global market earnings reached $30 billion.
Globally, solar photovoltaic (PV) systems, a system that requires one or more solar panels to convert sunlight to electricity, earned a total of $2.5 billion revenue in 2000. By 2011, the total market revenue was at $91.6 billion. Earnings are predicted to reach $130.5 billion within the next nine years.
Clean energy, also known as renewable energy, is benefiting from decreasing costs and thus is becoming more palatable to the U.S. consumer.
"The scale up of renewables is apparent in the rapidly declining costs and resulting increase in deployment of a host of clean technologies, most notably solar PV. Solar cells, which are mostly made from silicon … are now exhibiting economies of scale seen in earlier high-tech revolutions such as personal computers and cell phones," the Clean Edge report suggested.
Next…Venture Capital Trickling In
Venture Capital Trickling In
"In 2011, U.S.-based venture capital investments in clean technologies increased from $5.1 billion in 2010 to $6.6 billion in 2011, an increase of 30 percent, marking a near-record year," according to the Clean Edge report, referencing data provided by the Cleantech Group.
In 2001, investors pumped $37.6 billion into the clean-tech industry. By 2002, venture capitalists got cold feet, decreasing total investments to $20.8 billion. Investments continued to decrease in 2003 to $18.6 billion. In 2004, venture capitalists again opened their purses, and total investments increased to $22.4 billion, reaching $30.6 billion by 2008.
In 2009, venture capitalists abandoned the clean energy sector, with only $19.8 billion of venture capital left to that industrial sector. By 2011, venture capitalists had a change of heart and the total venture investments reached $28.4 billion.
The clean-tech industry is in need of investors who share in their dream of clean energy available to all Americans.
"The industry at large, and the nations pursuing cleaner electrons, will need significantly more funding in the coming decade to reach established deployment targets," the Clean Edge researchers advised.