The train that derailed on an overpass in Washington state on Monday was taking a corner at more than twice the speed limit when the passenger cars careened off the track onto a road below, killing at least three people.
In addition to the three fatalities, about 100 people were taken to nearby hospitals, of whom 10 had serious injuries, according to local authorities.
A federal safety official said late Monday that the Amtrak train was traveling 80 miles (130 km) per hour in a 30 mile-per-hour zone.
Multiple news outlets initially reported a figure of six fatalities from the crash on Dec. 18, citing unnamed officials. That figure could rise, however, given the number of critically injured victims.
Amtrak said there were 86 people aboard the train, including 80 passengers, five Amtrak crew members, and one Talgo technician. The corporation issued a statement with details on the incident and expressed regret for the loss of life and injuries due to the derailment.

A map of the derailment site. (Reuters)
A data recorder recovered from the train's rear locomotive indicated the speed at which it went off the tracks, Bella Dinh-Zarr, spokeswoman with the U.S. National Transportation Safety Board, told a news conference.
Dinh-Zarr told reporters that the agency's investigation is at an early stage and no conclusive information is available about the reason for the derailing.
"We are not determining probable cause of this accident, nor will we speculate about what may have caused the accident," the spokeswoman said.
The train was on its inaugural run on a faster route from Seattle to Portland, Oregon, when 13 of its 14 cars jumped the tracks around 7:30 a.m. local time and tumbled onto a major highway near the town of DuPont, Washington.
Five vehicles and two trucks were involved in the accident, and the highway was littered with fragments of the bridge and tree branches.
Injuries were reported among several motorists, authorities said, but no fatalities.
"Multiple cars and trucks were struck by train cars that left the train tracks and went down onto the road," Pierce County Sheriff's Office spokesman Ed Troyer told reporters, according to the Independent.
"The people that were in the vehicles, even though when you see the pictures it's pretty horrific, at this point nobody in any of the vehicles is a fatal. The fatals are all contained to the train."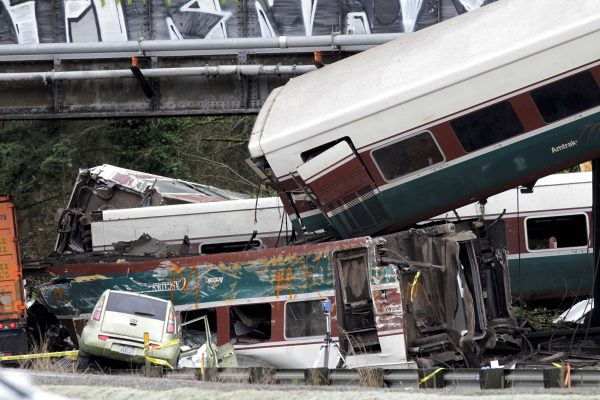 An additional 77 people were transported to hospitals in Pierce and Thurston counties, the Tacoma-based CHI Franciscan Health healthcare network said in a statement. Four of them were considered "level red" patients with the most severe injuries.
Emergency crews faced the dangerous task of entering and searching train cars that were suspended in mid-air, Jay Sumerlin of West Pierce Fire and Rescue told reporters, according to the Independent. Firefighters used jaws of life and saws to gain access to advance their search for casualties in the wreckage.
"It took a lot of extrication tools," Mr Sumerlin told reporters. "It wasn't easy for firefighters to get through".
Sumerlin said that by late afternoon Monday, emergency crews had searched the entire train.
Passenger Chris Karnes described the dramatic scenes he witnessed to news outlet KIRO 7, saying that people escaped the derailed train by kicking out windows.
"All of a sudden, we felt this rocking and creaking noise, and it felt like we were heading down a hill," Karnes said. "The next thing we know, we're being slammed into the front of our seats, windows are breaking, we stop, and there's water gushing out of the train. People were screaming."
The derailment occurred on the first day Amtrak trains began using a new inland route between the cities of Tacoma and Olympia, part of a project to reduce travel time, according to an October news release from the state's transportation department.

The rerouting takes trains along Interstate 5, eliminating a major choke point for passenger trains in Tacoma and allowing trains to reach speeds of 79 miles per hour, the department has said.
Monday's train, which had been scheduled to depart Seattle at 6 a.m. for Portland, Oregon, was the first to run along the new route, which uses tracks owned by a local commuter line.
It was not immediately clear whether the derailment, which came during a busy travel time one week before the Christmas holiday, was connected to the rerouting.

The train derailed at 7:34 a.m. in DuPont. A photograph posted by a Washington State Police spokeswoman showed an upside-down train car partially crushed on the highway, with a second car dangling off the overpass.
Authorities warned drivers to avoid the area, and southbound lanes remained closed.
The National Transportation Safety Board was sending a team of investigators to the site, the federal agency said on Twitter.
Amtrak's co-chief executive, Richard Anderson, earlier said that positive train control (PTC), a system that automatically slows trains if they are going too fast, was not installed on the new stretch of track.
By law, PTC must be installed on all passenger rail systems by 2018, a deadline that has repeatedly been delayed after rail agencies said implementation was more complicated than anticipated. Sound Transit commuter line, which owns the track, reported in September that it did not yet have PTC in operation.
President Donald Trump said the crash illustrated the need for infrastructure improvements.

The train accident that just occurred in DuPont, WA shows more than ever why our soon to be submitted infrastructure plan must be approved quickly. Seven trillion dollars spent in the Middle East while our roads, bridges, tunnels, railways (and more) crumble! Not for long!

— Donald J. Trump (@realDonaldTrump) December 18, 2017
My thoughts and prayers are with everyone involved in the train accident in DuPont, Washington. Thank you to all of our wonderful First Responders who are on the scene. We are currently monitoring here at the White House.

— Donald J. Trump (@realDonaldTrump) December 18, 2017
"Thank you to the first responders on the scene," Washington Governor Jay Inslee wrote in a Twitter message. "We're praying for everyone on board the train, and ask everyone to hold them in your thoughts."
The mayor of one of the towns through which the rerouted trains travel warned earlier this month that the high-speed trains were dangerously close to cars and pedestrians.
"Come back when there is that accident, and try to justify not putting in those safety enhancements, or you can go back now and advocate for the money to do it, because this project was never needed and endangers our citizens," Lakewood Mayor Don Anderson told transportation officials in early December, according to Seattle's KOMO News.
Hours after the crash, train cars remained dangling from the overpass, with others strewn across I-5, a major West Coast route stretching from the Canadian to Mexican borders.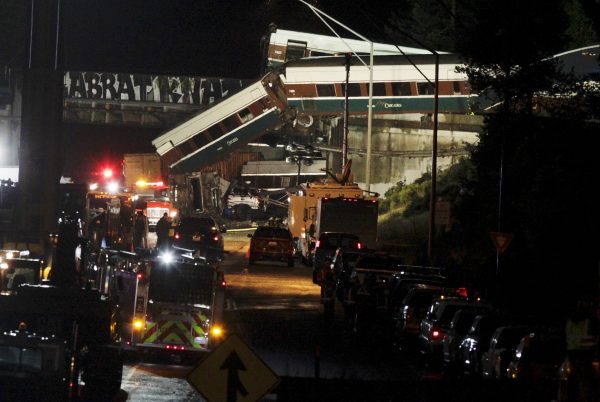 Cranes were brought in to remove the carriages.
"It was just a scene of chaos and piles of twisted metal," said Ted Danek, administrator for the city of Dupont who visited the site.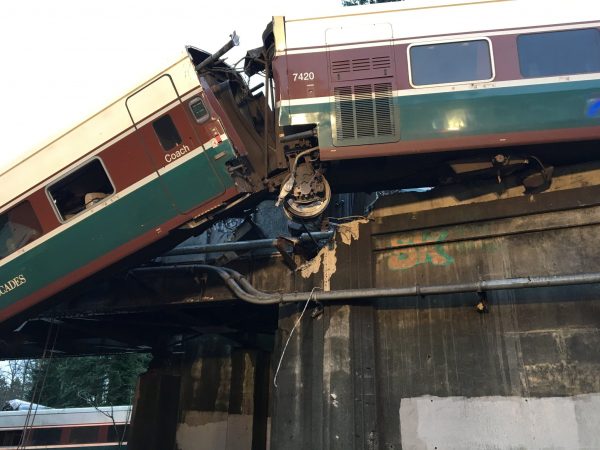 The derailment was Amtrak's second in Washington state this year. On July 2, a southbound train with more than 250 people aboard derailed in the town of Steilacoom, just a few miles north of Monday's accident. No serious injuries were reported.
Reuters and Ivan Petchoukov of NTD contributed to this report.