Traditional Chinese Private Schools Are Popular in China
December 14, 2006 12:00 am Last Updated: December 14, 2006 12:00 am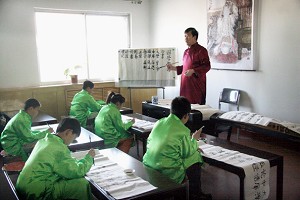 Many Chinese traditional private schools have opened in China this year. On December 5, China Radio International (CRI) Online reported that a private school chain called Tongxue Center opened its doors in a three-story office building in Zhengzhou City.
More than 20 students, dressed in yellow-colored Han Dynasty-style uniforms and ancient black hats, bow to Confucius every morning before classes, where they sit on mats with their legs crossed learning Chinese characters.
In addition to wearing Han Dynasty (206 B.C.–220 A.D.) style clothing, students follow ancient manners of politeness and respect, while studying ancient culture.
This trend has caught the attention of many people from all walks of life. Experts believe that a growing number of temple fairs during holidays, the worshiping of Buddha and gods, indicate that the public is returning to traditional culture.
Shenyang Evening News reported that the Chinese traditional Jiuwen School opened its doors on December 2. Students from middle and elementary schools come here to learn Chinese traditional manners and scriptures. The school does not teach math or English; rather it only teaches ancient traditional classics, including the Three-Character Classic, Thousand-Character Classic and Student Rules Scripture.
On September 16, 2006, the educational chain Tongxue Center held a curriculum demonstration in Shenzhen City where 20 children attended a half-day National Study class.
Hubei Daily reported on August 14 that another Tongxue Center opened in Wuhan City on August 13. Forty-five children wearing Han Dynasty style uniforms and ancient black hats sit on mats and study National Studies after bowing to Confucius. Tongxue Center's curriculum includes four months of weekly classes teaching children traditional culture and studies.
Private Traditional Schools Were Shut Down
Traditional Chinese private schools in some areas were closed by government agencies earlier this year. The Oriental Morning Post reported that in Shanghai, several families tried out a private school at Mengmu Hall with their 12 children, who were taught ancient scriptures. After class, the school let students watch TV shows "beneficial to children's growth" such as "Three Kingdoms" and "Dae Jang Geum." The school was closed thereafter by government authorities because it was "against regulations." This incident caught the attention of many people.
On November 29, the Education Ministry announced that for the first time since the 1950s, traditional private schools would be allowed to operate as long as they followed application processes. Traditional private schools previously closed were now allowed to reopen.

Compliments Regular Studies
The appearance of traditional Chinese private schools evoked warm discussion among experts, commentators and educators; many questioned the benefits, but more supported it.
Professor Peng Jinshan from the Northwest Normal University Literature Institute said private schools follow traditional culture and teach children ancient ethics, these schools also foster National Study. Such an education method does not conflict with our modern education system; rather, it supplements the modern education system.
Professor Lou Yulie from Beijing University National Studies Institute commented that these private schools are teaching the basics of Chinese traditional culture and values, which should be part of Chinese people's daily life.
In recent years, wearing Han Dynasty-style clothing has been popular in China. In some cities, a growing number of people wear Han Dynasty-style clothing, some brides and grooms even wear Han-style clothing for their weddings. Researchers believe the trend of Han Dynasty-style clothing and traditional private schools indicates people yearn for Chinese traditions and are returning to traditional Chinese culture and values.
Gaining Momentum
Epoch Times columnist Mr. Zhang Jielian said, "Traditional Chinese culture has a deep foundation and connotations. However, it was destroyed and distorted for dozens of years by the Chinese Communist Party (CCP)'s party culture. In recent years, especially after the publication of the Nine Commentaries on the Communist Party, the CCP lost control over Chinese culture. The CCP culture is being quickly eliminated and China is facing a return to its traditional culture. Traditional schools, Han Dynasty-style clothing, and worshipping Buddha are all indicators of such a trend."
Mr. Zhang Jielian also believes, "such a trend is a global trend and receives wide attention. The NTDTV Chinese New Year Spectacular, which is showing in dozens of cities around the world, promotes traditional Chinese culture globally. The Chinese New Year Spectacular has received a growing acceptance by the international mainstream; such an acceptance will help accelerate the return of Chinese traditional culture."