A former employee has alleged that specialty grocery store chain Trader Joe's told its employees last week that they must be vaccinated for COVID-19 or face demotion or dismissal.
Trader Joe's corporate office in Monrovia, California has not responded to multiple inquiries.
The former employee, who asked not to be identified, told The Epoch Times that several Trader Joe's employees in Southern California have told her they're afraid of losing their jobs if they don't get a vaccine against COVID-19.
"I have friends and family who work in the company, and they are terrified," the source said.
"They are forcing their managers first," said the source. "The captains are the main managers in each store. They are told that if they do not get vaccinated by July 16, they have to step down."
"One was fired, one quit over this. They're being forced," the source said.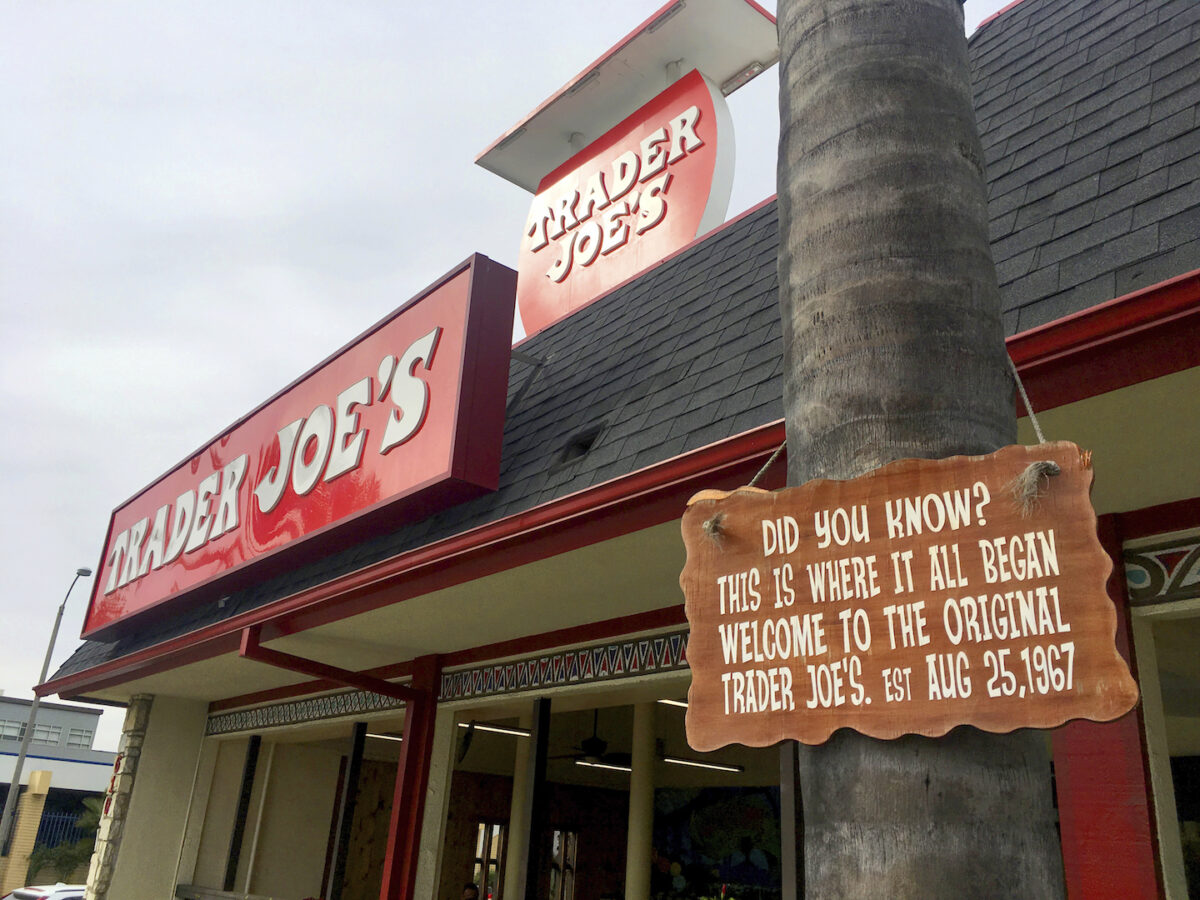 Policy Changes
Former Trader Joe's crew member Andrew Barrett told The Epoch Times that managers at a Portland store pressured him to walk off the job on June 30, the day Oregon Gov. Kate Brown lifted the state-imposed mask mandate.
He showed up maskless for his 6 a.m. shift that Wednesday and was immediately confronted by one of his bosses just after he clocked for work, he said.
When he was told to put on his mask, Barrett refused and was asked to leave the store, he said.
Barrett kept working until a store "captain" was called in to work early that morning.
"My general manager came into the box [the fridge] with another manager and he told me how this is Trader Joe's policy, and the policy is that if I [couldn't] show them right then and there that I had my double doses of vaccinations that I was not allowed to work," Barrett said. "That was the morning I got fired before I even saw a customer's face."
It's not clear whether Barrett officially quit or was fired, but he said he walked out of the store less than 1.5 hours into his shift.
"It definitely is very hostile for people who have chosen not to get vaccinated," he said. "They wanted me to quit, for sure."
Before June 30, customers—vaccinated or not—had to wear masks. Unvaccinated employees also had to wear masks, but vaccinated employees were allowed to go maskless before the store opened in the morning and after it closed at night, Barrett said.
After June 30, vaccinated employees and customers were allowed to go maskless, but unvaccinated employees were ordered to wear masks at all times, he said.
"They were discriminating against people, obviously, who they knew didn't turn in vaccination cards, which was only maybe four or five of us at that point," he said.
Yet, if he chose to shop at the store after hours, Barrett could do so without a mask, he said.
In a recent statement on the company's website, Trader Joe's said, "[W]e encourage customers to follow the guidance of health officials, including, as appropriate, CDC guidelines that advise customers who are fully vaccinated are not required to wear masks while shopping."
The company also told CNN Business that Trader Joe's employees would not ask for proof of vaccination from customers.
However, since the outset of the pandemic, Trader Joe's policy had always been to follow the state-mandated guidelines, Barrett claimed.
"I wore my mask every single day. I never complained about it publicly or out loud to management, nothing like that. I've never had a single bad review," he said. "I've worked hard for them."
Barrett said he told the manager that employees had been assured by Trader Joe's management that the store would "reopen as the general public" when the governor lifted the mask mandate, but that Trader Joe's had reneged on its promise.
"I said it shouldn't be this way. It shouldn't be where we're discriminated against—four people in the store out of 100," he said.
In January, the company granted Barrett two weeks paid leave "because there was COVID in my household." When he went back to work, Barrett said "everyone at the store" knew he had recovered from COVID, but that management claimed there were "zero cases."
"They were flat out lying to the customers and to the crew members claiming that they were COVID-free the entire time COVID was happening," he alleged.
Barrett said he knows that at least three other workers at the store got COVID-19.
What Trader Joe's is doing is "not OK with me," Barrett said. Since leaving the company, Barrett has shared his views on social media.
Though he expected a backlash, only two of about 600 comments were negative towards him, he said
"I just want more people to be able to have a voice and stand up for themselves," Barrett said.
Company Culture
Trader Joe's has given incentives to its employees to get the COVID-19 vaccine, Barrett said, since workers were given paid leave to go get their shots.
"They paid people to go get their vaccines," he said.
He said store employees have followed people around the store telling customers to pull their masks up over their noses.
In one case a woman was ordered to leave the store because her mask was deemed unacceptable by some staff.
"They cornered her in my store. They approached her and they said, 'Ma'am, your mask is unacceptable. We need to give you a new one.' And she said 'No, thank you. I'm OK. This is fine for me,' and they pressured her again. They were very rude. I saw the whole thing happen."
Trader Joe's managers and crew members also encouraged staff to participate in Black Lives Matter (BLM) and Antifa protests in Portland, Barrett said.
They even paid for food and housing for a Trader Joe's employee and covered for her missing work so she could go to the protests, he said.
Eventually, the activist employee became more militant and was arrested on a felony charge before the store fired her, he claimed.
At the same time, some employees were told they could not wear pro-Trump clothing in the store.
Barrett, 33, considers himself an independent-minded, moderate conservative who believes strongly in critical thinking. Until the last election, he was a registered Democrat, he said.
"Not anymore," Barrett said. "I want to be able to think about things for myself."
Barrett said he still has many close relationships at the store and is hoping Trader Joe's changes its requirements.
"I'm not trying to bring down this big, bad empire. I'm asking for a policy change," he said, explaining that he is opposed to dividing employees into groups of vaccinated or unvaccinated.
"Don't separate the two. That's all I care about."
Barrett said Trader Joe's pays its workers well and provides "amazing" health benefits and retirement plans, but has used that leverage to intrude into the personal life choices of its employees.
While sharing his story on social media, he encouraged others to also consider speaking out.
"I guess I'm writing this for the people who are afraid of this very thing. Afraid to be put in a corner for their beliefs, for their choices no matter how right or wrong they are to others. Afraid to step out in faith for their convictions. Times are hard right now, and they can easily become harder for anyone who feels an overwhelming sense of fear of what's to come," Barrett wrote on Instagram.
"Step out. Be you. Be bold. Don't stand for what's wrong. Your convictions are yours for a reason. Not everyone will understand, and that's OK," he wrote.
'Gag Orders'
According to the unnamed source, a Trader Joe's employee in Southern California told her in a text that "no one will talk" to the media because they are "too scared."
"This company finds things out and we are all under gag orders by signing a contract that we won't speak to media and they tie the noose around us with … [talking about] integrity. They don't have integrity by shaming us with the [vaccination policy] but they can spin anything into a fireable reason under us breaking the integrity code," the employee wrote in the text.
The source said many workers are afraid to not get the vaccine because they don't want to be called "stupid right wingers," "anti-vaxxers" or asked if they are "QAnon" conspiracy theorists.
"No, I actually just have common sense. There are so many levels why people don't want to talk about it because they're labeled. It's horrible."
National Scene
BLEXIT founder and conservative firebrand Candace Owens said she's received a lot of messages from people saying their employers are forcing them to get "the jab." She encouraged employees at any company who feel they are being coerced to contact an employment lawyer and document everything.
"Do not quit your job. Wait for them to fire you," she said in a recent video on Facebook.
Threatening someone's job to get a vaccine is "coercion" which goes against the concept of informed consent regarding medical ethics, Owens claimed.
She also said employees should be sure to ask their employer, "If I have an adverse reaction to this [vaccine], what is the policy? Are you guys liable for this? Are you going to take care of my family if something happens to me?"
Meanwhile, President Joe Biden and his administration have touted a door-to-door vaccination campaign to encourage more Americans to get the shots.
"Now we need to go to community-by-community, neighborhood-by-neighborhood, and oftentimes, door-to-door—literally knocking on doors—to get help to the remaining people," who haven't been vaccinated, Biden said July 6.
White House press secretary Jen Psaki criticized South Carolina Gov. Henry McMaster for trying to block a door-to-door campaign to boost the vaccination rate in the state.
"The failure to provide accurate public health information including the efficacy of vaccines and the accessibility of them to people across the country, including South Carolina, is literally killing people," Psaki said on July 9.
Vaccines for COVID-19 have not been fully approved by the Food and Drug Administration (FDA) but have been authorized for "emergency use."
According to the Center for Disease Control and Prevention, (CDC) "COVID-19 vaccines are safe and effective."
The CDC reports on its website that "the vaccines met the … FDA's rigorous scientific standards for safety, effectiveness, and manufacturing quality needed to support emergency use authorization (EUA)."
The FDA is authorized under federal law to allow EUAs "when there are no adequate and approved available options," and at this time, "the FDA cannot wait for all the evidence needed for full FDA approval," according to a recent informational video released by the FDA.