You must be very much acquaint with the feature, "Find My iPhone", which allows you to locate your stolen or lost iPhone or other Apple devices.  However, if your device is running on iOS 8 and your device runs out of battery too then you could not find your iPhone's location at all, just by using "Find my iPhone" feature.
Thus, you don't need to worry, as you can apply some additional steps along with Find My iPhone feature and then you would be able to track the last location of your iPhone, no matter that whether it is on or Off.
The feature that lets you track your last location is known as, "Send Last Location". This is the feature only for iOS 8 and above users, as the lower versions could be supported by Find my Phone it self.
The Send Last Location sends you the last location of your Phone automatically, even though it is running on low battery and sometimes on dead battery. This is the awesome addition with Find My iPhone and has relieved many iOS 8 users.
You are supposed to follow the simple steps below and you will be able to track the last location of your iPhone, iPad or iPod running on iOS 8 or above updates.
Learn-How to Enable Send Last Location to Find iPhone Faster 
Here are the simple steps for you guys which you are supposed to follow. So, after going through these steps, you will be able to learn, "How to Enable Send Last Location to find your iPhone faster?" So, now without wasting much of your precious time, I would request you to get towards the steps.
Read Also: How to Update iOS Devices 
First of all go to Settings and from Settings menu, tap on iCloud
After that, scroll down and then tap on Find My iPhone
Ones you have tapped on Find my iPhone, then you will be able to see some options. First ensure that Find my iPhone is enabled (If the button is green means it is enabled and if button is grey then that means it is disabled) If it is disabled then enable it by swapping and if it is enabled then proceed to the below step
Now there you will see Send Last Location option, you need to turn it on by swapping it towards right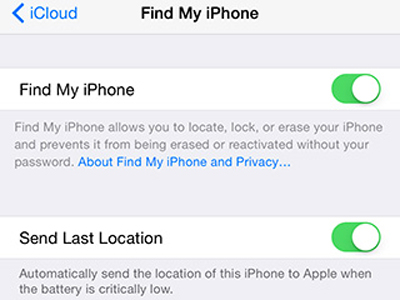 Now you will be able to receive your last location data on your App store or iCloud.com
This was it!
Conclusion
This was about finding your iPhone tutorial which is running on iOS 8. I am sure that, "Send Last Location" is going to work for you. Additionally, you must be learned now that, "How to enable Send Last Location feature?" However, if you still have any kind of confusions left related to this guide, then do let us know. We shall try to resolve your issues as soon as possible.
Finally, if this guide has helped you and it is worth reading content, then don't forget to share this piece of information with your friends and iPhone users. You may never know that your share may help any of your friend or iPhone users who is heading to locate his/her iPhone and this guide could help them to find.
Furthermore, we are sure that now you will never ask that, "How to Enable Send Last Location feature?"
Republished with permission from AllTechTricks. Download WhatsApp for PC.