Taking advantage of a -2.2 percent downturn in sales of the perennial category leader, the Ford Escape, Toyota's RAV4 seized the Canadian crown in a convincing manner, moving 49,103 units in calendar year 2016, a 16.2 percent increase over 2015 results. For the first time ever, the Canadian SUV/crossover market depended on compact and subcompact utility vehicles for 55 percent of its volume in 2016.
Kudos to Toyota Canada Inc. for this milestone.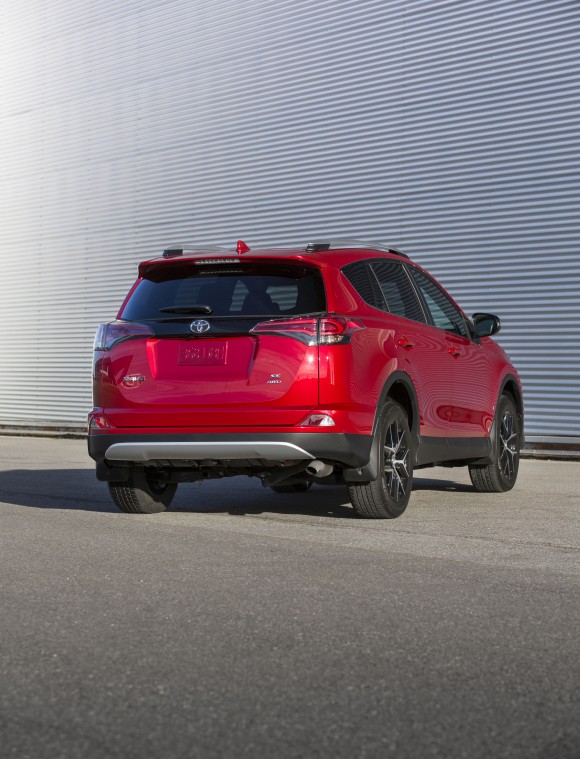 The RAV4 was designed for consumers wanting a vehicle that had most of the benefits of SUVs, such as increased cargo room, higher visibility, and the option of full-time four-wheel drive, along with the maneuverability and fuel economy of a compact car. Toyota introduced this vehicle to North America in 1995.
In North America, we do love our sport utility-type (SUV) vehicles. Big, small, in-between, this popular transportation option continues to grow every year. Once, minivans were the domain of soccer moms and one-car-families with children. Not anymore. There are only a select few manufacturers who still produce minivans and, for the most part, their price point and options loaded-to-the-gills haulers are no longer in high demand.
Personally, I had not driven a RAV4 in some years. The competition within this mid-size category of family-type hauler has been extremely fierce. In truth, there really is no "bad" SUV/CUV (crossover utility vehicle).
At the end of the day, it will come down to a couple of key factors: brand loyalty; available tech; and, of course, price.
Expectations are High—But There are a Couple of Disappointments
While on the topic of price, there are a couple of points I would like to make right off the bat: With a manufacturer's suggested retail price of over $40,000 for the 2017 RAV4 AWD Limited edition with the Platinum Package I drove for a week, a customer has some expectation of a vehicle that hits the marks in every aspect—curb appeal, performance, and fuel economy, to name a few. However, this vehicle, in my opinion left some things that, by themselves are small, finicky even but still result in a little head scratching and occasional "really?" comments.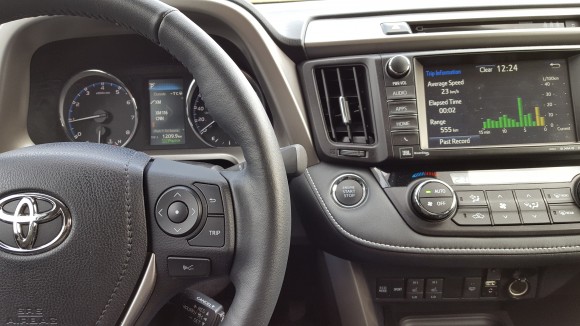 To be clear, none have any direct impact on the already mentioned three factors.
However, things that "bothered" me included: uneven heat distribution in the heated steering wheel—remember, I was driving this car in January and we were experiencing "uneven" temperatures causing me to initiate specific in-car features to counteract a central Ontario winter; similarly, the older, recessed rocker-type switches for the heated seats were a little inconvenient and awkward; and, occasionally, with my smartphone connected via Bluetooth, when a text or email was received and I was on a hands-free phone call, the system would occasionally seem to cut out—not great when discussing issues with editors on a deadline, The "illusion" was created that the call had dropped. Not so. After a few seconds, the call would resume. Frustrating for both parties involved.
Yes, in the grand scheme of things, these comments could be filed under #thirdworldproblems. However, if I was spending that amount of money, I believe that as a consumer, there are certain justifiable expectations.
What made this all the more "annoying" was the fact that overall, in the grand scheme of things, this optioned-out AWD version of the RAV4 was a pleasure to drive and loaded with some terrific technology that benefit the driver, passengers, and other drivers and yes, even pedestrians alike!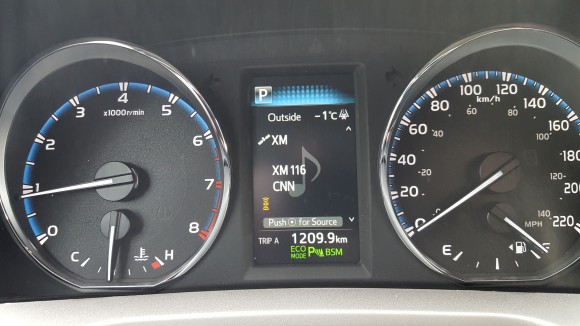 Toyota Continues to Improve and not Rest on Well-Established Laurels
To business. The RAV4 was "refreshed" for the model year 2016 with new styling. Technically, this is still a fourth generation edition. For MY17, Toyota has upped the ante and now includes as standard a veritable plethora of technology and safety features. Standard on all new RAV4s is Toyota's Safety Sense P package. Safety Sense P includes lane-departure warning with steering assist; radar cruise control; pre-collision warning with emergency autonomous braking; and, automatic high beams. Toyota's decision to make this equipment standard on all RAV4s is an impressive move; these features typically carry a hefty price tag and are usually limited to the top level of trim on rival products.
Speaking of top-of-the-line, this 2017 RAV4 AWD Limited gains a new high-end Platinum package. It includes a hands-free power lift gate; ambient interior lighting; proximity key sensors for all doors and the tailgate; unique interior trim; and, plush floor mats. It can be distinguished from other RAV4s by its lack of black plastic on the bumpers, wheel arches, and rocker panels.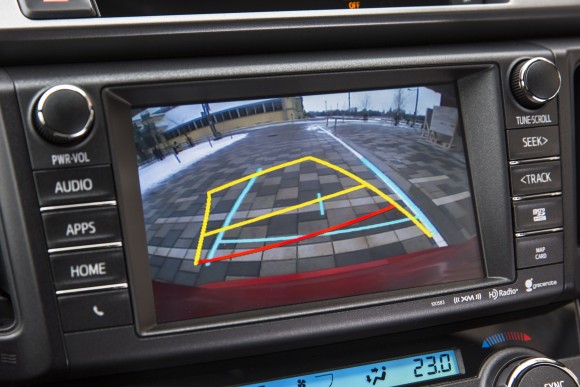 All RAV4s also come generously equipped with a 6.1-inch touchscreen display system; reverse camera; USB port; the aforementioned Bluetooth with streaming audio; Siri Eyes-Free (like many, I'm an Android user); cargo cover; keyless entry; heated front seats; automatic headlights; front wiper de-icer; and, roof-rails. Equipment upgrades include an eight-way power driver's seat; the heated steering wheel; "bird's eye" parking camera; navigation; power tailgate; a moon roof; and, of course, so much more! The Limited edition also upgrades to a seven-inch display with an upgraded JBL audio system, including 11 speakers and satellite radio.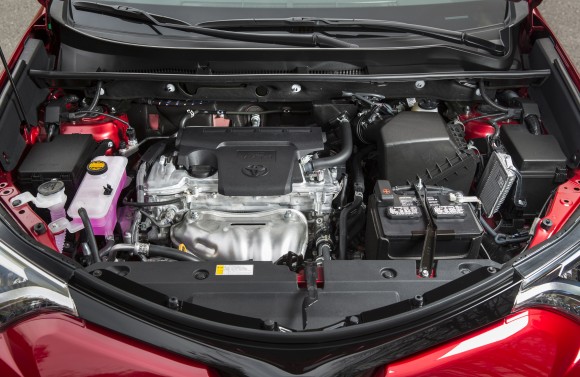 The standard engine for the RAV4 is a 2.5 L four-cylinder engine which produces 176 hp and 172 lb.-ft. of torque, and comes paired to a six-speed automatic transmission with selectable drive modes. LE and XLE trim levels come standard with front-wheel drive; AWD is an option. AWD comes standard on the SE trim level and the Limited. Consumption on the RAV4 is rated between 10-10.7 L/100 km city, and 7.8-8.4 L/100 km highway.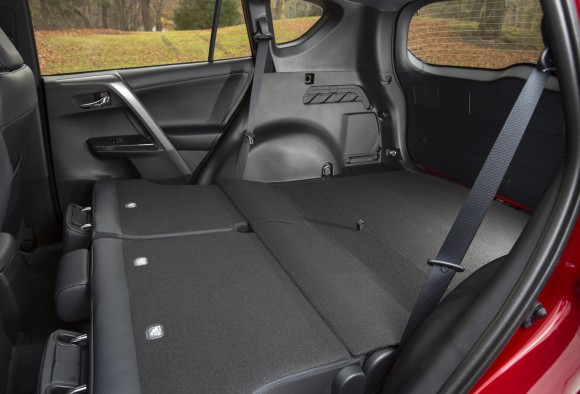 A Capable, Well-Adjusted Small Truck
I had the car for a busy week and added just over 1,200 kilometres to the odometer with a mix of highway and in-town driving. The majority of the highway driving was on the 401 corridor to Windsor and back and dealing with just about every imaginable road conditions that could be thrown in the RAV4's path. Blowing, deep snow; ice patches, dry pavement, wet pavement and, of course, salt and sand covered surfaces. Fortunately, not only did this comfortable utility vehicle have AWD, it had on brand new winter rubber and with temperatures consistently below 7 degrees Celsius, handling with confidence was not an issue. Further, in spite of everything, I averaged 9.1 L/100 km: not too bad.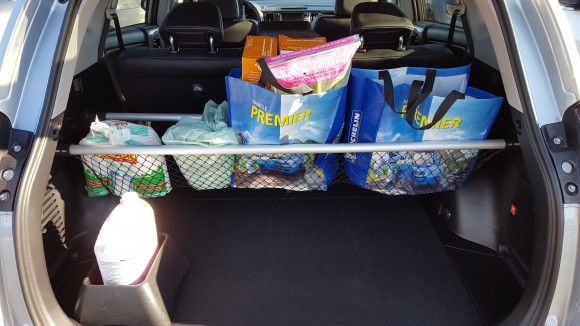 After a full week invested in driving this small, very capable truck, there was much to like and, having driven several times Ford's latest, remodeled Escape, the RAV4 acquits itself well.
Given that this generation RAV4 was introduced in MY13, we are due for a new version anytime. If designers and engineers can get together on the same page and establish the sum of the parts that truly equals the whole, competition in this category will be strong for some time to come, pushing each manufacturer to add to and augment their offerings.
Ultimately, it's the consumer who will benefit.
2017 Toyota RAV4 AWD Limited—with the Platinum Package Option
BODY STYLE: Compact crossover sport utility vehicle.
DRIVE METHOD: As tested, AWD.
ENGINE: 2.5 L four-cylinder dual VVT-i engine (176 hp, 172 lb.-ft. of torque) mated to a six-speed automatic transmission.
CARGO CAPACITY: 38.4 cu. ft. behind the rear seat and 73.3 cu. ft. behind front seats maximum.
FUEL ECONOMY: 10 – 10.7 and 7.8 – 8.4 L/100 km (city/highway) and 7.8-8.4 L/100 km highway.
PRICE: $41,503.47*.
*Includes freight and PDI. HST extra.
David Taylor is an independent automotive lifestyle writer, producer, and editor based in Barrie, Ontario who is fascinated by innovation and technology which enhance the overall driving experience. He's also a member of the Automobile Journalists Association of Canada (AJAC). Follow him on Twitter @Omemeeozzie or on Instagram @hugoscaroftheweek