Toxic wastewater that was used to put out a fire after this month's train derailment in East Palestine, Ohio, will be sent to a Houston suburb for disposal, according to a top official in Harris County, Texas.
"I and my office heard today that 'firefighting water' from the East Palestine, Ohio, train derailment is slated to be disposed of in our county," Harris County Judge Lina Hidalgo said in a statement on Twitter on Feb. 22.
Questions remain as to when the contaminated water will be disposed of, what's being transported, and how it will be disposed of, she said.
"Our Harris County Pollution Control Department and Harris County Attorney's Office have reached out to the company and the Environmental Protection Agency to receive more information about the timing, transportation mechanisms, and contents, as well as to ensure all regulations are being met," the Harris County judge wrote.
Other details about the contaminated water weren't provided. Hidalgo also stated that her office is closely coordinating with the mayor of Deer Park, Texas, located in Harris County.
"I have communicated with Deer Park Emergency Management and Mayor [Jerry] Mouton and am very sensitive to the concerns that this news naturally brings to our community," her statement reads. "We will keep residents informed as we learn more."
I heard the news today about East Palestine "firefighting water" being sent to Harris County and will continue pushing for information for our community. pic.twitter.com/lMyJYPtTdT

— Lina Hidalgo (@LinaHidalgoTX) Feb. 23, 2023
Previously, officials with the Ohio Environmental Protection Agency said at a press conference that chemicals used to put out the fire may have seeped into the Ohio River, partially forming a plume of chemicals that's currently moving downstream.
The wastewater is to be sent to Texas Molecular, which injects hazardous waste into the ground for disposal.
The Texas Commission on Environmental Quality told KTRK-TV that Texas Molecular "is authorized to accept and manage a variety of waste streams, including vinyl chloride, as part of their … hazardous waste permit and underground injection control permit." Vinyl chloride was one of the materials that the train was carrying before it was derailed.
The company told KHOU-TV that it's experienced in managing this type of disposal.
"Our technology safely removes hazardous constituents from the biosphere. We are part of the solution to reduce risk and protect the environment, whether in our local area or other places that need the capabilities we offer to protect the environment," the company stated.
The fiery Feb. 3 derailment in Ohio prompted evacuations when toxic chemicals were burned after being released from five derailed tanker cars carrying vinyl chloride that were in danger of exploding.
"It's … very, very toxic," said George Guillen, executive director of the Environmental Institute of Houston who holds a doctorate in environmental science; he says the risk to the public is minimal.
"This injection, in some cases, is usually 4,000 or 5,000 feet down below any kind of drinking water aquifer," said Guillen, who's also a professor of biology and environmental science at the University of Houston–Clear Lake.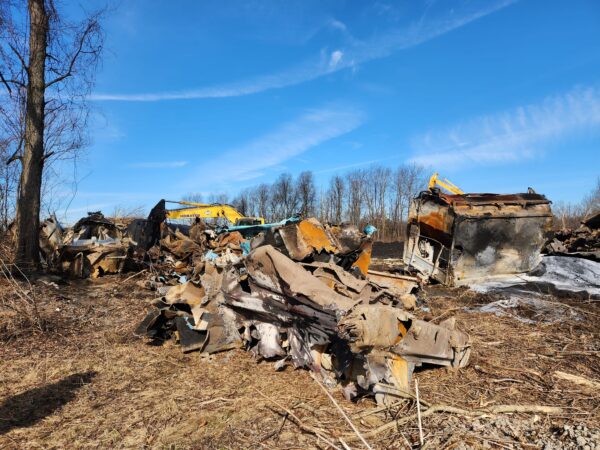 Transportation Secretary Pete Buttigieg, who visited the derailment site on Feb. 23, has warned the railroad responsible for the derailment, Norfolk Southern, to fulfill its promises to clean up the mess just outside East Palestine and help the town recover.
While in East Palestine, Buttigieg, who has faced criticism for his response to the disaster, joined members of the National Transportation Safety Board. The agency released a report on Feb. 23  about its initial findings.
The three-dozen Norfolk Southern train cars that derailed earlier this month had "11 tank cars carrying hazardous materials that subsequently ignited, fueling fires that damaged an additional 12 non-derailed railcars," the National Transportation Safety Board stated on Feb. 23. Five of the derailed cars were carrying about 115,580 gallons of vinyl chloride, the report found.
The five cars with the toxic substance "continued to concern authorities because the temperature inside one tank car was still rising," which could have resulted in an explosion, the report also found. When the controlled release and burn were initiated, officials forced locals in East Palestine to evacuate before allowing them to return days later.
The Associated Press contributed to this report.