Sen. Joe Manchin (D-W.Va.) decried his colleagues for playing "toxic tribal politics" as the West Virginia Democrat continues to face opposition from members within both parties to a scheme to loosen regulations on fossil fuel permitting.
Manchin's proposal would make it easier for new fossil fuel ventures to receive a federal green light. Currently, these ventures can take years to kick off due to federal red tape and stringent environmental regulations.
Manchin has long pushed for changes to streamline this process—a push he has ramped up as energy prices have continued to soar over the past two years.
But he has received unexpected pushback not only from the left-wing of his own party, but also from Republicans.
In a Dec. 6 tweet, Manchin blasted members of both parties for playing "toxic tribal politics" with permitting reform while Americans brace for much higher energy costs moving into the deep of winter.
"Our energy infrastructure is under attack and America's energy security has never been more threatened," Manchin said. "Failing to pass bipartisan energy permitting reform that both Republicans and Democrats have called for will have long term consequences for our energy independence."
"The American people will pay the steepest price for Washington once again failing to put common sense policy ahead of toxic tribal politics," Manchin added. "This is why the American people hate politics in Washington."
Struggles to Pass Permitting Reform
Despite bipartisan consensus on the need for permitting reform, Manchin has struggled to push the measure forward.
As part of a private deal to win Manchin's support for the $740 billion Inflation Reduction Act (IRA), Senate Majority Leader Chuck Schumer (D-N.Y.) promised Manchin that permitting reform would be taken up before the end of the year.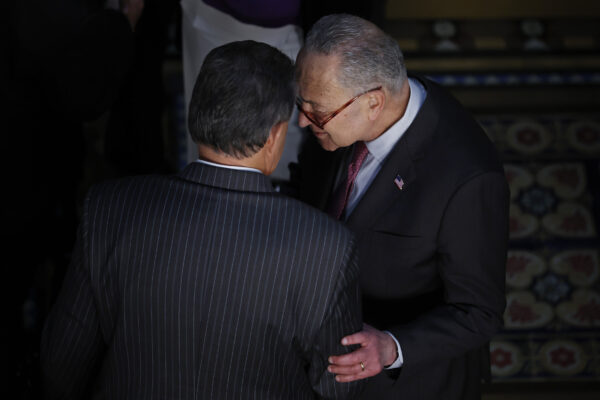 In order to bring about these changes, Manchin has floated the idea of adding provisions to the annual appropriations bill the or military spending bill, known as the National Defense Authorization Act (NDAA).
But Manchin has received pushback on the issue, not only from progressive members of his own party like Sen. Bernie Sanders (I-Vt.), but also from Republicans, who have said that they will not aid Democrats' "political payback scheme," in the words of Sen. Lindsey Graham (R-S.C.).
In September, Manchin attempted to attach the reforms to the short-term continuing resolution (CR), a spending bill that had to be passed to avert a government shutdown.
A group of 22 Senate Republicans ultimately joined Democrats to pass that CR, but Manchin's reforms were missing.
Now, Manchin is trying to attach the permitting reform to the NDAA but negotiators for Republicans have also dismissed this effort.
"We haven't even talked about it because it's not an option," Sen. Mike Rogers (R-Ala.), a prime NDAA negotiator, told reporters.
Outgoing-Sen. Jim Inhofe (R-Okla.) echoed this attitude, expressing his opposition to including such a bill rider.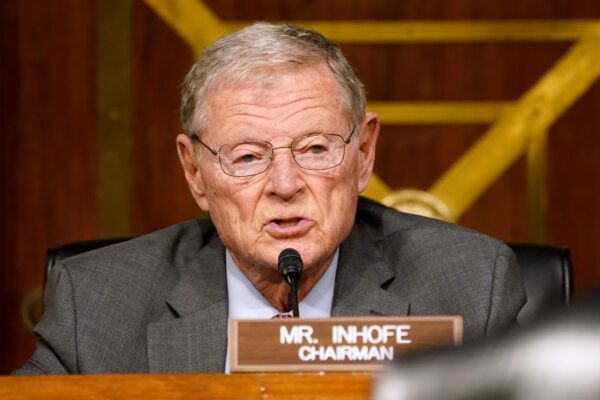 With both Republicans and Sanders rallied against him, it could be difficult for Manchin to push his demanded reforms through before the end of this Congress.
Schumer told reporters on Nov. 15 that he was still trying to honor his deal with Manchin, but noted that the votes simply aren't there.
"As you saw when we tried it last time, there weren't enough Republican votes," Schumer said. "I'm working with Sen. Manchin to see what we can get done."
The NDAA is a must-pass bill for the lame duck Congress. Negotiations for the final draft of the bill continue.
Energy Policy
The U.S. achieved energy independence under former President Donald Trump, whose energy policy emphasized and incentivized U.S. production.
But since President Joe Biden took office in January 2021, the cost of gasoline and other energy sources to consumers has seen a substantial uptick. According to the most recent report from the U.S. Bureau of Labor Statistics, the price of fuel oil is a whopping 68.5 percent higher than it was at the same time last year (pdf).
Republicans have placed the blame for the rising costs squarely on Biden's "anti-American" domestic energy policies.
While in office, Biden made extensive changes to the Trump administration's energy policies, which led America to become energy independent for the first time in decades. Biden, who promised during his campaign to "transition away from the fossil fuel industry," wasted no time in halting construction on the Keystone XL pipeline and placing a moratorium on leasing federal lands to natural gas and oil companies.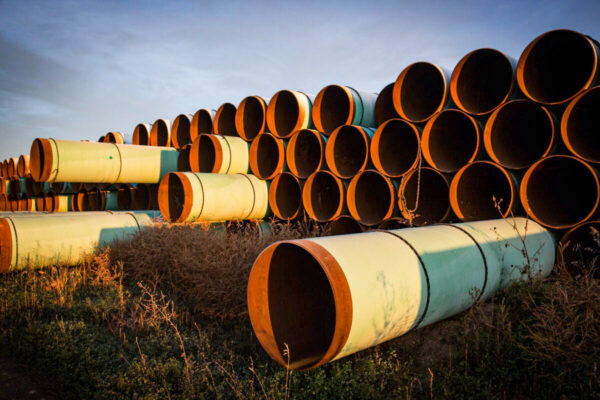 In an effort to get prices under control, Biden in November 2021 made the decision to withdraw millions of barrels of oil from the Strategic Petroleum Reserve, an emergency energy reserve intended for use during wartime or global calamities.
Manchin, hailing from the fossil fuel-rich state of West Virginia, has consistently supported efforts to ramp up energy production and restore American energy independence.
After the Organization of Petroleum Exporting Countries plus Russia (OPEC+) decided to slash production by several millions of barrels of oils a day, Manchin joined Republicans in calling for the United States to increase its own production rather than relying on the whims of oil-rich third world nations.
"Today's announcement from OPEC+ confirms why the United States must be energy independent and energy secure so we cannot be intimidated by foreign adversaries," Manchin said at the time.
"We have been blessed with an abundance of domestic energy resources, which we can produce cleaner than elsewhere in the world, and with that we have the ability to ensure energy independence and security for ourselves and our allies."
Democrats Oppose 'Smoke-Filled Room' Deal
However, House Democrats have also demurred from falling into line behind Manchin's plan, which some have dismissed as the result of a "smoke-filled room" deal.
Democrats, particularly in the House, have contended that they have no obligation to honor a private deal that they weren't consulted about.
Some progressives have contended that the demands made by Manchin—including cuts to regulations that often can delay the construction of energy infrastructure projects for years and a $6.6 billion appropriation to help restart the stalled West Virginia Mountain Valley pipeline—threaten to undercut the climate goals of the $700 billion IRA, which dedicates more than half of its new spending to climate policies.
Democrats have said these policies will lead to a long-term cut in U.S. carbon emissions of around 40 percent over their 2005 levels, a cut still ten percent short of the 50 percent emissions reduction requested by Biden at the start of his term.
In a letter circulated to other House Democrats, House Natural Resources Chairman Raul Grijalva (D-Ariz.) demanded that Manchin's requested fossil fuel policies not be included as part of any CR.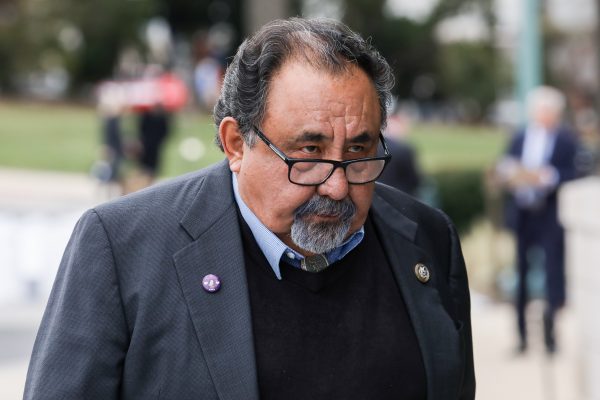 "Don't attach it to a budget, to a CR must-pass legislation and therefore take this essential Republican agenda and have Democrats pass it," Grijalva told a media outlet to the release of the letter.
Other Democrats in the lower chamber have also signaled similar attitudes against the "smoke-filled room" deal.
"If we want to streamline permitting for critically important projects that help solve the climate crisis there's absolutely a conversation to be had and maybe a bill that would help with that, but this framework that came out of the smoke-filled room with Manchin and Schumer doesn't work for me," Rep. Jared Huffman (D-Calif.) told another media outlet.
Sanders, the Senate's foremost leftist progressive, echoed these sentiments, calling the proposal a "disastrous side deal" that would enable corporations to "pollute the environment and destroy our planet."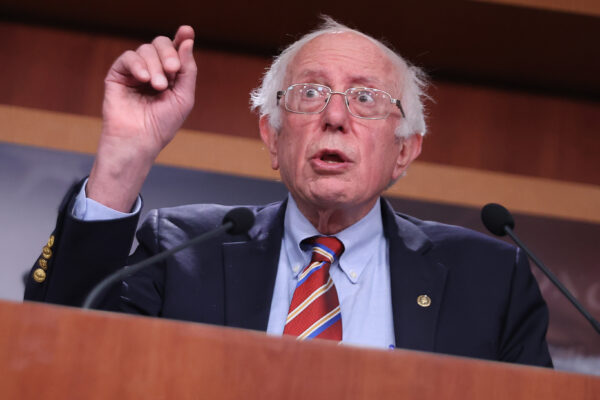 "At a time when climate change is threatening the very existence of our planet, why would anybody be talking about substantially increasing carbon emissions and expanding fossil fuel production in the United States?" Sanders said during a speech on the Senate floor decrying the plan.
Amid concerted GOP and left-wing opposition to the plan, it remains unclear if Manchin will be able to win the support to have the deal that brought America the IRA honored before the end of this session of Congress.
The 118th Congress will sit for the first time on Jan. 3, 2023, with Republicans taking over the lower chamber and Democrats retaining the Senate.
Manchin's office declined to comment on the issue.