Townhouse Masterpiece Sets Bed-Stuy Sales Record
April 17, 2013 1:23 pm Last Updated: April 17, 2013 4:47 pm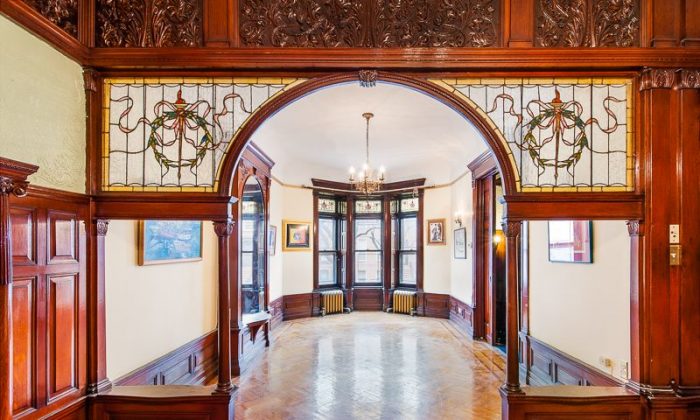 NEW YORK—A townhouse on a landmarked block in Bedford-Stuyvesant is in contract for slightly under $1.75 million, a record for two-family properties in the neighborhood.
Morgan Munsey, an architect, preservationist, and real estate agent, found a buyer for the property, while his partner at Evans & Nye Real Estate had the listing. Munsey said the buyer was quick to make the decision.
"He pretty much fell in love with it right away," Munsey said.
Many buyers are looking at townhouses to find an old-world home, Munsey explained.
"Unfortunately, in America, we tore down a lot of the buildings," Munsey said. "It's special because we can't build these anymore. If you were to build that house, it would exceed the price that they are buying it for."
The building at 242 Decatur St., is in pristine condition with original Byzantine leaf-work carvings on the limestone exterior. The interior woodwork is in cherry, and mahogany. Most details are nearly untouched with original carpentry, floors, mantelpieces, doors, ceilings, and hardware. There is a dumb-waiter, an icebox, and a stained-glass skylight in the back parlor.
The four-story house has a total of 20 rooms with six bedrooms, four bathrooms, and a cellar. 
"It's what they call 'The Gold Coast' of Stuyvesant Heights," said Munsey. 
Eli Bishop and Magnus Dahlander designed the house. It was built in 1894, and was on one of the first blocks to be landmarked in Brooklyn. Dahlander, a Swedish native, stayed in the United States for just eight years, but left behind a large body of work in Brooklyn.