Town Hall Turned Into Mourning Hall
August 6, 2009 3:51 pm Last Updated: October 1, 2015 9:32 pm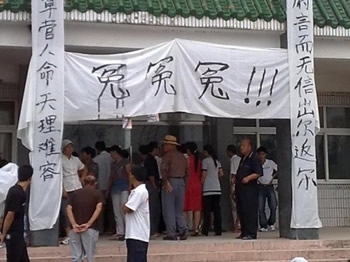 The government building in eastern China's Xiaojian town, Jiangsu province was covered with wreaths and Elegiac couplets on the morning of August 3. The courtyard was also packed with protestors and standbys to mourn the victim of the regime's forced relocation.
Crying was heard in the courtyard, and a corpse was seen at the scene. Local authorities were forced to cease work for more than 20 hours. The regime staff could be seen wondering around and stopping people from taking photos.
The building wall was also covered with the photos of the deceased prior to his death. The images were horrific, clearly showing a hole on in his head as a result of the beating.
This was a tragedy caused by forced relocation by local officials.
Accordingly, the Wang family owned a property which the family paid $10,000 Yuan (approximately US$ 1,464) to obtain permission for construction. The Town officials agreed to the construction.
However, half way through the project, the officials obstructed the construction, giving the reason that the property was henceforth required for urban planning.
Local officials and security forcibly removed the foundation of the Wang's construction. The 65-year-old Mr. Wang was summoned by the officials. Witnesses reported that the elderly man was beaten at the police station.
The second time Mr. Wang was summoned by authorities, he was seen falling out from the 3rd floor of the Town Hall (it was also said that he was pushed by the officials).
The victim's family members rushed to the scene when the news broke out that night. It was reported that the officials also threatened to beat the family members.
It said that on the evening of August 2, the police and city management office jointly dispatched over 200 staff members in an attempt to retrieve the body from the family members and the supporting public. They, however, failed.
Public anger was also seen on blog posts. One commented that the country was filled with chaos and massive protests, stating that "People are driven to the brink of death."