Authorities in Venice, Italy, are considering banning people from being able to sit or lie on the ground in the latest attempt to restrict unruly tourists in the city.
Mayor Luigi Brugnaro made the suggestion, saying that people breaking the rule could be fined between 50 and 500 euros.
It joins a long list of finable activities in the popular tourist destination, including for drunken behavior, dipping your toes in the canals, and snacking while walking down the street.
The new proposal could be voted on by the local council in October, but some resident groups are opposed to it.
"There is such a long list of things that are forbidden in Venice there is nothing left that you can do," said Marco Gasparinetti, who leads the residents' group Gruppo Aprile 25, according to the Guardian. "They would need to hire an extra 5,000 officers to properly enforce everything."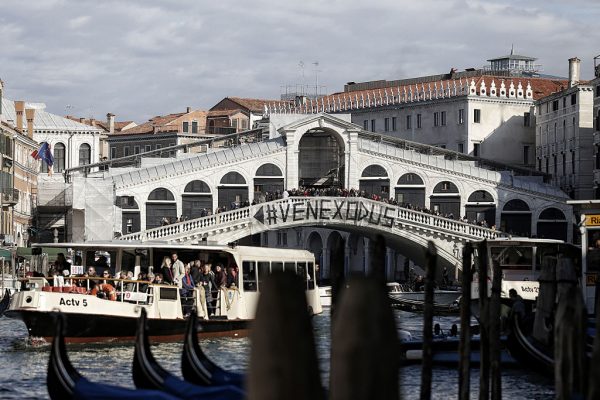 Every summer there are officers who patrol the city's tourist areas to enforce the rules. Many tourists are unaware that there are special eating areas away from central hotspots especially for the purpose of sitting down and eating.
Other things the so-called angels of decorum are on the lookout for are bare-chested people, people feeding pigeons, or those who gather in groups on bridges.
Tourists are a contentious issue for Venice, with over 30 million people visiting every year. In previous years, posters have been plastered on walls reading, "Tourists Go Away!!! You Are Destroying This Area."
Cruise Ships Also Affected
Many tourists arrive in Venice by cruise ship, which also has been a source of tension with locals because the ships currently pass by St. Mark's Square and dock in the city.
Locals say the enormous ships are damaging the historical buildings in the city and polluting the waters.
In 2016, protesters took to the water to protest against cruise ships, using gondolas and small boats to prevent cruise ships from passing through the lagoon.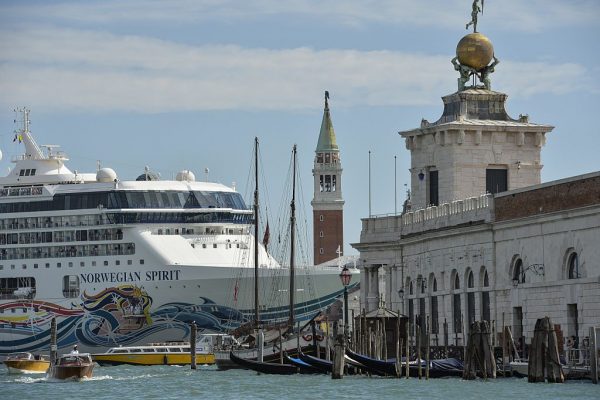 Late in 2017, Transport Minister Graziano Delrio announced that by the year 2021 these large ships will not be allowed to pass through the city.
Instead, they will have to dock in Marghera, an industrial town in the center of the Veneto region, with factories visibly belching smoke into the air.
Some have argued that Venice's economy is almost entirely based on tourism, so restricting tourists in these ways will harm the city.
However, the moves follow a warning from the United Nations that unless Venice cleaned up its act it would be placed on UNESCO's list of endangered heritage sites.
In 2015, UNESCO officials said that "the capacity of the city, the number of its inhabitants and the number of tourists is out of balance and causing significant damage."
Brugnaro previously said in a statement, "We want it to be clear to UNESCO and the whole world that we have a solution.
"This takes into account all the jobs created by the cruise industry, which we absolutely couldn't afford to lose, and we can start to work seriously on planning cruises."