Tourism and aviation industry leaders are hoping the announcements that Queensland and South Australia will now open borders to Sydney will bring an end to the instability the tourism industry has experienced over the past year after outbreaks of the CCP virus caused chief ministers and premiers to shut domestic borders.
When the two states lift their travel restrictions on Feb. 1 (NSW) and January 31st (SA) respectively, it will spell the end of all hard border rules in Australia for the first time in five weeks.
Related Coverage
Once lifted, Chief Executive Graham Turner from the Flight Centre is hoping the borders stay open.
"This is welcome news, certainly for travel and tourism," Turner told Sky News on Thursday.
"Sydney being open is vital for Queensland and other states. So it is good news … but let's hope they stay open because our major concern is that they keep opening and shutting … on what it seems at a whim. Every state has a different policy."
This has been a concern for the tourism industry for many months, with quick border closers creating uncertainty for travellers and losses for businesses.
Australian Tourism Industry Council executive director Simon Westaway said the "senseless border merry-go-round" cannot continue.
"Frankly, we have in essence zero levels of community transmission of the virus," he told The Australian. "We're inherently frustrated as an industry.
Westaway told the Epoch Times that border closures are "further decimating many tourism businesses."
"Our industry can only re-emphasise to State and Territory Governments the broader impacts of hard border closures, to be more consistent in response and to be committed to ensuring many livelihoods are more considered in these decisions," Westaway said.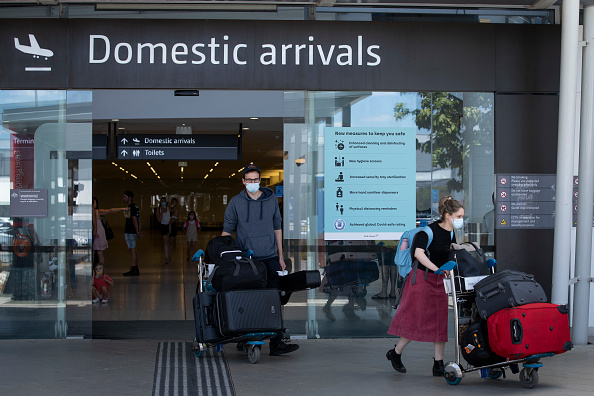 Flight Centre CEO Graham Turner said he believed that each state's differing policies showed a lack of trust in each state's ability to handle any CCP virus  outbreaks.
Echoing Westaway, Turner said he supported federal Treasurer Josh Frydenberg's call for a national definition of virus hotspots after reiterating that "closed borders cost jobs."
NSW Travels Restrictions Different For Each State
Although border restrictions are easing for NSW residents, each jurisdiction still has different rules.
Current restrictions are as follows:
Western Australia – Anyone who enters WA from NSW must self-isolate for 14 days and get tested.
South Australia – From Sunday, anyone who enters SA from Greater Sydney must get tested on arrival and self-isolate until a negative result is received. However, 14 days of quarantine is not required.
Northern Territory – Anyone who enters the NT from nine Greater Sydney council areas is required to quarantine for 14 days.
Queensland – All people in NSW may from Monday freely enter Queensland.
Australian Capital Territory – Barring those who reside in or have visited Sydney's Cumberland council area, all people in NSW may freely enter the ACT.
Victoria – Residents of Sydney's Cumberland council area, are barred from entry to Victoria, but a change to this policy is likely to be announced on Friday.
Tasmania – Residents of and visitors to 10 Greater Sydney council areas are obliged to quarantine upon arrival in Tasmania.
Updates can be found on the NSW Health website.
AAP contributed to this article.