VENICE BEACH, Calif.—Amid an uptick in both citywide and countywide crime, the Los Angeles Police Department (LAPD) Pacific Division is increasing its presence temporarily in Venice Beach as tourists are expected to flock to the beach during the summer months.
Residents in the area say the uptick in crime is largely due to homeless people who are living in encampments and RVs near neighborhoods and are addicted to drugs. Piles of trash and tents can be seen scattered throughout the Venice neighborhood.
A total of 3 sergeants and 20 patrol officers were assigned to the area earlier this month because of a large increase of tourists expected this summer, according to the department. Officers will be undergoing special training and are expected to patrol the beach until October.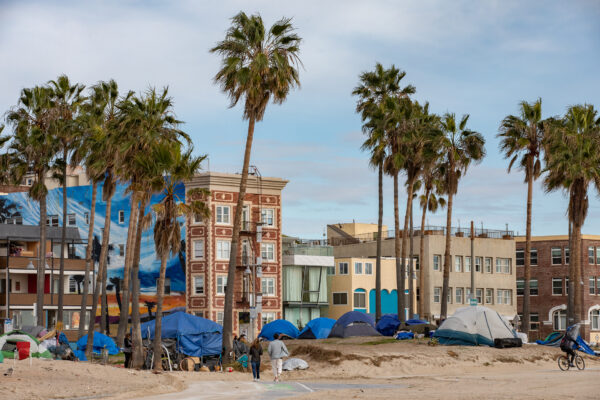 It's unclear what kind of special training the LAPD will be doing, and the department did not immediately respond to a request for comment.
However, in an LAPD Commission meeting last week, Assistant Chief Dominic Choi told commissioners that the department has been training officers on mental health intervention training, and 4,676 officers have completed the training so far.
The move comes as more than half of the total 37 LAPD-officer-involved shootings last year occurred during encounters with homeless people (10 cases) or mentally ill people (15 cases), according to a report released by the department on April 12.
As about 41 percent of the cases involved people with mental health issues, Police Commission President William Briggs said the city needs greater mental health service providers.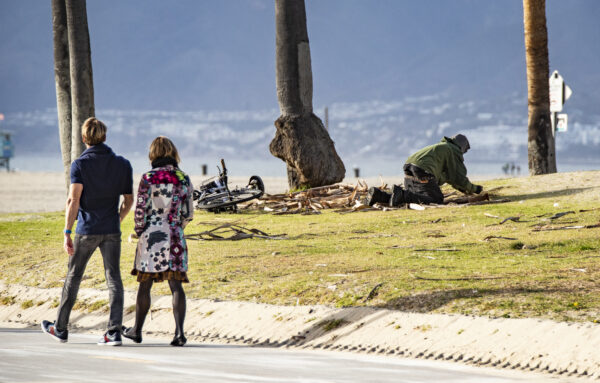 "[The report] underscores significant challenges that we still face. … [and] illustrate the reasons officers need additional training in this area," Briggs said.
For residents in Venice who experience firsthand the pervasive issue of crime and homelessness, the extra help from law enforcement is welcomed, but they say public safety should not be tailored exclusively for the tourists, as a couple was found shot dead in their home on Berkeley Drive in Venice last week.
"The added patrols are with officers from different cities with little knowledge of Venice, [who] act like tourists themselves, they walk around on weekends until sunset," 30-year resident Sean O'Brien told The Epoch Times in a text message. "[The police] presence is appreciated as it is a deterrent, but when the sun goes down the mayhem ramps up, and no help for the weekdays."
Another resident and community activist, Yolanda Gonzalez, told The Epoch Times her property was broken into two weeks ago by a homeless person living inside the encampment at Abbot Kinney Memorial Branch Library's parking lot, which is across the street from her home.
"They even went into my neighbor's property. We have it on tape. We did file a police report, but they cannot do a thing about it," Gonzalez said. "It has just gotten worse. We are trying to get bathrooms for them. They have been [defecating] in the back of our property—just really fed up."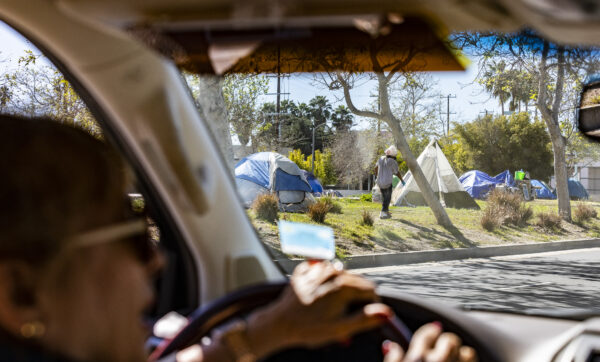 Venice Beach has been the epicenter of much of Los Angeles's debate over homelessness and crime as hundreds of encampments were cleared last summer by the Los Angeles Sheriff's Department Homeless Outreach and Services Team and city officials.
The small coastal neighborhood, which is a vibrant, eclectic community of small business owners and artists, has the highest congregation of homeless people living on its streets after Skid Row.
According to the last homeless count, nearly 2,000 people were recorded living on the streets in Venice, and Skid Row has over 4,000.
Citywide, Los Angeles has over 41,000 homeless people, and the county has over 62,000.
As a result, the city deployed an unarmed pilot program in Venice—the Crisis and Incident Response through Community-Led Engagement (CIRCLE) Program—to replace armed law enforcement on the frontlines of responding to emergency 911 calls involving mentally ill, drug-addicted homeless people.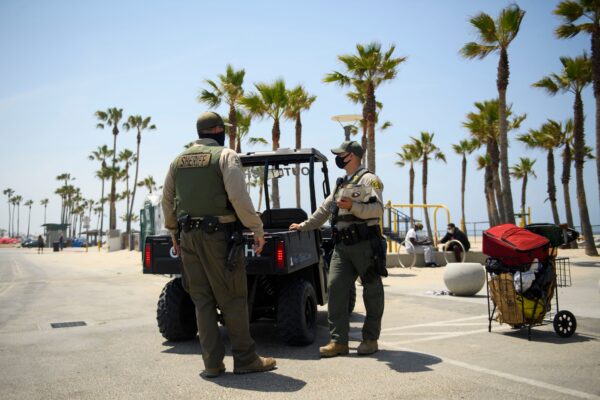 During Mayor Eric Garcetti's last State of the City address on April 18, he vowed to expand the budget for the unarmed response teams in Venice, which were launched in December 2021. It's unclear how much funding will be allocated to the program, which currently has $30 million countywide and $2.2 million in the city.
According to LAPD Pacific Division's data, violent crime has increased by nearly 28 percent over the last two years, and arrests are down 27.2 percent.