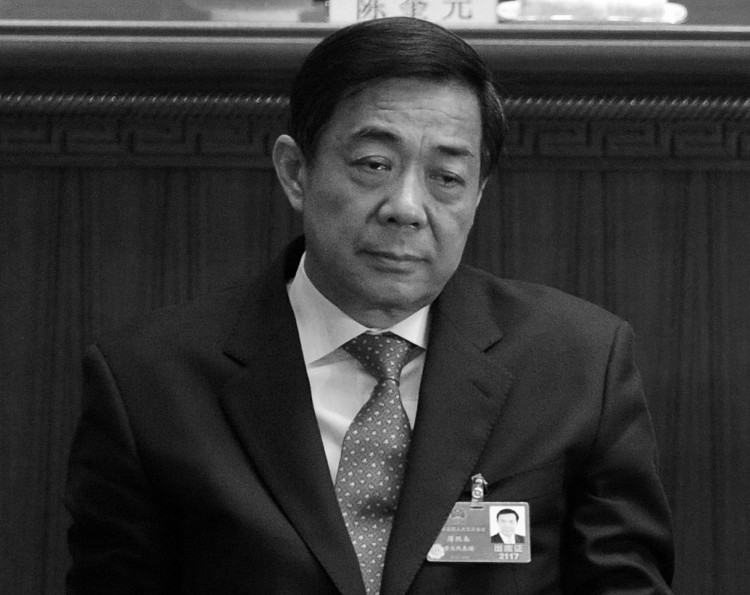 This past week Beijing has been awash with rumors about a series of events, including reports of an attempted assassination. What has been happening is not clear.
One thing, however, is clear: For seven months, the key question facing the Chinese Communist Party (CCP) has been the fate of Bo Xilai, the disgraced former Party head for the central-western megalopolis of Chongqing. A reading of the tea leaves suggests that the recent puzzling events in Beijing will be understood in reference to a change in the handling of Bo's case.
The following are among the events last week that have had people in Beijing and around the world talking.
On Sept. 3 and 4, Zhou Yongkong, the domestic security czar whose power current CCP head Hu Jintao and Premier Wen Jiabao have worked to curtail, inspected the Hefei legal system, including the Hefei Intermediate Court.
In that court, the trial of Bo's wife, Gu Kailai, for murder concluded on Aug. 10. Was Zhou's appearance in Hefei meant to signal his approval of the relatively lenient treatment given Gu in that trial?
On Sept. 4, U.S. Secretary of State Hilary Clinton began a two-day China visit. According to a senior U.S. State Department official, presumptive next head of the CCP Xi Jinping canceled a meeting with Hillary Clinton "for unexpected scheduling reasons," sparking rumors of either a rift between the United States and China, or an assassination attempt on Xi's life, or his bad back acting up.
On Sept. 5, the regime mouthpiece Xinhua News Agency announced that the former Chongqing vice-mayor and police chief Wang Lijun was formally charged with four crimes.
On Sept. 7, Reuters published an exclusive report about conversations held over the past six weeks in which Xi told the reformist Hu Deping, son of the reforming CCP head Hu Yaobang, about the need to move more quickly in achieving reform.
'No Small Matter With Diplomacy'
The guessing continues about Xi's cancellations of his scheduled meeting with Secretary of State Clinton.
On Sept. 9, the dissident website Boxun cited an unspecified internal source in reporting that Xi canceled all diplomatic activities in order to focus on the preparation of the 18th Party Congress. Another, less popular guess is that Xi intentionally canceled the meeting with Mrs. Clinton to show unhappiness toward the U.S. position on the South China Sea issue. And Xi was said to have a bad back.
These explanations are very unlikely. In China, almost everyone knows the famous rule put forward by the late Premier Zhou Enlai, "There is no small matter with diplomacy."
Urgent cancellation of a scheduled meeting with foreign visitors at the state level is considered an insult to the guest and thus unacceptable. It has almost never happened before, even during Mao's time.
Besides, China is not said to be unhappy with Singapore or Russia, and Xi also canceled meetings that same day with Singapore's prime minister and a Russian official.
Rumors that circulated for several days in stray reports on the micro-blog service Weibo gave a graver reason for the meeting cancellations: There was said to have been an assassination attempt on Xi.
On Sept. 8, Boxun cited an unconfirmed source in reporting that Xi Jinping's car was hit by two SUVs the night of Sept. 4. The report was taken down after less than two hours. Xi was said to have been taken to the 301 hospital and to be in stable condition.
The same report claimed that He Guoqiang, a member of the Politburo Standing Committee—the group of nine men who run the CCP—was involved in another accident one hour after Xi and was in critical condition.
He Guoqiang heads up the secretive Central Commission for Discipline Inspection and led the investigation of Bo Xilai. Both Xi and He were believed to play important roles in the ousting of Bo.
Soft Landing
Not long after Wang Lijun fled Chongqing on Feb. 6 seeking asylum in the U.S. Consulate in Chengdu, Bo Xilai was stripped of his Party posts and subjected to abusive Party interrogation. Yet in recent months, Bo has seemed to be headed for a soft landing.
Bo was the key figure in the powerful Party faction assembled by former CCP head Jiang Zemin and was rumored to be ticketed for the Politburo Standing Committee. During Wang's stay at the U.S. Consulate, Wang is said to have revealed a planned coup attempt by Bo Xilai and Zhou Yongkang against Xi, after Xi took power at the 18th Party Congress.
After Wang was taken into the custody of central Party authorities, Bo was not charged with any proposed coup. Instead, his wife, Gu Kailai, was charged with the murder in November 2011 of British businessman Neil Heywood, a crime that Wang had at the time covered up, even while holding onto the incriminating evidence.
Gu's trial last month appeared to be managed in a way favorable to her and Bo. Bo's name did not come up in the trial, except that the state-run media referred to Gu as "Bogu Kailai."
The court seemed to accept exculpatory arguments advanced on Gu's behalf in giving her a suspended death sentence. After two years, that sentence can be commuted to life imprisonment, and that sentence can be reduced for good behavior at the court's discretion.
In September, the Hong Kong-based Open Magazine published its chief editor's exclusive report that the CCP's top leaders had reached an agreement that Bo would be removed from all his Party positions but would keep his Party membership and be exempted from criminal sanctions. The decision was said to have been made at the Beidaihe meeting, which is the last closed-door meeting before the 18th Party Congress.
The Beidaihe decision was believed necessary in order to preserve the power balance at the top of the Party and to keep it from collapsing.
Another sign that Bo was being given a soft landing was the announcement on Aug. 31 of the representatives of the National People's Congress: Bo made the list.
Next … Targeting Bo
Views expressed in this article are the opinions of the author and do not necessarily reflect the views of The Epoch Times.