Falun Gong adherents held a vigil in front of the Toronto Chinese Consulate on July 15 to mark 22 years of persecution by the Chinese Communist Party (CCP) and to memorialize fellow adherents who have been persecuted to death in China since 1999.
"I'm here today to be a voice for the people who have lost or are losing their lives because of the genocide ongoing in China by the … Chinese Communist Party," Elnaz Hajikhani, who came to Canada from Turkey in 2019, told The Epoch Times.
"They are killing people—anyone who has a belief—in China, whether Muslims or Christians or Falun Gong practitioners," she said, pointing to the CCP's persecution of people of faith.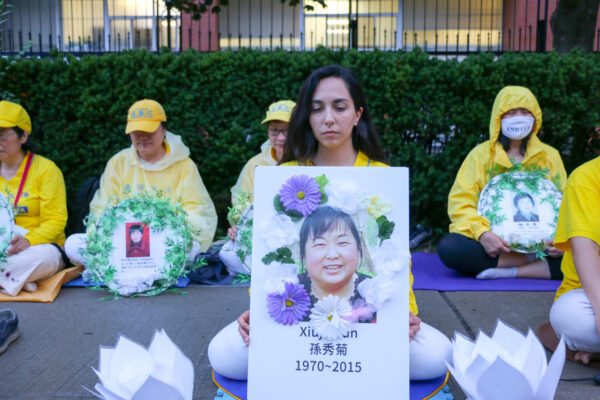 Falun Gong is a spiritual practice rooted in ancient Chinese tradition that includes meditation exercises and teachings based on the principles of Truthfulness, Compassion, and Forbearance. Also called Falun Dafa, it was introduced in 1992 in China, where it quickly spread due to its benefits to people's health and well-being. By 1999, it had attracted 70–100 million adherents, according to Chinese government estimates.
CCP leader Jiang Zemin perceived that popularity as a threat to the totalitarian rule of the CCP, which is officially atheistic. On July 20, 1999, Jiang launched a Cultural Revolution-style hate campaign and violent suppression aimed at eradicating the practice.
Numerous reports by human rights organizations, media, and governmental bodies, including the United Nations, have documented the plight of Falun Gong practitioners who have suffered torture and other abuse since that time, including large-scale forced organ harvesting.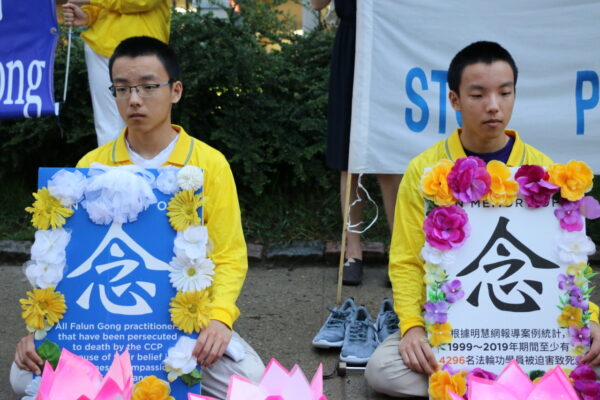 "The persecution of Falun Gong has been going on for 22 years. That has resulted in thousands of people at least being persecuted to death, as well as millions being imprisoned, tortured, and abused," Falun Gong practitioner Jerry Yan said.
Yan said that when he was a child living in China, Chinese police officers took his mother, also a Falun Gong adherent, to a detention centre where other adherents were also being held.
"Once she was there, another practitioner [beside] her at the time got taken by the police into a room, and then she heard … that practitioner screaming, due to the electric baton [being used by the police to] shock her," Yan said.
Yan said his father, who worked at a university, managed to obtain his mother's release from prison, but two other Falun Gong adherents detained with her were tortured and sent to labour camp.
Yan noted that support from foreign countries like Canada "really matters" in putting pressure on the Chinese regime, and can greatly lessen the persecution of Falun Gong adherents being held in prisons in mainland China.
Masi Khosravi, another Falun Gong practitioner at the vigil, who is a teacher, urged the Canadian government to apply pressure on the Chinese regime through trade and economic sanctions.
"Canada is very famous for supporting human rights. I'm asking … the Canadian government to support us, to …. stop the persecution in China," Khosravi said. As human beings, "we should care about each other and support each other."