Toronto Man Trounced for Flagging Media Bias
Controversial campaign rallied support for Rogers Chinese TV bid
July 12, 2006 10:38 am Last Updated: October 29, 2016 3:13 pm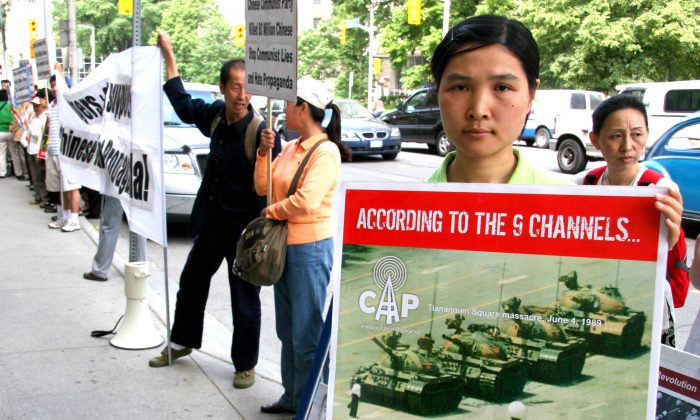 "Mr. Jia does nothing good. Let's castrate him."
"Mr. Sheng Lin Xian tried to castrate him once, but the work was not totally complete. This time, let's castrate him completely."
These statements are among many posted on a bulletin board denouncing Mr. Jack Jia and the Toronto-area Chinese-language newspaper he publishes three times a week called Chinese News.
Related Coverage
Other postings portray Jia as a liar, troublemaker, "gangster," and "scum." His newspaper is called "garbage."
All this, Jia says in a lawsuit he filed in Ontario Superior Court recently, came because he warned a group of Chinese-Canadian media that they'd gone too far in their support for several state-run Chinese TV networks seeking a license to broadcast in Canada.
By warning the media not to partake in political campaigns, he landed himself on the wrong side of the TV networks' fervent supporters, he says.
The "Great Wall" package, as it has been dubbed in promotional materials, is Rogers Cable's answer for the growing Chinese community in Canada, which Rogers says is underserved with the existing Chinese TV programming. The nine stations in the package promise to provide "a wide variety of cultural and entertainment shows" along with news, sports, and drama, says Rogers, who has sponsored an application for the channels that is now before the CRTC.
But the stations, all state-run organs of the ruling communist party in China, have faced fierce opposition from critics who say they will indoctrinate Canada's Chinese Diaspora with communist propaganda.
For example, according to the narrative of China's state-run TV, Tibetans were liberated by the Chinese Communist Party from a miserable life under the Dalai Lama. And no students were killed in Tiananmen Square in June of 1989; instead, students attacked and killed soldiers, who bravely defended their country.
One Chinese-language network in Canada was already reprimanded for a program it aired that was made by one of the nine applicant stations, China Central Television. That broadcast attempted to paint the Falun Gong spiritual practice as murderous, an obvious attempt to justify the regime's ongoing violent repression of the group.
What the program contained was "not journalism," according to the 2002 decision by the Canadian Broadcast Standards Council. It was "nothing more or less than a biased attack on Falun Gong by the producer of that news item." CBSC found the broadcaster in violation of four codes of broadcaster ethics and ordered an on-air apology.
Rogers is countering the critics, though, with the claim that Chinese-Canadians should be given the choice of what they want to watch. Rogers offers a slew of letters and petition signatures garnered from the pro-"Great Wall" campaign as evidence that there is demand for the state-run programming.
But if what Jack Jia claims is true, the petition campaign might better serve as evidence that the Chinese community is under pressure to toe the communist party's line here in Canada.
The "Support the Great Wall Package Committee" is headed by the National Congress of Chinese Canadians and the Chinese Professionals Association of Canada — two groups with close ties to the Chinese consulate in Toronto. It also includes 16 pro-Beijing media.
Most of the media are small weekly newspapers or trade publications, but the bulletin board denouncing Jia is linked to 51.ca, a popular website for Chinese-Canadians and one of the committee members.
Earlier this year, when the CRTC was accepting comments on the application of the nine networks, the committee stepped into high gear. 51.ca posted an online petition. The other media also posted it online and in print. They offered a standard letter that people could sign on online, or readers were encouraged to fax the letters to the organizers in Chinese. The committee volunteered to translate all letters free of charge and submit them to the CRTC.
The committee also held at least two out-door activities intended to generate support for the channels, collecting close to 1000 letters and thousands of petition signatures. In fact, the committee gathered the bulk of the support touted by Rogers.
It wasn't the Great Wall package that Jia was opposed to. But he disagreed with the media's behaviour. He wrote in his Chinese News several articles in this vein, including one titled, "It is wrong for media to organize a political campaign."
Other Chinese News columnists also wrote against political organization among the 16 media.
"As media, you can publish comments for support or opposition, but to do it [advocacy] yourselves, replacing the role of social organizations, causing more than ten Toronto Chinese media to be all on one side, to be firmly, and clearly supporting the Great Wall package, and resolutely fighting with its detractors, this is a problem," wrote columnist Hong Feng.
"If a media wants to establish its public credibility, [it] should maintain its neutrality, to try its best to be fair."
But 51.ca and the committee didn't take kindly to the criticism. A flyer bearing the endorsement of the committee began circulating in Toronto's Chinese communities demanding people stop advertising inChinese News , and to boycott its advertisers' products.
Another flyer went as far as to say, "The law allows us to take unlimited amounts of free newspapers, [so] take large quantities of the Chinese News Group newspapers nearby and throw them into garbage bins."
When Jia sent a legal notice to 51.ca publisher Ping Bo Zhao, the chiding did not cease. Postings on the bulletin board said Jia had a "zero percent" chance of winning a lawsuit and it was "not natural" to sue Mr. Zhao.
Jia declined to be interviewed for this report, saying he did not want to be the one drawing attention to the court case.
"The defendant is making a big issue of it now," he said. "It's our credibility that's at stake."
Likewise, the defendant, Ping Bo Zhao, is now tight lipped about the court proceedings.
"We are now doing a defence, and my lawyer asked me not to contact anybody," he told The Epoch Times.
But another voice in the Chinese community is speaking out.
Elaine Xie, a spokesperson for the group Canadians Against Propaganda, which has vocally opposed the Great Wall application, says what Jack Jia has faced is an "example of an attack waged by supporters of the Chinese Communist Party against differing opinions in the Chinese community."
"If the 9 channels do get licensed, it will be even easier to influence, control, and manipulate public opinion of Chinese Canadians, public policy and even election votes," she says.
"What would happen if the 9 Chinese state-controlled TV channels come to Canada? We have a preview here."