Tensions with China have been a key feature of the South Korean President Moon Jae-in visits to Australia following that announcement that the two countries have signed a historic $1 billion defence contract, which will see South Korea defence giant Hanwha provide artillery weapons and vehicles to Australia.
Morrison said in a joint press conference, with Moon that South Korea has a critical role to play in quelling tensions with China in the Indo-Pacific.
"Korea has a very strong and open dialogue with China," Morrison told press. "[The outcome of war] is one that no-one seeks, that no-one hopes transpires, whether by miscalculation or other means, therefore, Australia and Korea have important work to do as liberal democracies."
The Prime Minister said the bilateral relationship between Australia and South Korea, which has been updated to "comprehensive strategic partnership" during the diplomatic visit, continued to grow amid increasing tensions in the regions.
"To ensure peace and stability, you need a strong security environment where the rule of law is upheld. There must be a free and open Indo-Pacific and that is a goal that we share," he said.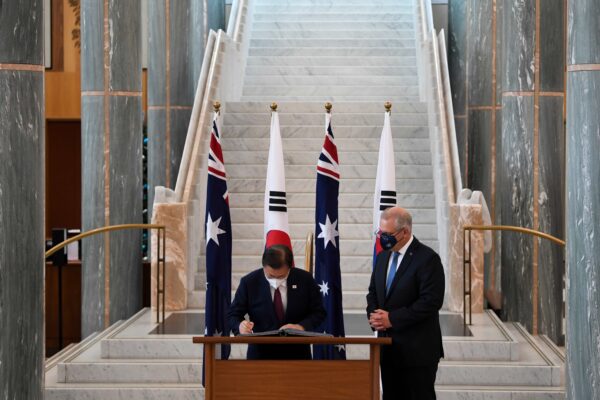 Moon's visit comes amid rising tensions in the Indo-Pacific as Beijing shows ambition over Taiwan and Australia signed AUKUS pact with the United States and United Kingdom, which will see Australia securing nuclear-powered submarines.
The Chinese regime made threats over AUKUS, criticizing the agreement as "gravely undermining regional peace and stability," a response Australian Defence Minister Peter Dutton labelled as "irrational."
"Nobody wants conflict, and we would avoid that at every chance, but we need to be realistic also about the posture of China and the Chinese government and the way in which under President Xi's leadership, the outlook has changed quite dramatically," Dutton told Sky News on Dec. 12.
The Defence Minister said Australia will not surrender its sovereignty, despite seeking to remain an "excellent working relationship" with China.
"The Chinese ambassador, as you know, has presented a document of 14 issues that he wants resolved before the relationship can be normalized," he said, referring to a 14-point letter of grievances and demands that the embassy in Canberra leaked to press last year.
"Essentially that's the surrender of our free speech and democratic values and our sovereignty, that Australia would never contemplate."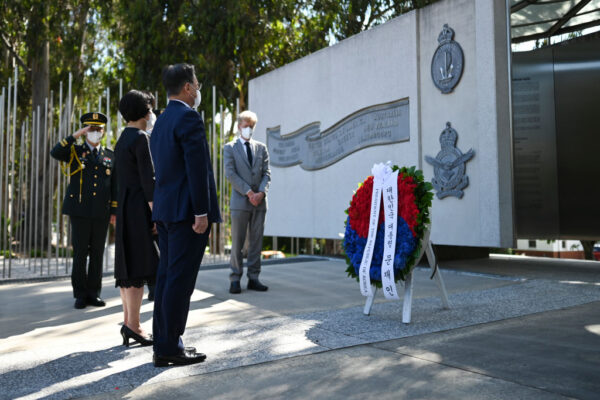 Moon said he respected Australia's decision on AUKUS, while expressing that Korea would avoid tensions with Beijing as it needs China's "constructive efforts" for an official end of war with North Korea.
"Korea has another factor to take into account and that has to do with … denuclearization of [North Korea]," he said.
"Korea is focused on the steadfast alliance with the U.S. and also with China – we want a harmonised relationship."
Moon will meet with Opposition Leader Anthony Albanese, NSW Premier Dominic Perrottet, and NSW Governor Margaret Beazley on Tuesday, following a formal talk with Australian Prime Minister Morrison in Canberra on Monday.
The South Korean president also announced on Dec. 13 that his country would not participate in the diplomatic boycott of the upcoming Beijing Winter Olympics, which was led by United States and joined by Australia, the UK, Canada, Lithuania, and New Zealand, but he respected sovereign countries' decision to do so.