The head of the Port of Long Beach, which has been dealing with unprecedented supply chain issues in recent days, said that people who want their Christmas items on time need to shop sooner than in previous seasons.
"Shop early because these delays and bottlenecks are going to continue to the end of the year," Mario Cordero, the port's executive director, told Bloomberg News. "Hopefully, we'll have some strong mitigating factors."
Cordero, in the interview published Thursday, said that spiking online sales from retailers such as Amazon were, in part, causing a 24 percent year-over-year increase in containers coming into the United States in September.
Both the ports of Long Beach and Los Angeles handle about 40 percent of container shipments in the United States, and they serve as key hubs for goods coming from the Asia-Pacific region into the country.
Although White House press secretary Jen Psaki issued assurances that recent actions taken by the Biden administration have alleviated supply chain bottlenecks, about 103 container ships were waiting at the Long Beach and Los Angeles terminals—an all-time high—on Wednesday, officials told FreightWaves.
Data from Marine Exchange, meanwhile, shows that 108 container ships are currently at both ports as of Thursday, with 79 at anchor and another 29 at berth.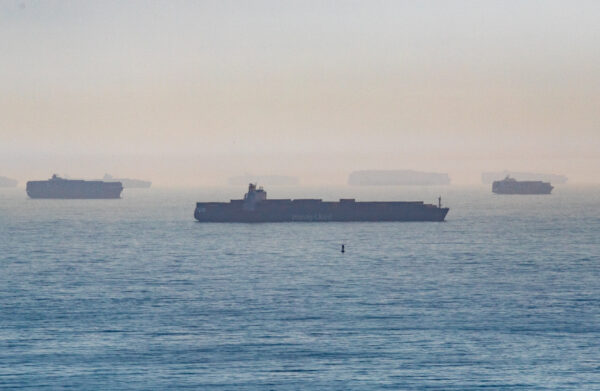 Last week, President Joe Biden met with the heads of UPS, FedEx, Walmart, and the two ports in a bid to deal with supply chain constraints. At the same time, the White House announced that those firms and the ports would move toward 24/7 operations.
"Port of Los Angeles Executive Director Gene Seroka said that we have already cut in half the amount of cargo that is sitting on the docks for 13 days or longer," Psaki said Monday. "That is serious progress, and this commitment from the railroad is just the latest step toward a 24/7 supply chain, and the result of important partnerships between business, labor, and the port leadership."
Cordero said that for now, the main priority is making sure the supply chain runs 24/7, including the ports, trucks, and warehouses.
"We need to have a different model of how we operate here," he told Bloomberg.
A business group representing top air cargo companies, including UPS and FedEx, also warned the Biden administration that his announced vaccine mandate for federal contractors could lead to catastrophe along the supply chain.
"If tens or hundreds of thousands of employees are terminated just two weeks before Christmas … the result could be nothing short of catastrophic for the newly unemployed and their families and for the U.S. economy," said the National Association of Wholesaler-Distributors in a letter to the Office of Management and Budget on Wednesday.