Top U.S. senators introduced a bill Thursday to ban China from owning any U.S. land, including agricultural and other real estate properties. The bill further gives the U.S. president the authority to require a sale if existing property ownership is deemed a national security risk.
The bill, dubbed "Not One More Inch or Acre Act," is a comprehensive pushback on Chinese land ownership in America, which has increased in acreage by 20-fold from 2010 to 2020. In addition, the proposed legislation also imposes a minimum fine—10 percent of the land's fair market value—for failing to report foreign ownership under the Agricultural Foreign Investment Disclosure Act (AFIDA).
The bill's main sponsor Sen. Tom Cotton (R-Ark.), a member of the Senate Select Committee on Intelligence and Committee on Armed Services, has been a staunch proponent of diminishing the Chinese Communist Party's (CCP) threat to America.
"For decades, the Chinese Communist Party has been gobbling up American farmland and real-estate," Cotton told The Epoch Times in an emailed statement. "At best, this submits American land and resources to China's best interests, not America's—at worst, these purchases serve as outposts for Chinese espionage campaigns against American businesses and military bases."

In her statement to The Epoch Times, Sen. Katie Britt (R-Ala.), a co-sponsor of the new bill, called the CCP "our greatest geopolitical and national security threat."
"The FBI has said that they open a new counterintelligence case against China about twice per day. From stealing our intellectual property and spying on our children through TikTok, to buying up American farmland near military installations and engaging in unfair trade practices that undercut Alabama steelmakers and shrimpers, we must hold the CCP accountable," said the ranking member of the Senate Homeland Security Appropriations Subcommittee. "We accomplish this through strength, not continued weakness."
The legislation would close the door on Chinese persons or entities having access to U.S. real estate properties, as well as open a pathway to reclaiming the land if a national security risk is identified—for example, the 370 acres of farmland in Grand Forks, North Dakota, a site less than 15 miles from the Grand Forks Air Force Base where sensitive drone, satellite, and surveillance technology is housed.
Although the Chinese corn mill project associated with that land purchase was halted due to the U.S. Air Force's warning two months ago that the project poses a "significant threat to national security," Fufeng USA, the U.S. subsidiary of China-based Fufeng Group, still owns the land.
"We can't allow Chinese citizens, or anyone affiliated with the CCP, to own one more inch of American soil. And any American land exploited by current Chinese ownership should be sold," said Cotton in his statement.
Stipulating a minimum penalty would also avoid a repeat of a Chinese company paying $120,000 from the lowered fine of $21 million for not reporting foreign ownership of U.S. farmland. While $21 million was assessed as the maximum amount at 25 percent of the land's fair market value, the ex-military Chinese billionaire paid only $120,000 because AFIDA doesn't require a minimum penalty. With a 10 percent minimum, as proposed in the latest U.S. Senate bill, the fine would have to be $8 million or more.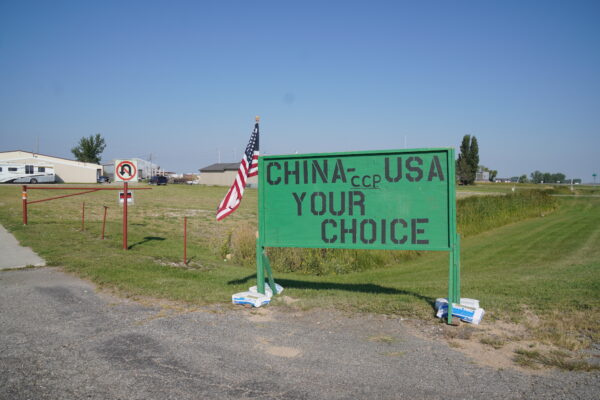 Legislative Actions Urgently Needed
Earlier this week, The Heritage Foundation, a Washington-based think tank, released a comprehensive set of policy recommendations regarding how America should respond to the CCP threat. The paper contains 100 "operational" items that are mainly for Congress, according to Michael Pillsbury, a senior fellow at Heritage and a co-author.
In the report titled "Winning the New Cold War: A Plan for Countering China," a key recommendation is to "prevent the purchase of sensitive land or property near critical infrastructure or strategic farmland by PRC [People's Republic of China] agents."
Many lawmakers have been pushing toward this direction, with Cotton and Britt's bill representing the latest effort.
Earlier this month, Sen. Josh Hawley (R-Mo.) introduced a bill that would bar corporations and individuals linked to the Chinese regime from buying or leasing U.S. agricultural land. At the same time, existing owners must divest their interests under the bill or face fines and criminal consequences.
Another Heritage recommendation related to fending off the CCP threat on American land is to require the U.S. Department of Agriculture to be included in the review process of the Committee on Foreign Investment in the United States (CFIUS), a cross-departmental panel that reviews foreign acquisitions for national security risks.
Last month, Sen. Mike Rounds (R-S.D.) introduced a bill to install the secretary of agriculture as a standing member of CFIUS, in addition to barring China from owning or leasing any U.S. farmland or agricultural businesses.
On March 22, Sens. Mike Braun (R-Ind.), John Tester (D-Mont.), Marco Rubio (R-Fla.), and Tommy Tuberville (R-Ala.) introduced a proposal that would ban foreign adversaries, including China-controlled entities, from purchasing U.S. farmland. Their collective objective for the legislation was to address national security concerns—food security and China's threat to the U.S. military and economic power—related to Chinese farmland ownership in America.
At the Heritage policy paper launch event on Tuesday, Rubio outlined a dire picture of the CCP threat: a near-peer adversary that's ready to exploit America, whose current leaders have no memory of what it's like to combat such a threat that is more severe than the communist Soviet Union due to the CCP's economic power.
According to him, America is meanwhile facing "societal and cultural rot that's dividing our nation, that's weakening the national soul, that questions our identity" due to the left's ideology that's confusing basic truths, such as sex and gender.
"It creates the societal rot and destruction from within; it makes it hard for us to unite people, much less rally behind a great cause," he added. "I think we have to also wake up to the reality that we are in a geopolitical conflict between two very different models of human relations and the world."
Rubio's overall read of the situation is shared by Cotton, as conveyed in Cotton's latest book "Only the Strong: Reversing the Left's Plot to Sabotage American Power."

More legislative actions are urgently needed, according to Pillsbury.
"To talk without an action component is what this report is trying to get us past. It's too late to just talk about how bad communist China is. It's way too late. And they don't care," he said at the Heritage event on Tuesday. "Senator Rubio made it very clear that the Chinese reaction to all this is the moaning and whining of a declining superpower. Nothing more. We've got to have legislation and things that really happen in the real world, or we're going to lose and be very sorry about it."