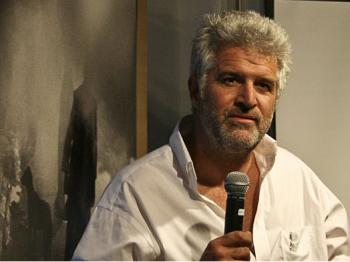 NEW YORK—Close on the heels of the New York Photo Festival, VII photography agency hosted two provocative events at their studio in Brooklyn. Both events featured discussions with photojournalists and documentary photographers on the state of their craft locally and around the world.
The events on May 21 and 22 were both co-sponsored by dispatches, a journal created by veteran journalists and photojournalists. The journal is a book-like quarterly publication centered on a different theme in each publication, and includes photo essays and reportage (reporting underwritten with personal insight). The most recent edition, "Out of Poverty," looks at issues related to poverty around the world.
"It [was created] out of a frustration that I was being asked to look at things in an increasingly banal way," said Gary Knight, editor and art director of dispatches. Knight, who is also co-founder of VII, has photo essays on global poverty featured in the current issue of dispatches.
He says he tries to bring something human and hopeful to people with his photographs.
"You don't want to leave people in despair," said Knight, who showed an audience of about 50 a slideshow of his photographs of poverty from dispatches at the May 21 event. "There always has to be some sense of hope."
Shots from Brazil, India, and Ohio were included and will be on display at the VII gallery through June 16. Audience members were also invited to print their own photos of poverty and add them to a wall in the gallery. About 25 audience photographs were displayed.

A second event with Knight on May 22 also featured documentary photographer Tim Hetherington and a crowd of many photography elites. A dramatic photo installation by Hetherington called "Sleeping Soldiers" (also featured at the New York Photo Festival) was shown to a stunned audience. A photo installation can be photographs and video accompanied by related audio.
"War is this incredible environment where the extremes of violence and love and hate [are all there]," said Hetherington about the installation. It is photographs of sleeping U.S. soldiers in Afghanistan, overlaid with video and audio of the soldiers in battle. He emphasized that the work he does is very personal.
"I need to be involved somehow in the work, emotionally," said Hetherington.
Among the audience members, several accomplished added the sentiment that giving a clear picture of the true story is the most important thing.
"This is work we can look back on and trust," commented audience member Ashley Gilbertson about the work of Hetherington and others who have documented conflicts and other big stories of our day. "When I look at other work that is more stylistic, I don't trust it as much."
Gilbertson, himself an accomplished photojournalist with The New York Times, traveled exclusively with Times reporter Dexter Filkins in Iraq from 2003-2007. In 2007, he published a book of his photographs from Iraq entitled "Whiskey Tango Foxtrot" that has won critical acclaim.
But all of the photographers seemed to agree that no matter how close you get to the story, whether war between countries or the war against poverty, you can only get so close with a camera.
"All of these conflicts, you get the victims and the perpetrators and very little in between," said Knight.
Knight's photo exhibition, "Amongst the Poor," and copies of the most recent edition of dispatches, "out of poverty," will be available at the VII photo gallery from now through June 16.
"Amongst the Poor" photography exhibition by Gary Knight
Exhibition: May 21—June 16
VII Gallery, 28 Jay Street, Brooklyn, NY 11201, USA
For more information about the venue: www.viiphoto.com
Tel. 212-337-3130
For more information about dispatches, Tim Hetherington, VII Photo, and Ashley Gilbertson, please visit the following links:
www.rethink-dispatches.com
www.timhetherington.com
www.viiphoto.com
www.ashleygilbertson.com