If House Judiciary Republicans get their way, Rep. Adam Schiff (D-Calif.) would be the first witness called as the impeachment inquiry moves forward.
That's according to Rep. Doug Collins (R-Ga.), who told "Fox News Sunday" that he would like to see Schiff—the chairman of the House Intelligence Committee and main architect of the inquiry into President Donald Trump—testify when the Judiciary Committee effectively takes over in the coming weeks.
"The first and foremost person who needs to testify is Adam Schiff," Collins said while adding that Schiff had "compared himself to a special counsel." Then-special prosecutor Ken Starr, who was involved in the impeachment of former President Bill Clinton, had testified during the House impeachment of Clinton in the late 1990s.
"[Schiff] has put himself into that position … If he chooses not to [testify], I really question his veracity and what he's putting in his report," Collins added.
"It's easy to hide behind a report… but it's going to be another thing to actually get up and have to answer questions about what his staff knew how he knew, what he knew about the whistleblower report," Collins said.
The inquiry was set off by reports that an anonymous intelligence staffer filed a complaint that Trump allegedly misused his power by withholding aid to Ukraine in favor of politically advantageous investigations, which Trump and officials in Kyiv have denied. Recently, U.S. Acting Assistant Secretary of State for European and Eurasian Affairs Philip Reeker told Schiff's committee that he doesn't believe there was any quid pro quo involved.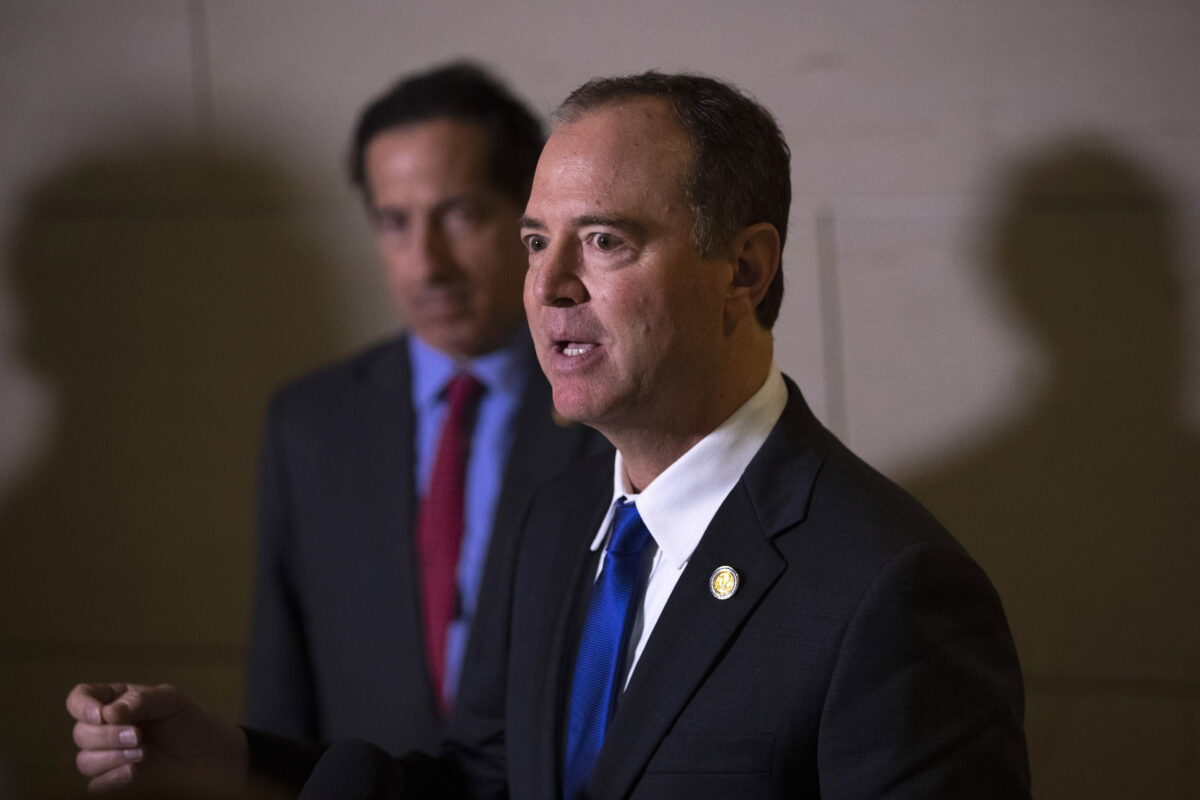 When questioned whether he was aware Trump pressured Ukraine to investigate Joe and Hunter Biden in exchange for a White House meeting or U.S. military aid, Reeker replied, "I do not recall that specifically, no," according to transcripts (pdf) released last week by the House Intelligence Committee.
Hunter Biden sat on the board of Ukrainian energy firm Burisma Holdings while his father was the vice president. In an interview with ABC News last month, he said that his tenure on the board was a political error but defended his work in Ukraine and China.
Reeker was later asked by Daniel Goldman, the House Democrats' lawyer, about whether he knew of any Trump administration official withholding aid. "I did not come to that understanding. I heard that. I saw that in the press, the suggestions of it," Reeker responded.
Schiff is slated to release his report on Monday and provide members 24 hours to look at it before a vote sends it to the Judiciary Committee, headed by Chairman Jerrold Nadler (D-N.Y.), who would then be tasked with drafting articles of impeachment.
Fox host Chris Wallace asked Collins in the interview he saw "anything wrong with the president conditioning support of Ukraine to that country investigating some of the president's political rivals?" However, Collins suggested that Wallace had asked him a loaded question.
"The premise of your question is based on witnesses who agree with your premise," Collins responded.
"I do not believe it, so I'm not going to answer a hypothetical which is designed to simply say that the president did something improper," Collins remarked, adding that "he did nothing improper."
Collins noted in the interview that Sen. Ron Johnson (R-Wis.), the chairman of the Homeland Security Committee, previously said Trump didn't condition the aid on anything.
"President Trump has always been concerned about foreign aid," he told Fox.