Senate Judiciary Chairman Lindsey Graham (R-S.C.) warned President Donald Trump's lawyer Rudy Giuliani about his explosive claims about Democrats allegedly engaging in a "cover-up."
"I don't know what Rudy's got, but I'm going to send him a letter. If you're going to go on national television and tell the country that you've found evidence of a cover-up, then I hope you know what you're talking about," Graham told reporters on Dec. 18.
"I like Rudy a lot, but we're going to have to watch what we say," he added.
Giuliani has made a number of claims in recent weeks, including the allegation that Democrats used the impeachment inquiry as a "cover-up" for corruption in Ukraine. He also promised "evidence" of Obama administration interference in the country and later alleged $5.3 billion of taxpayer-funded aid to Ukraine was misused and the U.S. embassy there told Ukrainian police "not to investigate."
Giuliani recently visited Ukraine, meeting with ex-prosecutor Viktor Shokin—who has sworn under oath that he was ousted at the behest of then-Vice President Joe Biden over his involvement in probing Ukrainian gas giant Burisma, which employed Biden's son Hunter Biden as a board member—and Yuriy Lutsenko, a former prosecutor who has accused former U.S. Ambassador to Ukraine Marie Yovanovitch of pressuring him not to probe certain individuals.
Portions of Giuliani's conversations were published in a One America News series exploring the Ukraine-centered accusations. The conversations have produced new allegations, such as Shokin saying Hunter Biden was going to be interviewed before Shokin was ousted.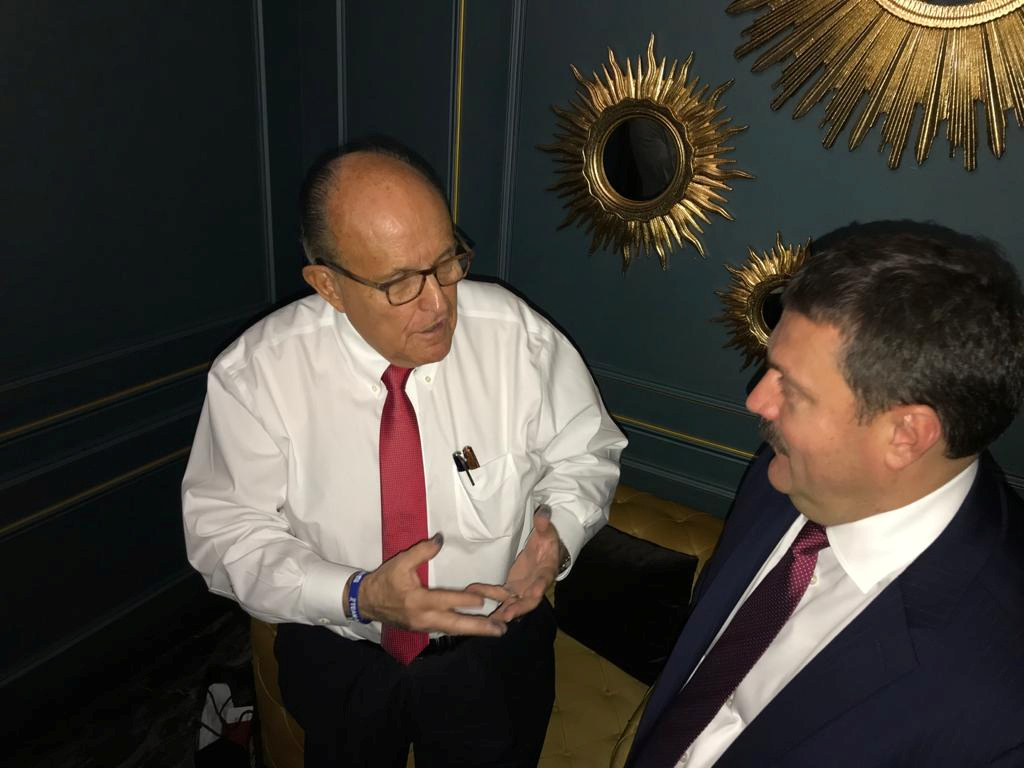 Trump said on Dec. 7 that Giuliani would report to Attorney General William Barr and Congress about what he found during his travels and that Giuliani said he uncovered "a lot of good information."
About a week later, Graham invited Giuliani to testify to the Senate Judiciary Committee about the findings.
"We can look at what Rudy's got and Joe Biden, Hunter Biden, and anything else you want to look at after impeachment," Graham said. "But if Rudy wants to come to the Judiciary Committee and testify about what he found, he's welcome to do so."
Opponents of Trump have accused Giuliani of chasing conspiracy theories and his actions were cited by a number of House Democrats during the impeachment hearings as damaging Trump's standing and helping support allegations against the president.
Former and current State Department employees, including Yovanovitch, were highly critical of Giuliani during the open hearings, accusing him of running a shadow foreign policy on behalf of Trump. Supporters of the president responded by noting that, as the president, Trump sets foreign policy.
Trump was impeached in a partisan vote by House Democrats on Dec. 18. Every Republican voted against impeachment, while two Democrats, Rep. Collin Peterson (D-Minn.) and Rep. Jeff Van Drew (D-N.J.), broke ranks to join them in opposition. One Democrat, Rep. Tulsi Gabbard (D-Hawaii), voted "present." The president is widely expected to be acquitted in the Republican-held Senate next month.