A top U.S. general said North Korean dictator Kim Jong Un is likely "in full control" of the reclusive, communist state following unconfirmed reports he is in failing health.
This week, several news outlets, citing anonymous sources, claimed Kim, 36, was in "grave" condition after he underwent heart surgery weeks ago.
But Vice Chairman of the Joint Chiefs of Staff, Gen. John Hyten, said he has "no reason not to assume" that Kim is in control.
"I assume Kim Jong Un is still in full control of the Korean nuclear force and the Korean military forces," Hyten told reporters on Wednesday. The Department of Defense (DOD) has not received any new intelligence to suggest that he is incapacitated or compromised in some way, he said.
The Daily NK, an online news outlet run mainly by North Korean defectors, said that Kim is recovering from surgery on April 12 at his villa. Kim was reportedly in poor health due to "heavy smoking, obesity, and overwork." Other news outlets, including NBC News and CNN, also said he was in bad shape.
South Korean officials, however, pushed back against the reports.
"We confirm that Chairman Kim Jong Un is currently touring provincial areas with his close aides and we do not detect evidences to support speculation about his ill health," South Korea's presidential office told news outlets on Tuesday. "Even North Korea's Worker's Party, military or cabinet aren't showing any special movements such as emergency decree. We believe that Chairman Kim is active as normal as he has been," the office said.
And Presidential spokesman Kang Min-seok told South Korea's official Yonhap News Agency there is nothing unusual occurring in North Korea.
"No unusual signs have been identified inside North Korea," Kang told the outlet. "There is nothing we can confirm with regard to Chairman Kim's alleged health problem."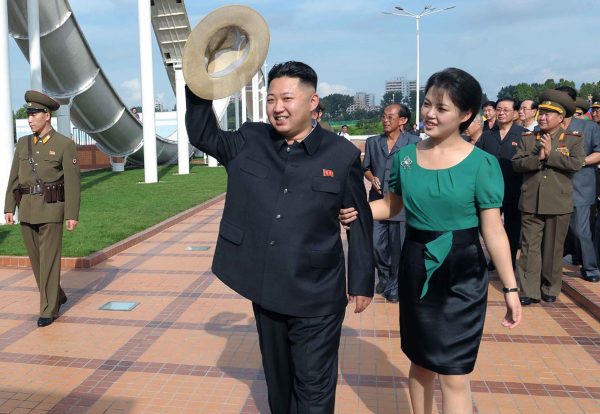 North Korea's state-run Korean Central News Agency (KCNA) claimed the leader sent birthday greetings to "persons of merit" on Tuesday. And on Wednesday, it said Kim sent a "reply message" to Syrian President Bashar al-Assad, expressing "his deep thanks to the president of the Syrian Arab Republic for sending his heartfelt message of greeting reflecting the warm respect for President Kim Il Sung, who is always alive in the hearts of the Korean people and the world progressives, on the occasion of his 108th birth anniversary."
KCNA and other state-backed news outlets have not issued any public statements to confirm or deny the reports about Kim's condition.
President Donald Trump, who has personally met Kim several times, told reporters on Tuesday that "we don't know" his health condition.
"I've had a very good relationship with him. … You know, I can only say this—I wish him well. Because if he is in the kind of condition that the reports say… that's a very serious condition," the president said.