The top police official in Chicago went public with his opposition after a judge ordered the release of a man accused of being the "straw buyer" of a firearm that was later used in the killing of a police officer.
"To say that I am extremely disappointed in U.S Magistrate Judge Jeffrey Gilbert's decision to release Jamel Danzy on an unsecured bond today is an understatement. It is an outrage," Chicago Police Superintendent David Brown said in a statement sent to The Epoch Times.
Danzy, 29, bought the gun in question at a federal firearms dealer in Indiana on March 18, according to federal prosecutors. Danzy falsely stated on documents that he was the actual buyer but instead bought the gun at the request of an acquaintance from Chicago who wasn't allowed to legally buy a gun because of a felony conviction.
Shortly after acquiring the gun, Danzy gave it to the man, according to court documents.
The gun was used in the killing of Chicago officer Ella French during a traffic stop, prosecutors say. And the man who Danzy gave the gun to was inside the vehicle that was stopped before someone inside opened fire.
Danzy was charged with conspiracy to violate federal firearm laws, but Gilbert, the judge, allowed his release on Wednesday on a $4,500 unsecured bond.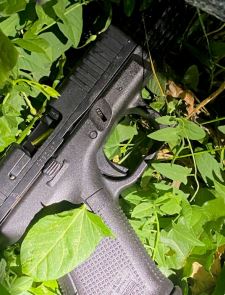 Brown said the move "sets a dangerous precedent that straw purchasers like Danzy are not a danger to society, despite the fact that his alleged actions directly led to the murder of a Chicago Police Officer and left another in critical condition."
"The role of the justice system, particularly that of federal prosecutors and judges is more important than ever, and by allowing Mr. Danzy to walk free the court has done a disservice to Officer French's memory, to the entire Chicago Police Department, and to the thousands of men and women across the country who work around the clock, day in and day out to stem the violence that is plaguing our communities," he added.
An attorney representing Danzy declined to comment.
The two brothers charged in French's death, including one charged with murder, were ordered held without bail on Tuesday. Cook County judges Arthur Willis and Charles Beach made those decisions.
Danzy told CBS Chicago that he was pleased with being released.
"Things happen for the wrong reason. I really don't want to talk more about it. It happened, so I'm out, and I'm happy that I'm out and everything—so I'm happy to see my family. I'm not a criminal. I'm a good person," he said.
Danzy works as a teacher's aide in the Merrillville Community School Corporation. He remains employed there despite the criminal charge, the company told the broadcaster.