Warning: Graphic photo.
Terrorist group al-Qaeda's South Asia chief was killed in Afghanistan during a joint U.S.-Afghan raid in Helmand province, it was reported on Tuesday.
Asim Omar, head of al-Qaeda in the Indian Subcontinent (AQIS), died in the raid on Sept. 23, reported the BBC, citing the Afghan National Directorate of Security.
The National Directorate of Security said the raid occurred at the "Taliban stronghold of Musa Qala" district, where Omar and other al-Qaeda members "had been embedded."
1/2: BREAKING: #NDS can now confirm the death of Asim Omar, leader of #Al_Qaeda in the #Indian Subcontinent (AQIS), in a joint US-Afghan raid on a Taliban compound in Musa Qala district of Helmand province on Sep. 23. pic.twitter.com/sFKi38M6MC

— NDS Afghanistan (@NDSAfghanistan) October 8, 2019
Authorities said they would investigate reports of 40 civilians also being killed, The Hindu reported.
The directorate posted another tweet that included a close-up of Umar's face with what appears to be blood or a wound on his forehead.
"Omar, a #Pakistani citizen, was #killed along with six other AQIS members, most of them Pakistani. Among them was Raihan, Omar's courier to Ayman #Al_Zawahiri. They had been embedded inside the Taliban compound in the #Taliban stronghold of Musa Qala," it said.
U.S. officials also confirmed the deaths, Fox News reported. The airstrikes killed another 22 Taliban fighters and leveled a large warehouse of supplies and equipment, reported The Associated Press, which reported that provincial officials said a wedding was also hit.
Word Omar's death came on the 18th anniversary of the first U.S. airstrikes in Afghanistan following the Sept. 11, 2001, terrorist attacks in New York City and Washington.
Other Incidents
On Tuesday, a bomb detonated inside a classroom in eastern Ghazni province, wounding at least 19 university students, a provincial official said.
Arif Noori, spokesman for the provincial governor, said 12 of the wounded are female students of the Ghazni University, located on the outskirts of the provincial capital, the city of Ghazni.
Noori added that two of the wounded are in critical condition.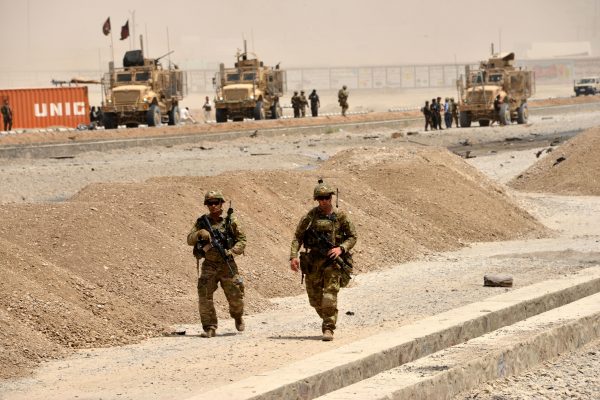 No one immediately claimed responsibility for Tuesday's attack.
Last month a magnetic explosive device attached to a minibus belonging to the same university detonated, killing the driver. Noori says five students were also wounded in that blast.
The Taliban are active in the province and regularly launch attacks against security forces there.
The Associated Press contributed to this report.