Afghanistan's finance minister on Wednesday resigned from his post and left the beleaguered country as the Taliban terrorist group is making significant advances across the country in recent days.
Khalid Payenda has "resigned and left the country because Afghanistan is grappling with declining revenues after the takeover of the custom posts," Finance Ministry spokesman Mohammad Rafi Tabe told Bloomberg News.
The minister also left Afghanistan to visit his ailing wife "and wasn't able to effectively handle his job at a time when the country is going through its worst economic and security situation," said Tabe. It's not clear where he went after leaving Afghanistan.
Payenda on Tuesday announced on Twitter that he would resign, saying that Alem Shah Ibrahimi, the deputy minister of revenue and customs, would serve as acting finance minister.
"Today I stepped down as the Acting Minister of Finance. Leading MoF was the greatest honor of my life but it was time to step down to attend to personal priorities," he wrote.
In May, Payenda told the country's Parliament that he suspected that government officials were embezzling as much as $8 million per day, citing the country's customs as a particular issue. As much as 80 percent of customs revenues "go to the mafia and the Taliban," he said at the time.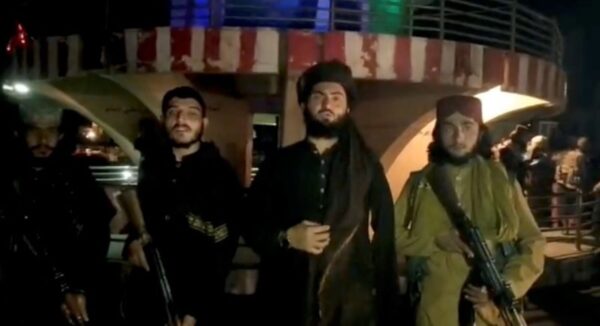 Separately, the White House on Wednesday responded to reports of significant gains made by the Taliban terrorist group in Afghanistan, saying the United States will continue to withdraw troops by the end of this month.
In the past week, the Taliban has taken over swaths of the country and has captured approximately nine provincial capitals, and is now controlling much of Afghanistan's northern border, according to various officials.
The Afghans "need to determine … if they have the political will to fight back and if they have the ability to unite as leaders to fight back," White House press secretary Jen Psaki told reporters.
Reports on Wednesday said the Islamist fundamentalist group took over eastern Badakhshan Province, a long strip of land that borders China's Xinjiang region, Pakistan, and Tajikistan.
Amid the gains, Afghanistan's interior minister, Abdul Sattar Mirzakwal, said that government forces are attempting to secure main highways, large cities, and border crossing areas.
"We are working in three phases. The first is to stop the defeats [of the government forces], the second is to re-gather our forces to create security rings around the cities," Mirzakwal told Qatar-backed Al Jazeera on Wednesday. "All those soldiers that abandoned their posts, we're bringing them back to their posts. The third is to begin offensive operations. At the moment, we're moving into the second phase," he added.
Some local leaders in recent days, he claimed, "have announced their full support to the president and government," and "will fight the Taliban along with the government forces."