Tonga's total COVID-19 cases reached at least 139 on Monday, with the youngest case involving a 5-month-old infant, local media reported, following the emergence of the highly transmissible Omicron variant in the tsunami-hit nation.
Of those cases, 133 were from Tongatapu and six from Vava'u villages.
Tongan health minister Saia Piukala said only one patient required oxygen due to asthma, whilst the others showed mild symptoms, local outlet Matangi Tonga Online reported.
The oldest case is a 63-year-old patient, Piukala said, adding that all infected children aged 12 and above have been immunized. He said that 1,344 residents in Tonga are still unvaccinated.
The Pacific Island nation sees a spike in its CCP (Chinese Communist Party) virus—commonly known as the novel coronavirus—cases after tests submitted to Australia last week confirmed that the Omicron variant had arrived in Tonga.
While scientific evidence suggests that Omicron has less severity than the likes of Delta, Piukala emphasized that the variant could spread rapidly in Tonga, which previously reported only one case of infection since the pandemic began.
"A person sick with the Delta variant can spread it to another one to three people, while a person sick with the Omicron variant can spread it to up to seven or eight people," he told reporters.
The nation has been placed under lockdown after two workers at the Nuku'alofa port tested positive for the CCP virus. All inter-island shipments and flights had been suspended, while residents were urged to wear masks in public.
Tonga has been receiving humanitarian supplies from various countries since the Hunga Tonga-Hunga-Ha'apai volcano eruption and subsequent tsunami on Jan. 15, which wiped out an entire village on one of its small outer islands and killed at least three people.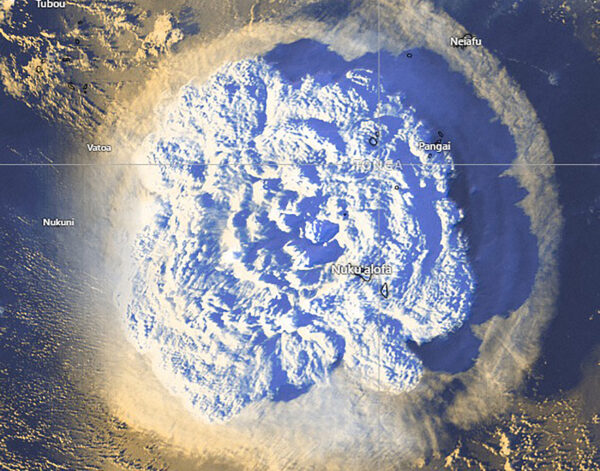 The World Bank on Monday estimated the eruption, tsunami, and ash fall had caused $90.4 million in damages, which is equivalent to 18.5 percent of Tonga's gross domestic product.
NASA said the undersea volcano eruption was "hundreds of times" stronger than the Hiroshima nuclear explosion.
"For comparison, scientists estimate Mount St. Helens exploded in 1980 with 24 megatons and Krakatoa burst in 1883 with 200 megatons of energy," NASA said in a statement.
Jim Garvin, a chief scientist at NASA, and his colleagues have been monitoring changes in Tonga since a new land rose above the water surface in 2015 and joined two existing lands. They used a combination of satellite observations and surface-based geophysical surveys to track the changes in the Pacific Island nation.
"This is a preliminary estimate, but we think the amount of energy released by the eruption was equivalent to somewhere between 4 to 18 megatons of TNT," Garvin said.
"That number is based on how much was removed, how resistant the rock was, and how high the eruption cloud was blown into the atmosphere at a range of velocities."