New England Patriots Quarterback Tom Brady said there is no chance he will retire following Super Bowl 53.
When asked during an interview with ESPN if the game would be his last, Brady said, "Zero."
He also curled his fingers and thumb to make a "0" shape to emphasize his point.
"I've said that for a long time," he said, adding, "No one wants to believe me."
"I feel like I'm asked that a lot and I feel like I repeat the same answer, but no one wants to believe me," said Brady, 41.
Previously, the five-time Super Bowl champion said he wants to play until he's 45.
"I've set a goal for myself at 45 and like I said before, it's very hard to make it that far," Brady said.
He added: "I know how hard it was this year, you know, and the commitment it takes and hopefully I've learned from some of the things that happened this year to be better next year. But every year's tough."
The Patriots defeated the Kansas City Chiefs 37-31 during the AFC Championship to make it to the Super Bowl. They'll face the Los Angeles Rams in Atlanta.
Brady, who is slated to turn 42 on Aug. 3, is currently under contract with the Patriots until next season.
In the interview, he didn't reveal what factors would force him to stop playing.
"I'm gonna know when the time's right and I'm gonna feel like, 'OK, I've kind of had enough,'" he told ESPN.
"I don't quite feel like that yet. I feel like I've still made a lot of improvements and I still feel like I can continue to do it at a championship level. I think that's where I was at before and that's still where I'm at now," the quarterback said.
Brady and the Patriots defeated the St. Louis Rams and quarterback Kurt Warner to pick up his first Super Bowl ring.
View this post on Instagram
On Feb. 3, Brady went on Instagram and posted a montage of the Patriots taking down the Rams in Super Bowl XXXVI. In the game, Brady was named the Super Bowl MVP.
"The bonds between us, the belief in something larger than yourself, makes a city, a team, a dream, grow," the team says. "When you put on your uniform, you carry much more than the name on your back and the name on your front."
They add: "You play for each other, for those who came before you and for those who will come after you. When you put on your uniform, you carry the heartbeat of a city, a team, a dream that will live on forever."
Most Want Patriots to Lose
A good part of the United States, or at least many of those not living within a Tom Brady Hail Mary of a New England state border, will be backing the Los Angeles Rams in Sunday's Super Bowl when they take on a Patriots team that will be playing in a third consecutive National Football League (NFL) title game and the fourth in five years, according to Reuters.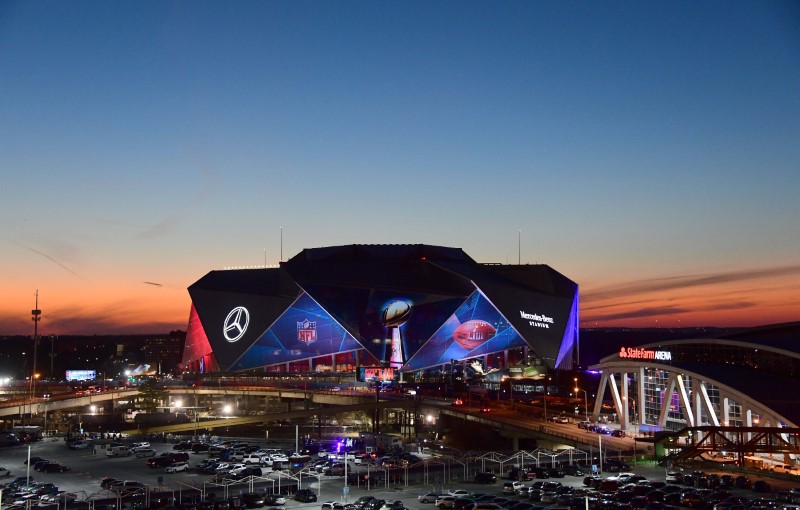 The Rams are not by any means riding a huge wave of popularity but rather are benefiting from an "anybody but the Patriots" movement sweeping across America.
Using team jerseys as a barometer, Patriots fans far outnumber Rams supporters in Atlanta but the vast numbers of undecided voters cruising Peachtree Street sporting Packers, Giants or Jets sweaters are backing Los Angeles.
When asked, many of those fans were unsure what it is exactly they despise about the Patriots beyond a simple urge for change after watching them get to nine Super Bowls since 2002.
Others have taken a scientific approach, dissecting the hate as if it were a cultural phenomenon.
"In Kentucky a kid did a science fair project and it said the reason is the Patriots are cheaters and Tom Brady is a cheater," Marty Moore, a Patriots linebacker from 1994 to 2002 told Reuters. "He did this big project and he won and I'm like 'there is no science to this.'"
"It is just people who want to see a change and someone else be successful."
Reuters contributed to this report.