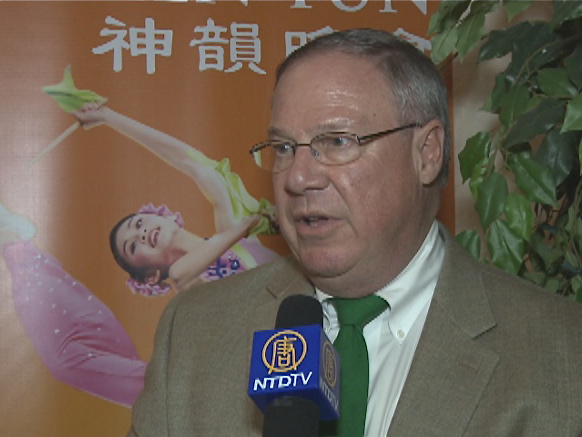 TOLEDO, Ohio—Mr. D. Michael Collins has a message for the artists of Shen Yun, "It's just a beautiful experience, one that I will never forget! It is such a privilege to see the quality of the men and women who are in this performance and their commitment, dedication, and response. The artists are absolutely super. They are absolutely without question, just true, true artists."
During Shen Yun Performing Arts' second visit to Toledo, Ohio Saturday evening, Toledo City Councilor D. Michael Collins applauded the New York-based performance calling it a great experience for the community.
"Oh! I think that it is absolutely good for this community! I think when people see this, if they capture the real reason why these artists are performing—it's not only to talk about the history— that beautiful and wonderful history of China, but it's also to talk about its people and how vibrant, how beautiful, how athletic and how distinguished they are as members of our entire universe. And this is what I take away from it, and I hope that everyone who comes takes away the same thing."
"I think the show is absolutely awesome! It's spectacular! It certainly does bring forth one of the lines that was in the show that, 'The Truth will break open the gates of delusion.'
Shen Yun takes the audience on a journey through China's 5,000-year-old culture from ancient times to the present-day, according to the company's website.
Commenting on performances that touch upon contemporary issues unfolding in China, Mr. Collins said, "I hope that the government of China understands the concepts of tolerance which means that everyone has the right to practice and believe. I firmly think that China is a beautiful country with a long history and I that this is a time for Chinese leadership to recognize that humanity is totally important. I feel very strongly that a message must be sent that it is totally wrong for a person to be persecuted because of a belief in Falun Gong."
Referring to the Chinese Consulate's overseas interference with Falun Gong practitioners, and their attempts to pressure local authorities against them, Mr. Collins said, "I think that I was very fortunate that I have some history as a result of an experience I had when I was first elected and so I understand a bit of the history, a bit that most probably would not understand."
Praising various aspects of the show, he said he was already looking forward to seeing Shen Yun again, "I think the Chinese backdrops were really neat—the videography and everything that went into it. This is my second opportunity to see the show and it just goes far beyond my first experience, this is just great!"
Councilor Collins said he would recommend Shen Yun to his friends. "I would merely say, you are in for an experience that is not definable. It measures culture, beauty, dignity and just art and it is all of those rolled into one. It's just a beautiful experience, one that I will never forget"
Reporting by NTD Television and Jeanmarie Lunsford.
New York-based Shen Yun Performing Arts has three touring companies that perform simultaneously around the world. Shen Yun Performing Arts Touring Company will be at the Stranahan Theater in Toledo for one more performance on March 18 at 2 p.m. before traveling to the Overture Center for the Arts in Madison for two performances on April 4 and 5.
For more information, please visit ShenYunPerformingArts.org.