TOKYO—The Paralympics began Tuesday in the same empty National Stadium—during the same pandemic—as the opening and closing ceremonies of the recently completed Tokyo Olympics.
Japanese head of state Naruhito officially opened the games, this time under the theme "We Have Wings." Among the few on hand were Douglas Emhoff, husband of U.S. Vice President Kamala Harris, International Paralympic Committee President Andrew Parsons, and International Olympic President Thomas Bach.
The opening with acrobats, clowns, vibrant music, and fireworks atop the stadium marked the start of the long parade of athletes.
"I cannot believe we are finally here," Parsons said in his opening remarks. "Many doubted this day would happen. Many thought it impossible. But thanks to the efforts many, the most transformative sport event on earth is about to begin."
The opening ceremony featured the national flags of the 162 delegations represented, which included the refugee team. In addition, the flag of Afghanistan was carried by a volunteer despite the delegation not being on hand in Tokyo.
The Paralympics are being held without fans, although organizers are planning to let some school children attend.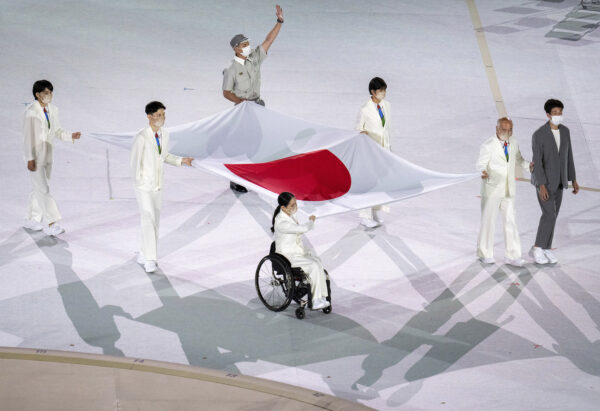 The Paralympics are about athletic prowess. The origin of the word is from "parallel"—an event running alongside the Olympics.
Markus Rehm—known as the "Blade Jumper"—lost his right leg below the knee when he was 14 in a wakeboarding accident, but earlier this year he jumped 8.62 meters, a distance that would have won the last seven Olympics, including the Tokyo Games. Tokyo's winning long jump was 8.41 meters.
Archer Matt Stutzman was born with no arms, just stumps at the shoulders. He holds a world record—for any archer, disabled or otherwise—for the longest, most accurate shot, hitting a target at 310 yards, or about 283 meters.
Wheelchair fencer Bebe Vivo contracted meningitis as a child and to save her life, doctors amputated both her forearms and both her legs at the knees.
"So many people told me that it was impossible to do fencing without any hands," Vivo said in a recent interview. "So it was so important to me to demonstrate and show people that it doesn't matter if you don't have hands, or you don't have legs or whatever. If you have a dream and you really want to achieve it, just go and take it."
Stutzman and Vivo are both set to compete in Tokyo and have already won medals in previous games, superstars who told their stories last year in the Netflix documentary about the Paralympics called "Rising Phoenix."
The rest of the 4,403 Paralympic athletes in Tokyo—a record number for any Paralympics—will be telling their stories until the closing ceremony.