The family of an Indiana toddler girl who died after falling from a Royal Caribbean cruise ship window said that they are looking for answers.
Chloe Rae Margaret Wiegand was with her grandfather when he placed her on the railing that he thought was behind glass to look outside, NBC News reported, citing family lawyer Michael Winkleman.
Chloe's family thought that she fell while she tried to bang on glass the same way she banged on the glass when she was watching her brother's hockey games, according to the report.
1-year-old daughter of Indiana police officer dies after falling off cruise ship in Puerto Rico https://t.co/qMNVMj52hz #LivePD #LivePDNation #Prayers pic.twitter.com/NPncT79U9H

— Blue Alert (@BlueAlertUs) July 8, 2019
"Essentially her grandfather lifts her up and puts her on a railing and where he thinks that there is glass there because it's clear, but it turns out there was no glass there," Winkleman said. "She goes to bang on the glass like she would have at one of those hockey rinks, and the next thing you know, she's gone."
Her parents, Alan and Kimberly Wiegand, are devastated by their loss, Winkleman said. They want to know why the area, a children's play zone, had an open window in the first place, he said.
Toddler falls to her death after being 'dangled out of window' by her grandfather from 11th deck of a Royal Caribbean cruise ship https://t.co/QnWnOtT6X4 pic.twitter.com/P2343S1h4O

— Daily Mail US (@DailyMail) July 8, 2019
"Why in the world would you leave a window open in an entire glass wall full of windows in a kid's area?" the attorney asked.
The firm issued a statement about the matter.
"We've made our Care Team available to assist the family with any resources they need," Royal Caribbean said in a statement. "Out of respect for their privacy, we do not plan to comment further on the incident."
The South Bend Police Department also said in a statement, as USA Today reported, that the girl was the daughter of a police officer.
It said, "The South Bend Police Department offers its sincerest condolences to Officer Alan Wiegand and his family during this difficult time following the tragic loss of their child while in Puerto Rico. The department asks the community to pray for the entire Wiegand family as they grieve and to respect their privacy."
Police in Puerto Rico are investigating the matter and described it as an accident. The 1-year-old's body was taken to a forensic unit in San Juan, the capital.
The Freedom of the Seas eventually left San Juan on the evening of July 7 at 8:30 p.m. local time with 3,600 passengers on board, CBS News reported.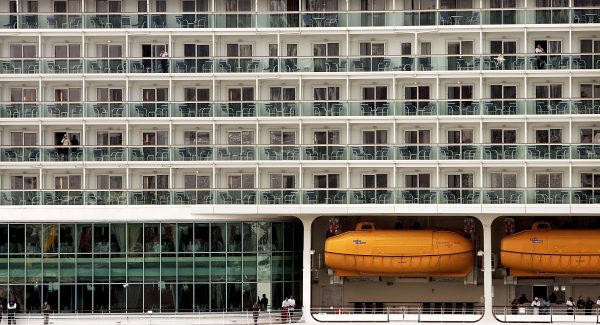 Witnesses Speak
Witnesses described being startled by the sound of a woman screaming as the girl fell.
"[We heard] the screams of the families because we were close," a passenger told Telemundo PR.
The person added: "I looked because of the mother's cry. That tonality, a scream of pain of that nature, does not compare with any other scream."
According to the website, Cruise Junkie, 12 people have fallen off cruise ships just this year, while since 2000, over 300 cruise and ferry passengers have gone overboard.
With cruise ships built so high, falling in the water may even give a better chance of survival.
In 2017, an 8-year-old girl died after falling from a balcony inside a cruise ship.
The girl reportedly fell on the Carnival Glory cruise ship while it was docked at the Dante B. Fascell Port of Miami on Oct. 14.
Epoch Times reporter Simon Veazey contributed to this report.