A 2-year-old girl died after allegedly being left in a car for over five hours with the heater on while her mother sat with a friend in a nearby car, drinking, and then fell asleep.
June Love Augosto died in a Los Angeles County hospital last weekend, according to local reports, after her mother pulled her unconscious from the car at 5 a.m.
According to KTLA, the girl's mother told investigators that she had got into a nearby car to drink alcohol with a friend, leaving her daughter with a blanket on her lap and the heater running.
She fell asleep and woke up around 5 a.m.
Checking on her daughter, she found her unresponsive.
"Vomit was present on her shirt and the car seat. Skin was coming off the decedent's back," the coroner's report said, according to KTLA. "[The mother] places her on the grass and sprayed her with the water hose in an attempt to cool her down."
Paramedics rushed her to a nearby hospital, but could not save her.
Paramedics noted apparent burn marks on the girls face, chest, and arms, as well as cloudiness in her eyes. "Her temperature upon arrival was 107.5 degrees," according to the coroner's report.
The coroner has ruled the toddler's death as an accident versus homicide while it is still being investigated, reported Fox 11.
The cause of death has yet to be determined pending the results of further forensic tests, according to the Los Angeles County coroner's office.
"She's my only grandchild," grandmother Helen Hernandez told Fox 11. "I just came out here and June celebrated her second birthday. June Love was a beautiful baby, she deserved a good life. She deserved to grow up, go to school."
"Our family is broken, we just need prayers and we're just broken," said godmother Jessica Peterson-Burns.
The family has set up a crowdfunding appeal online to help with funeral costs.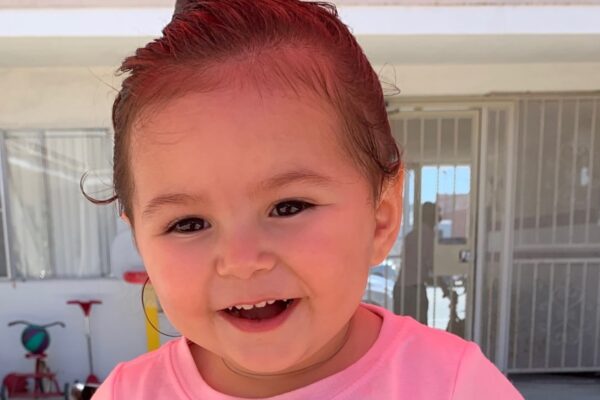 "June was just 2 years old, full of life and loved by so many," wrote Rosie Vargas-Charneco on the GoFundMe site which she set up for her cousin, who is the girl's father. "Unfortunately, a tragedy occurred and beautiful June has become an angel in heaven. Any donation is greatly appreciated."
Investigators learned the mother had a history of drug abuse, according to Fox 11, but said she had gone through rehabilitation. She has a 9-year-old son who was adopted by a relative when he was 3 after she was arrested for cocaine possession.